For members of The Church of Jesus Christ of Latter-day Saints, October became a spiritually invigorating time after hearing messages of hope and peace found in Jesus Christ and His gospel during the rebroadcast of the 191st Semiannual General Conference.
From October 8-10, a rebroadcast of all five sessions of conference aired on GTV (formerly known as GMA News TV). The World Report of the Church was also broadcast along with a 10-minute video of local Church news and events in the Philippines. A highlight of the conference was the announcement made by President Russell M. Nelson, President of the Church, on the construction of eight new temples with one temple located in Tacloban, Philippines.
With millions of viewers watching the rebroadcast, below are some impressions of Filipino Latter-day Saints and friends about the October 2021 General Conference.
"Nindot kaayo ang feeling sa pagpaminaw sa mga mensahe sa propeta og sa mga leaders (It felt so nice to hear messages from our prophet and our leaders)," shared Mariecris Obias from the Talisay Philippines Stake (Diocese).
Mahonri Alvez found that the messages from conference provided answers to questions that he had. He shared, "This conference was a blessing for me. One of the talks that I like was Sister Camille N. Johnson's. She taught that as we let Jesus Christ become the 'author and finisher of our story', He will help us become the people we were meant to be."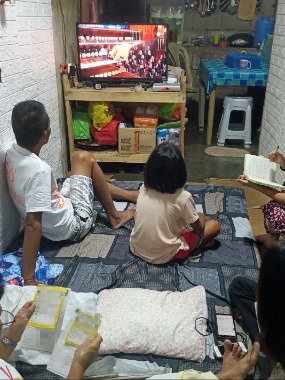 Rollyn Joy Ponce shared that it was a delight to watch conference with her family especially with her father, Rolly Ponce. She shared, "My father belongs to a different faith. But I loved when he joined us to watch the Saturday Evening session of the conference! He was really impressed with the Tabernacle choir!"
For Neil Gutierrez, he felt that the messages he received were "God's birthday gifts" for him. He shared, "Watching it during my birthday was [something special]. Hearing God's instructions through the talks by our leaders made me recommit to becoming a better father and husband. That experience has strengthened my spiritual foundation."
For Renato Moreno and his family, general conference became a time of healing. He shared, "This past month all of my family members fell ill. Through faithful prayers and priesthood blessings coupled with medication, we were able to overcome that trial. I was enlightened by the message of President Russell M. Nelson when he taught that if our spiritual foundation is built upon Jesus Christ, we have no need to fear. I know that is true."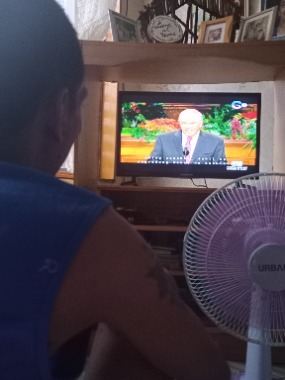 For quite some time, Ruffy Sulit had stopped attending Church. After going through a difficult trial in his life, he found that listening to conference gave him the hope to return and change. He expressed, "Ako ay lubos na nagpapasalamat sa Diyos na makakapanood ako ng General Conference. Ninanais ko na muling makabalik at maging bahagi sa gawain Niya. Natutunan ko na sa pamamagitan ni Jesukristo, lahat tayo ay maaaring magbago kung tayo ay magsisisi at lalapit sa Kanya (I am very grateful to God that I was able to watch General Conference. I want to come back and be a part of His work. I learned from conference that because of Jesus Christ, all of us can change if we repent of our sins and draw near to Him)."
Teodorico Cumagun III from Lipa Philippines Stake shared, "I was reminded of the blessings our Heavenly Father has promised all of us who would come here to this earth. Though we live in these challenging times, such circumstances provide us with opportunities to strengthen the very foundations of our faith." 
General Conference
Members of The Church of Jesus Christ of Latter-day Saints worldwide gather in Salt Lake City twice a year for general conference. Five sessions are held every spring and fall for members to receive instruction from Church leaders. Since the vast majority of the Church's members are unable to attend general conference in person, the meetings are broadcast via satellite in as many as 80 languages to over 7,400 Church buildings in more than 100 countries. The meetings are later translated into a total of 94 languages.
When not meeting for conference, Church members attend weekly worship services on Sunday in their local congregations.