For many years, members of The Church of Jesus Christ of Latter-day Saints have been counseled to be prepared for emergencies and times of adversity. Elder L. Tom Perry of the Quorum of the Twelve Apostles taught, "The need for preparation is abundantly clear. The great blessing of being prepared gives us freedom from fear." 
With the guidance of Church leaders, individuals and families should prepare to be self-reliant in times of personal and widespread tragedy. 
Area Temporal Preparedness Guide 
In 2020, the Church in the Philippines released the Area Temporal Preparedness Guide. This special resource is specifically designed to help Filipino individuals and families be prepared in times of natural disasters, calamities, and many other crises. The manual contains chapters on how to face mental, physical, and financial challenges by creating step-by-step plans and building up emotional resiliency.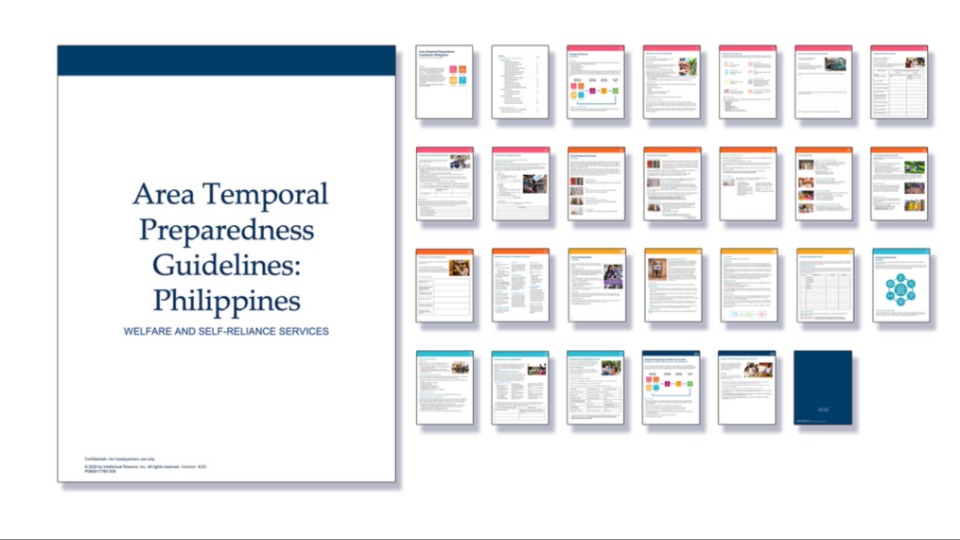 Click here to download the PDF version.
The Area Temporal Preparedness Guide covers the following topics:
This chapter includes preparing homes for potential emergencies, cooking solutions, creating emergency kits, preparing families for specific disasters like floods or fire, communicating and gathering plans in case family members become separated.  
Home Storage and Production 
Included in this chapter are guidelines for short and long-term food storage as well as food production and preservation for times when food and water supplies are low or almost non-existent. 
In addition to saving, paying tithes and offerings, avoiding debt, and using a budget, this process will help families make wise financial choices such as investing in different types of insurances as needed, such as health, life, and many others. 
The Church understands that striving to follow the examples of Jesus Christ includes facing hardships, difficulties, and challenges. Being emotionally resilient is essential in helping members adapt to challenges with courage and faith. This chapter includes skills and practices that will help members become prepared emotionally to face challenges as well as to help others. 
The Area Temporal Preparedness Guide is also available in English, Tagalog, and Cebuano:
For training requests on the Area Temporal Preparedness Guide, contact your local Welfare and Self-reliance managers or representatives.
Importance of Emergency Preparedness 
President Russell M. Nelson, President of the Church, emphasized the importance of emergency preparedness. He taught, "For decades, the Lord's prophets have urged us to store food, water, and financial reserves for a time of need. . . . I urge you to take steps to be temporally prepared." 
When Ilagan City was devastated by a flood in November 2020, Lourdes Angoluan from the Ilagan Philippines Stake (diocese) shared the blessings of following the counsel of emergency preparedness. She said, "I wasn't just prepared for 72 hours. I had my own 'year-round kit'. So when the city was flooded, I had enough food to spare that I was able to share my supplies with my neighbors!" 
With the Philippines frequently visited by natural calamities, the Temporal Preparedness Guide will be a great resource for Filipino families to become more prepared and less fearful when unforeseen challenges occur.