Organized by The University of the Philippines College of Law, BYU International Center for Law and Religion Studies, and the Philippine Center for Islam and Democracy, renowned leaders on law and religion came together in a Forum Webcast on February 24, 2022, entitled, "Religious Freedom and the Common Good".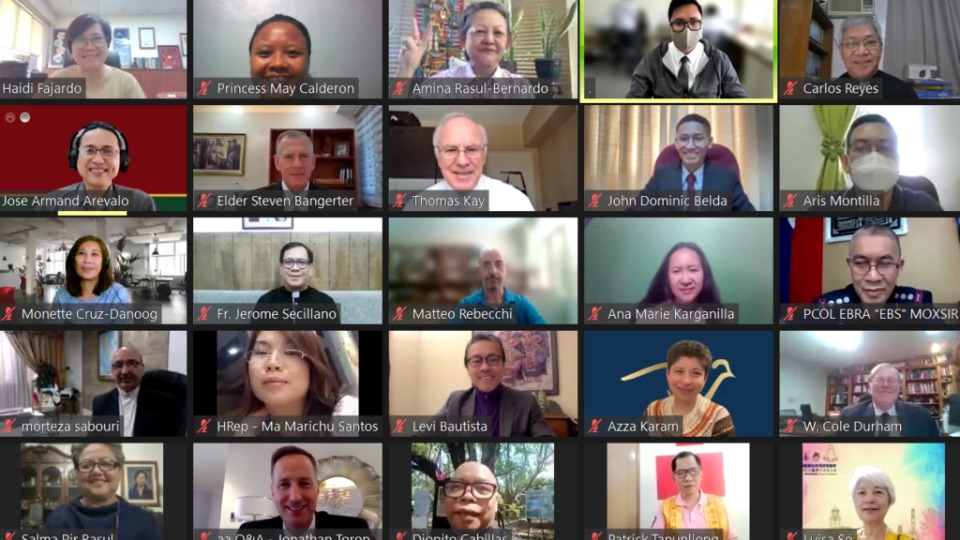 Its objective was to promote awareness and preservation of religious freedom in the Philippines and Southeast Asia.
The event was open to the general public, with a target audience of students, scholars, opinion leaders, public officials, religious and interfaith leaders, and others with a common interest in maintaining religious freedom
Consistent with their heritage, the people of the Philippines cherish the divine gift of religious freedom espoused in the Constitution. Even in this dynamic time as the contours of religious liberty are under continuing focus and at times tension, the country continues to honor this important element of its cultural heritage.
Every 12th of June, the Philippines has been commemorating the declaration of independence from Spain since 1898. This declaration has allowed freedom and democracy to every Filipino.
A core right the Filipinos are enjoying because of their independence is the freedom of religion. This fundamental human right is guaranteed and protected under Article 3, Section 5 of the 1987 Constitution of the Philippines. This allows all people the liberty to exercise their religious beliefs and practices without fear, prejudice, or interference.
In her opening remarks, Atty. Salma Pir Rasul, Program Director of the Philippine Center for Islam and Democracy said, "Although the need for the common good has shaped religious practice and has largely remained unquestioned, religious freedom is largely restricted in the world. Freedom of religion can only happen if stakeholders and duty-bearers step to observe international human rights standards."
Keynote speaker Prof. Azza Karam, Secretary-General for Religions for Peace shared, "Human rights and religious freedom are closely interconnected precisely because of their interdependency, intersectionality, and inter-divisibility. There lies the common good in the way these rights are weaved and intersected."
She taught the relationship between human rights as she emphasized, "Just as human rights are inter-divisible, independent and universal, thought, conscience and belief are encompassed in the idea of religious freedom."
She added, "You cannot speak of religious freedom in a vacuum but you must understand that freedom of thought and conscience are very strong inter-divisible parts of religious freedom."
Dr. Liberato Bautista, President of the Conference of Non-Governmental Organizations in Consultative Relationship with the United Nations (CoNGO) said, "The work of Religions for Peace points to dialogue and collaborations. It is when government and religions find a way to together address issues of common good and important concerns to people --- food and freedom, jobs and justice, land and liberty, that the swath dividing them does not necessarily shrink but rather becomes a fertile ground for all peoples. [Indeed] religions can and must play a part in realizing what makes for a better, kinder, friendlier, and more just world."
Additionally, Prof. W. Cole Durham Jr, Founding Director of the International Center for Law and Religion Studies said, "People don't understand the value of diverse cultures around the world that religions are contributing. We need to get people to understand how to interact and cross borders in sensitive ways across different religious traditions."
"Love of God translates to love for the common good where we do not just look at other faiths but we're also protecting the rights of all men and women", added Ms. Amina Rasul-Bernardo, President of Philippine Center for Islam and Democracy.
Whether from the Philippines or from other neighboring or distant locations, those who attended the forum left better informed as to the importance of religious freedom and how effectively to promote the same, with civility and respect, within their respective communities.
Because the Constitution protects religious liberty, the country is enjoying a robust, thriving religious community wherein different religious institutions and faith-based organizations enjoy growth, solidarity, harmony, and respect for diverse beliefs and practices.
At present, no less than our national legislators continue to study best legislative approaches for the continuing preservation of religious freedom under the law.