This story appears here courtesy of TheChurchNews.com. It is not for use by other media.

By Christine Rappeleye, Church News

Elder David A. Bednar of the Quorum of the Twelve Apostles ministered and spoke to thousands of members of The Church of Jesus Christ of Latter-day Saints in the Philippines, he encouraged them to learn by the Spirit as they listened to the speakers.

"If the speaker is testifying and teaching truth, then as he or she does, so you will hear things in the message that were not said," Elder Bednar said during the countrywide devotional broadcast. "How can you hear something that is not said? The answer is it will be a thought to your mind, a feeling to your heart by the power of the Holy Ghost."

His February 18-25 ministry included devotionals and training with members, missionaries, temple ordinance workers and leaders in the Manila area on the northern Luzon island; the Southern Tagalog region, which included a stop in the Palawan islands; the Davao area on the southern Mindanao island; and concluding with a countrywide devotional, reported the Church's Philippines Newsroom. This marked the sixth time Elder Bednar and his wife, Sister Susan K. Bednar, ministered in the Philippines.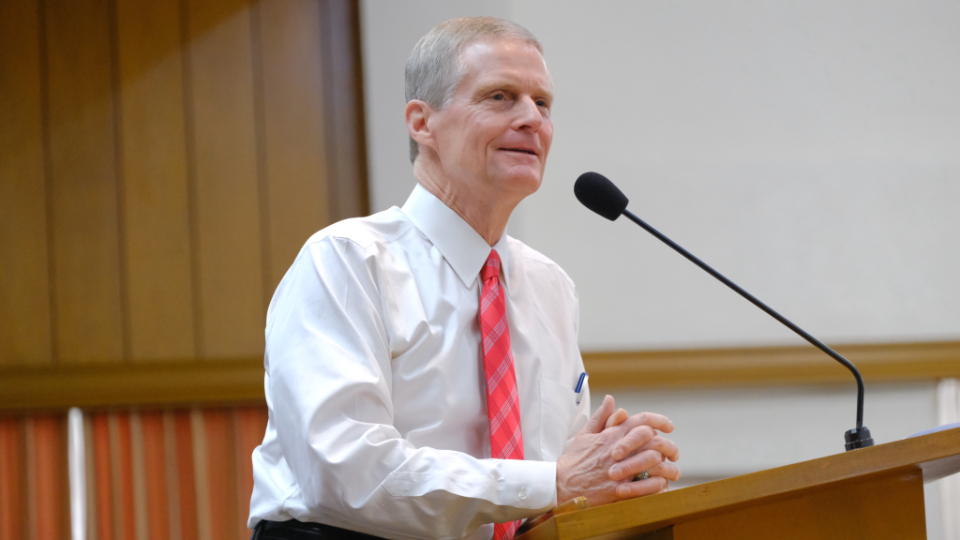 Elder Bednar also met with government officials and with Catholic seminarians in training at the Holy Apostles Senior Seminary.

Elder and Sister Bednar were accompanied at various times by the General Authority Seventies comprising the Philippines Area presidency and their wives: Elder Steven R. Bangerter, Philippines Area president, and Sister Susann Bangerter; Elder Yoon Hwan Choi, First Counselor in the Area Presidency, and Sister Bon Kyung Koo Choi; and Elder Carlos G. Revillo Jr., Second Counselor in the Area Presidency, and Sister Marites F. Revillo.

During the countrywide devotional, the Bednars were asked questions by the members of the Philippines Area Presidency and their wives on a variety of topics, including receiving revelation, being self-reliant, preparing for the temples being built in and announced for the Philippines, and lessons from raising their family.

Elder Bangerter said during the areawide devotional that listeners at various meetings during the Apostle's eight-day ministry were encouraged to consider three questions:

"What did you hear? What did you learn? What will change in your life because of the Spirit you have felt and what you experienced in this meeting?"

As Elder Bednar answered a question about learning to recognize the Holy Ghost and act on revelation, he said many people are worried about figuring out if it is the Holy Ghost or their own thoughts. "Anything that is good, anything that is righteous, comes from God," he said.

He pointed to the example in the Book of Mormon of Nephi returning to Jerusalem to find a way to get the brass plates from Laban. Nephi said he "was led by the Spirit, not knowing beforehand the things which I should do" (1 Nephi 4:6).

"He exercised his faith in Christ. He acted in accordance with a command he had received. He got up and he was on his way to Jerusalem. While he was acting, while he was on his way, the answer started to come," Elder Bednar said.

During the devotional, he encouraged listeners to remember that "the gospel of Jesus Christ is very simple. It is not hard to live. We learn, we strive to understand the teachings of the Savior and then we do them."

While that does not mean life's problems will go away, there are blessings of being connected to Heavenly Father and Jesus Christ through covenants.

"Any adversity that we face in our life, any challenge, we have the strength to persevere, to be patient and to press forward," he said.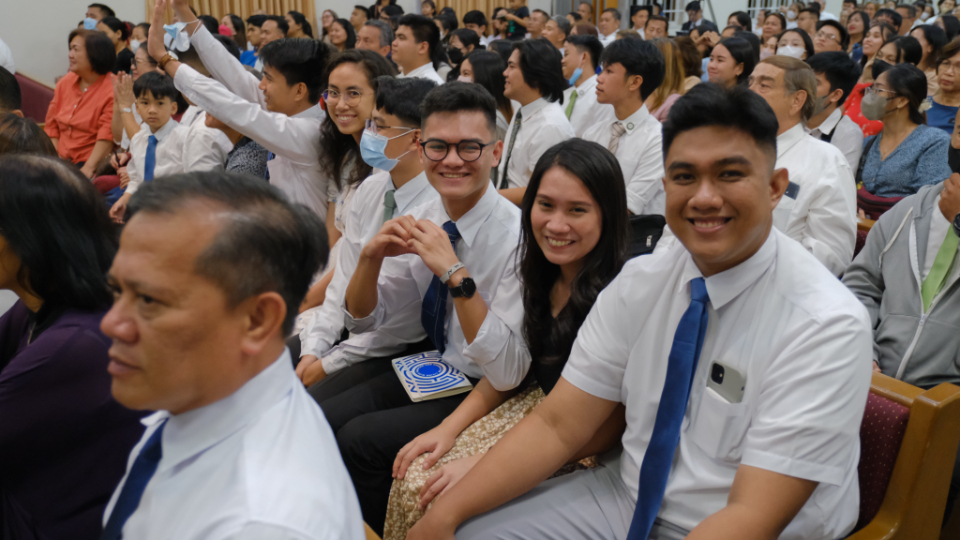 Leadership Training

Bishop Edvard Jimenez, of the San Juan Ward, Mandaluyong Philippines Stake, said that during the Manila Coordinating Council leadership meeting when discussing ministering, Elder Bednar held up a paper with the words "Name and Next Ordinance" written on it.
"Ministering shouldn't be complicated. It is simple. We identify their names and help them receive their next ordinance," Bishop Jimenez wrote in an email to the Church News.
Makati Philippines Stake President Peter Adrian B. Ballados shared that "as a leader, I need to change the way I work with members. Instead of promptly providing answers, I need to help them get their own answers from Heavenly Father."
Zarina P. Luna, who serves in the Mandaluyong Stake Relief Society presidency, said that when she was called to serve in the Relief Society she felt "scared and felt so inadequate." During the leadership training meeting with Elder Bednar, she felt the reassurance of her willingness to accept the calling.
"I recalled many instances when I received guidance from above as I did my best to magnify my calling," Luna wrote. She also was reminded of the importance of the covenant path.
"That night, I learned that I can make a difference in the lives of others, even in small, simple ways — like getting to know those whom I serve, even by name, and help them make and keep sacred covenants," she wrote.
Makati Philippines East Stake President Christopher Notarte said during a meeting of stake presidents with Elder Bednar he felt more confident in his ability to serve.
"We have to constantly seek revelation and miracles, and to make sure that we repent every day and to put the Savior in the center of my life," President Notarte wrote.
Ministry with Members

Lester Joe Fulgar from the San Jose del Monte Ward, San Jose del Monte Philippines Stake, who serves on the young single adult council, said that as Elder Bednar spoke on the covenant path, he had the impression to ask: "Where am I on the covenant path?"
"As a returned missionary I was enlightened, strengthened and encouraged that I must live my covenants and keep on doing temple ordinances with the intent to follow the Lord and not be pressured by the expectation of the world to me," Fulgar wrote in an email to the Church News.
Attending the devotional with the Bednars helped Naneth Tabirao in the Bonifacio 4th Ward, Makati East Philippines Stake, realize "that I should always be ready to enter the temple" by having a current temple recommend regardless of her current abilities or circumstances of being able to attend.
Katrina Ruth R. Acosta, a young single adult in the Bonifacio 4th Ward, recalled when Elder Bednar taught about being an agent or an object — agents have control over their behavior and objects are acted upon. "It is up to me to move forward with faith and act on it rather than to be an object who idly waits to be acted upon."
Elder Ethan Glauser, a service missionary in the Makati 4th Ward, Makati Philippines Stake, said: "I learned that it is important to keep pressing forward and that no one will ever be perfect. We all mess up. That's why repentance is possible."
In the Palawan islands to the west, Puerto Princesa Philippines Stake President Diosdado V Baniago said he learned "that to be able to attain our spiritual growth we have to act and that we are not an object to be acted upon." He added that he also felt impressed to "immediately respond to the inspiration and promptings of the Holy Ghost."
Puerto Princesa Philippines Stake Relief Society President Maria Elisa Duking wrote: "I have learned to really focus on what matters most and that is to stay in the covenant path and make myself ready to have a temple."
Copyright 2023 Deseret News Publishing Company.