Three Filipino Latter-day Saint Women have been called as area organization advisers for The Church of Jesus Christ of Latter-day Saints in the Philippines.
Recently called were Maria Christina Villanueva Itchon Concepcion, Rosemarie Balquedra Francisco Fernando, and Donna Dell Bernadas Dumas.

The First Presidency approved the creation of a new position —Area Organization Adviser — to help provide training and mentorship for local leaders. In the areas where they are called, the volunteer advisers will also participate in councils within the area as they work together in unity with the men and women of the Church in their respective areas. They will serve under the direction of the Area Presidencies for three to five years. 
Sister Maria Christina Villanueva Itchon Concepcion has served in a number of Church callings, including coordinating council communication director, ward young women adviser, stake employment specialist, and ward relief society president. She studied commerce with a major in management at Xavier University. She also received an MBA from Xavier University. Sister Concepcion is married to Romelo Cagumbay Concepcion. They are the parents of 5 children.  
Sister Rosemarie Balquedra Francisco Fernando is a registered nurse by profession. She has served in numerous callings, including full-time missionary in the Philippines Baguio Mission and Philippines Quezon City Mission, stake young women counselor, ward young women president, and mission leaders in the Philippines Cagayan de Oro Mission. She married Edgardo Fernando in 1988. They are the parents of seven children.
Sister Donna Dell Bernadas Dumas received a bachelor's degree in business administration with a major in management. She has served in several Church callings, including a full-time missionary in the Philippines Bacolod Mission, former stake relief society counselor, ward primary president, and ward relief society counselor.  She is married to Edmarc Dumas. They are the parents of 4 children. 
With the growth of The Church of Jesus Christ of Latter-day Saints throughout the world, the Relief Society, Young Women and Primary organizations are "thrilled" to have women leaders in international areas to help provide instruction and mentoring, said Relief Society General President Jean B. Bingham.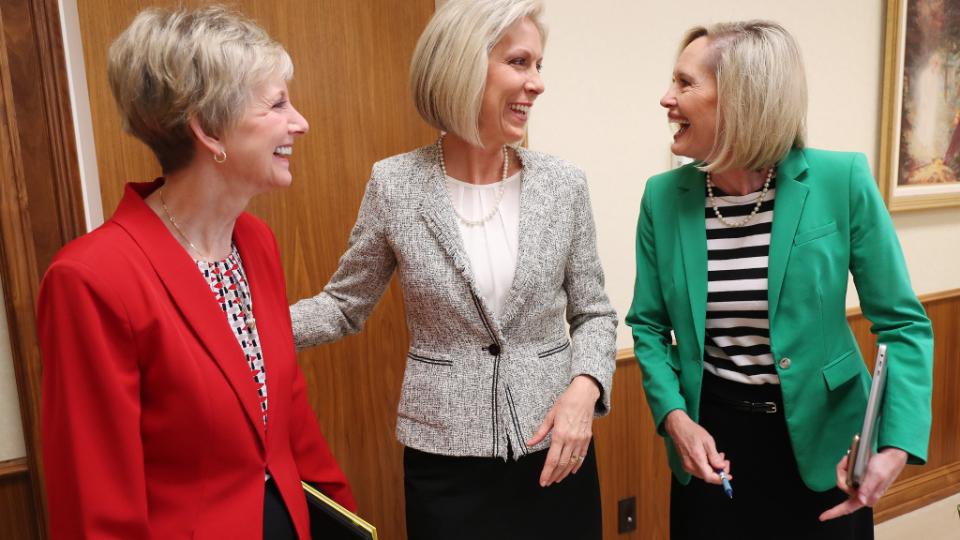 "Each of these women have served in many capacities in the Church and come with a background that will be a strength to the area presidency as well as the local leaders," President Bingham said. "The area presidencies who have called and set apart these women are also excited to have them provide needed insights and perspective in councils in their area."
Primary General President Joy D. Jones said the area organization advisers will teach "with a unified perspective" as they orient newly called stake and district Relief Society, Young Women and Primary presidencies. "We have already felt the strength of their testimonies and their desire to serve."   
"We know this is the Lord's timing and have felt His Spirit guiding the process to make this additional leadership instruction possible," President Jones said. "He has prepared these sisters in their service and experience to serve as area organization advisers. It is humbling to feel His love for all of His children around the world. These sisters will provide a needed connection in their areas."  
Young Women General President Bonnie H. Cordon also spoke of the strength of area organizational advisers, describing them as "a mighty resource for local women leaders throughout the world."  
"They will be a mentor and guide, sitting knee-to-knee to answer questions and provide insight into our Primary, Young Women and Relief Society programs. It truly feels like the missing piece of the puzzle," she said.  
"We are grateful for the hours, even years of counseling together that brought us to today — and we are excited to see how the Lord will shape and mold this new leadership opportunity into what He needs it to be to move His work forward."  
Area Organization Advisers
Elder Taniela B. Wakolo, a General Authority Seventy serving as president of the Philippines Area, described the three-fold purpose of area organization advisers: to provide leadership instruction to sister leaders in support of rapid Church growth in the area; provide a model that effective progress occurs when women and men work together in unity; and include women's perspective at all levels of councils.   
Area organization advisers report directly to the area presidency, he said. "This direct reporting line will enable the vision of the area presidency to strengthen and expand the stakes of Zion to be taught in a consistent, seamless fashion."  
Since each area organization adviser generally represents the Primary, Young Women and Relief Society organizations, "they bring a wonderfully well-rounded perspective to their training and to the counsel they provide in the council setting," Elder Wakolo said.