President Steven J. Lund, Young Men General President of The Church of Jesus Christ of Latter-day Saints, left nuggets of faith and inspiration to hundreds of Iloilo-based young men and women, saying it is important to know that the Lord Jesus Christ guides and directs his people – even in unperceived moments.
President Lund, in a spiritual devotional in Iloilo City last July 18, 2023, met with over 240 members from three Stakes (diocese) in Iloilo province, with many more individuals connecting remotely through Zoom.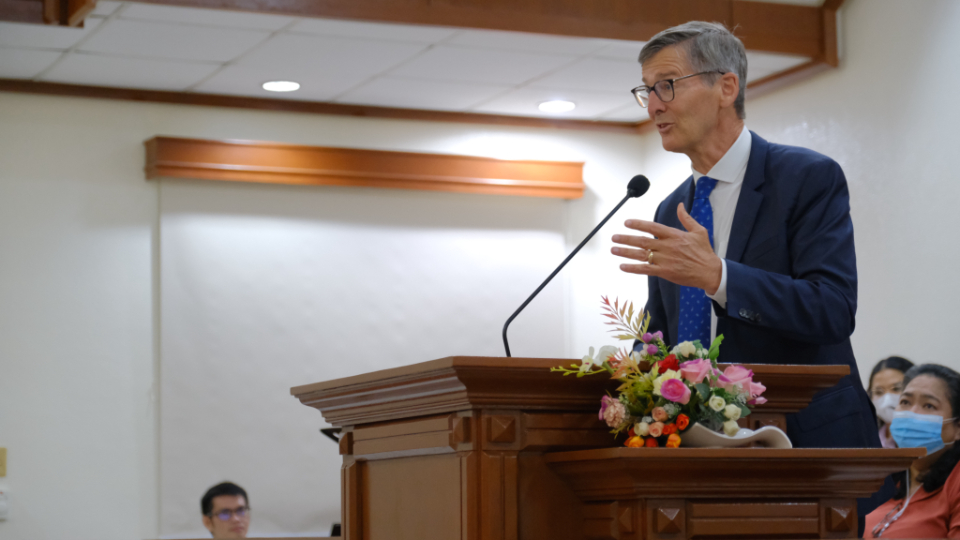 He shared his experiences and thoughts gained from his collaboration with President Russell M. Nelson and expressed his deep admiration for President Nelson's example of selfless service. President Lund also highlighted the significance of recognizing the unseen moments in our lives where the hand of the Lord is guiding and directing us.

President Lund recounted the powerful story of the woman who touched the hem of the Savior's garment, illustrating the profound impact of faith, obedience, and the miracles that can unfold in our lives.

He also recounted the Book of Mormon account of Christ's visit to the Nephites, during which He instituted the sacrament following His resurrection after three days of darkness. "He called His apostles together and He taught them (the Nephites) the sacrament so that the blessings of His presence could be with them even when He was away. That they could have the blessings of Atonement, and these blessings of healing and comfort and oneness with Him could persist", he shared.

After President Lund's message, many attendees expressed their gratitude for the spiritual insights and personal testimonies that touched their hearts.

Sister Wenziel Pedregos, a young woman from Mandurriao Ward, who attended a devotional for the first time said: "The devotional taught me a lot, and it reminded me to pay attention to the teachings of Jesus Christ."

Sister May Flor Pedroso, a young single adult from Arevalo Ward, said: "The story about the woman who touched the Lord reminded me of the unseen moments in our lives. It was a powerful reminder that the Lord works in mysterious ways, answering our prayers and guiding us even when we may not see or understand it at the time."

Brother Jared Villaram, a young man also from Mandurriao Ward, expressed his gratitude. He stated, "The devotional helped us see how much the Lord loves us and how He has blessed us with a living prophet. President Nelson's example of service is a reminder of how the Lord guides and blesses us to this day."

President Lund, accompanied by his wife Kalleen, traveled from Church Headquarters in Salt Lake City, Utah, USA last July 2023, to visit members of the Church in the Philippines and to share timely and inspirational messages.