In celebration of the Philippine Naval Forces Southern Luzon Anniversary, the naval warfare service branch of the Armed Forces of the Philippines awarded The Church of Jesus Christ of Latter-day Saints in recognition of its untiring COVID-19 relief efforts.
Held the Headquarters of Naval Forces Southern Luzon, Naval Station Julhasan Arasain, Rawis, Legazpi City, Albay on Friday, 4 September 2020, The Church of Jesus Christ of Latter-day Saints, represented locally by Rodrigo Dorosan, Legazpi Philippines Stake (Diocese) President, graciously accepted the award.
According to the South Luzon Naval Forces, the award was given in appreciation of the basic PPEs and other medical supplies donated by Latter-day Saint Charities, the humanitarian arm of the Church, to help protect the health workers and frontliners against the highly infections coronavirus disease.
In a separate interview, Jairus C. Perez, country manager of Latter-day Saint Charities Philippines, expressed his thoughts on the opportunity to serve the community at this time.
"We are grateful for the opportunity to partner with the Armed Forces of the Philippines, particularly the Philippine Navy, in providing and distributing the needed personal protective equipment and supplies to the Local Government Units and various organizations for use by the front liners all over the country," he said. "Because of the Church's established partnership with them, we have reached out and helped God's children from Batanes down to Jolo."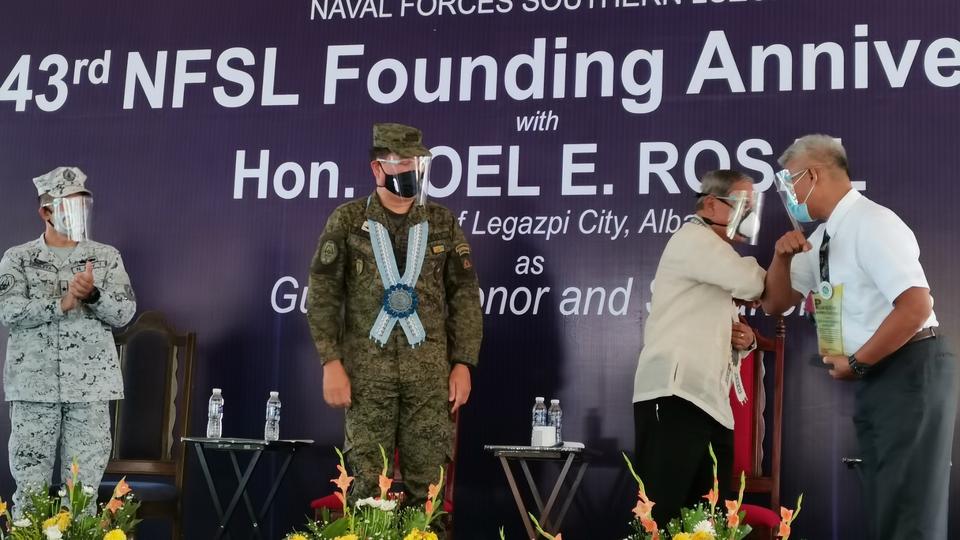 The partnership between two institutions has allowed the safe delivery and distribution of the much-needed supplies to the intended beneficiaries. Not only did the Philippine Navy helped secure the handover of supplies to various local government units, NGOs and other government agencies, they also ensured the distribution of supplies, particularly cloth face masks produced by Beehive Clothing Philippines in the grassroot communities.
Latter-day Saint Charities COVID-19 Relief Efforts
In adhering to the commandment of loving God and our neighbors as ourselves, Latter-day Saint Charities continue to extend wholehearted assistance through several of its reliable partners especially during times of pandemic, natural disasters, and catastrophes. To date, LDSC has provided support and supplies to 40 countries, including the Philippines. The COVID-19 global relief efforts is one of LDSC's core project, which is Emergency Response.