As part of the Church's relief efforts to help address specific needs related to the COVID-19 pandemic, Latter-day Saint Charities (LDSC), the humanitarian arm of The Church of Jesus Christ of Latter-day Saints, continued to provide support to government agencies and local government units.
On 3 June 2020, LDSC turned over face masks, face shields, medical gloves, protective suits, and hygiene sets during back-to-back handover events held at the Mezzanine Hall of the Church's administrative office in Quezon City and at the Philippine National Police Camp Crame headquarters.
Partners in Action
In a small handover ceremony at the Church's administrative office, the Philippine Navy and TV5 Alagang Kapatid Foundation, long-time partners of LDSC, accepted the donations with glad hearts.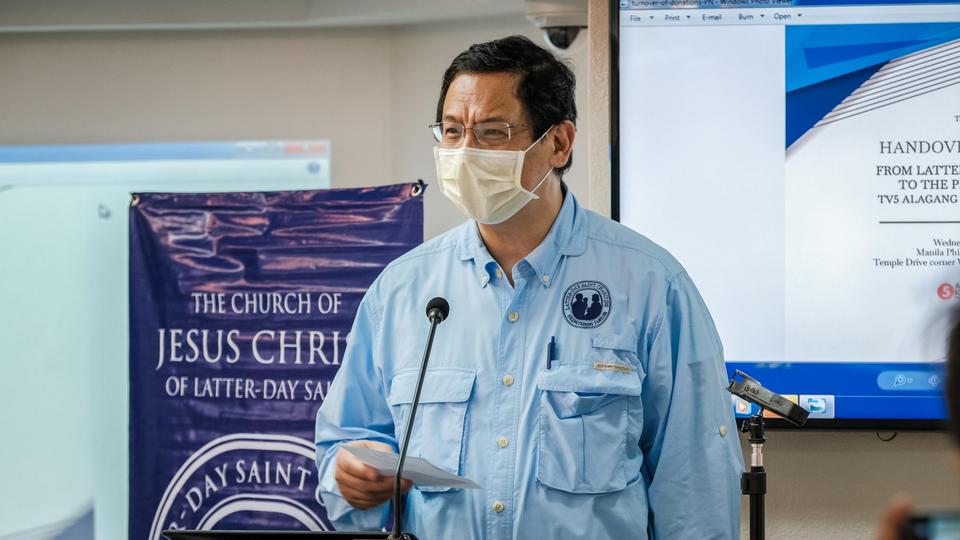 Carlos G. Revillo, Country Manager of LDSC, welcomed the partners, citing the Church's eight projects with PNP, and 29 projects with TV5 for the last ten years. "Charity is the pure love of Christ. These contributions come from the love of the members of the Church from their tithes and offerings," he said.
He added that these partnerships are built on trust. As partners demonstrate their love for their brothers and sisters, many lives will be saved. "A bottle of alcohol can save someone's life, and we never know it can be ours," he shared.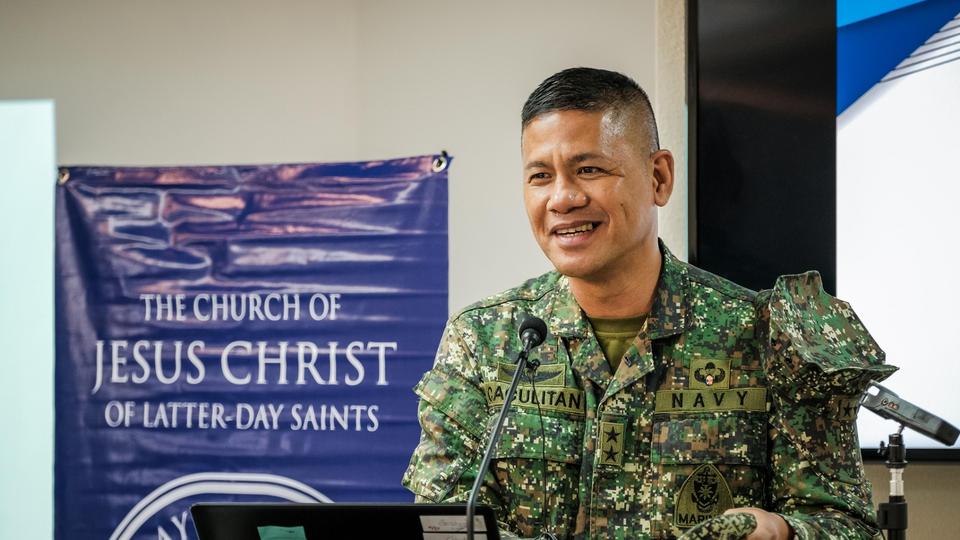 MGEN Ariel R. Caculitan AFP, Commander of the Naval Reserve Command, and BGEN Rodylyn T. Manzano AFP(RES), Chairman of the Naval Reserve Command Multisectoral Linkaging Committee, expressed gratitude to the LDSC and the Church for the continued support.
In his special remarks, MGEN Caculitan said, "We have been a part of the many collaborations with Latter-day Saint Charities for years. They have hearts that are willing to help."
MGEN Caculitan also pointed out that of all the many donors they have had, LDSC has always stood out. "Rest assured, we will bring this aspiration to the people whom we serve. Anything can happen, but this COVID pandemic is different. This is unexpected but we will do everything that these [pieces of] protective equipment will be delivered properly," he said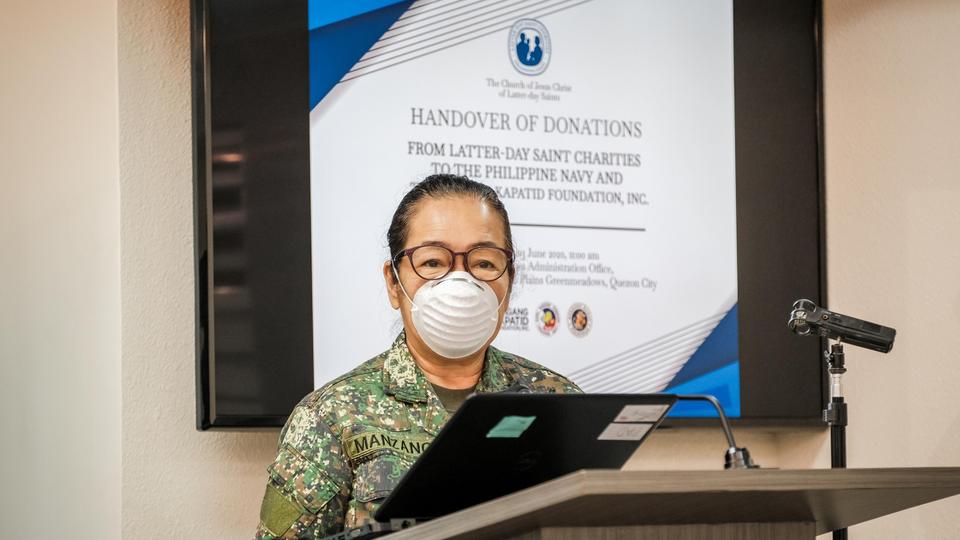 Meanwhile, BGEN Manzano in her response message, shared that LDSC has been partners with the PAF for many years. "Its projects with the Church started in 2010, where livelihood projects were initiated in calamity-stricken provinces of the country," she said. "The Church adheres to the teaching that instead of giving fish, it teaches people how to catch fish."
Ms. Menchie Silvestre, Executive Director of TV5's Alagang Kapatid Foundation, shared the old cliché 'of taking the time to smell the roses.' "In this world where so many suffer from natural calamities, hunger, and conflicts, we have to appreciate what we have-- not to hurry and not to worry," she said.
"Latter-day Saint Charities helps the underprivileged, the victims of disasters, and always, with compassion over indifference. The Foundation is proud to be saving lives side by side with Latter-day Saint Charities."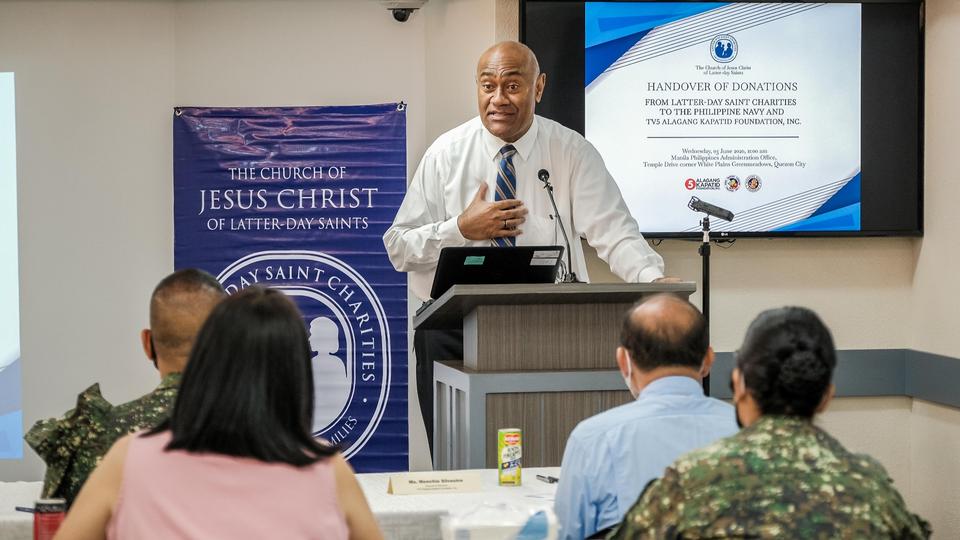 Elder Taniela B. Wakolo, General Authority Seventy of The Church of Jesus Christ of Latter-day Saints, who attended two handover events that day, shared, "This pandemic has affected families and individuals. But as Filipinos show and apply their Bayanihan spirit, like the service of the AFP, arms that are down will be lifted and suffering will be alleviated."
During his message, Elder Wakolo shared that the mask he was wearing was sewn by machine operators of the Church's Beehive Clothing Facility. "As we are anxiously engaged in the service of our fellow beings, we are also in the service of our God." Speaking to the partners, he said, "if you want to walk further, we will walk together."
Earlier that day, LDSC also turned over supplies to the Philippine National Police Chaplain Service.
Rev. Fr. Carlos Reyes, Minister of the Ministry of Ecumenical and Interfaith Affairs of the Archdiocese of Manila, welcomed guests at a small conference room located inside PNP's Camp Crame in Quezon City. During his message, he quoted a verse found in Galatians 6:2 of the New Testament and emphasized that we are to "Carry each other's burdens."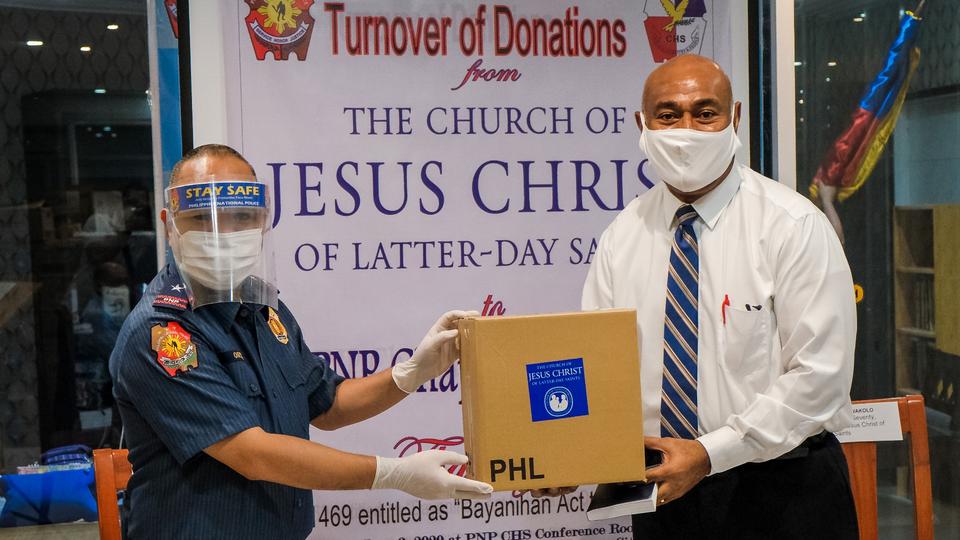 PSSupt. Rev. Fr. Jason D. Ortizo, Director of the PNP Chaplain Service, received the items. In his message, he revealed that he is a COVID-19 survivor. Having confined in the hospital for 26 days, he knew what it is like to be sick.
"I know that Latter-days Saints take good care of their health," he shared. "These [pieces of] protective equipment will not only save lives but will protect so many of our frontliners. We have to help them defeat this unseen enemy affecting the government and our economy."
PSSupt. Rev. Fr. Ortizo also added, "It is evident that The Church of Jesus Christ of Latter-day Saints shares in terms of different donations to the community. This Church knows no boundaries, regardless of race and religion."