Last week, Timoteo Lovendino Manosig and his wife, Maria Erlinda Lado Manosig, said goodbye to their son, John Timothy, their 13th child to serve a mission for The Church of Jesus Christ of Latter-day Saints.   After three weeks at the Missionary Training Center, Quezon City, Elder Manosig will be serving in the Philippines Cagayan de Oro Mission. His sister Clarissa is currently serving in the Australia Melbourne Mission. His other siblings who have completed missions are Concepcion, Oliver, Holy-Man, Irma, Joan, Sarah Jane, Melchizedek, Melanie, Celestial, Ericson, and Gladys.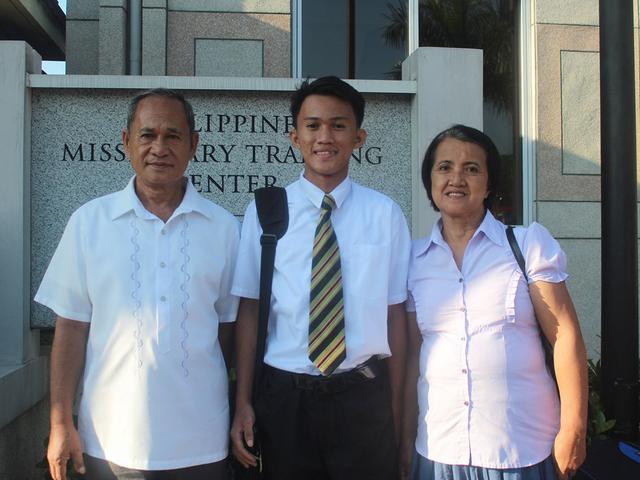 L-R  Brother Timoteo Manosig, Elder John Timothy Manosig, Sister Ma. Erlinda Lado Manosig
Timoteo Manosig joined the church May 25, 1974 at the age of 24. He met with missionaries in Albay and was baptized at Rosario Drive under Cainta Branch of the Taytay Stake (diocese).  He loved the teachings and he particularly enjoyed the lyrics of the hymn, "Love at Home." An eternal family was his dream and he married Maria Erlinda Lado on September 24, 1976. She entered the waters of baptism on August 13, 1977.  Some people discouraged them from having a large family and finances were tight. They lived with five children in a nipa hut near the riverbank of Sitio Burol, but they worked hard and prospered.  They were sealed as a family in the Manila temple on November 9, 1989.  Brother Manosig softly chuckled when he said, "In our temple sealing, a blessing was pronounced that we 'go and multiply.' Five more children were born later."
As converts, the parent's desire to share the gospel has always been strong.  Concepcion, the eldest daughter, said that her father has always enjoyed working with the missionaries and that the children were always included in missionary activites.  "Mosiah 2:17," said Brother Manosig, "is my favorite."  ("...when ye are in the service of your fellow beings, ye are only in the service of your God.")  
Children thrive when there is love at home. Love is in ample supply in the Manosig family. In addition to the thirteen missions, ten of their children have attended college.  There are presently three temple marriages, and four grandchildren. When asked for advice, Siser Manosig said, "Teach your children to keep close to the Church. Every day, start with a prayer before you do anything else."  Timoteo added, "Family Home Evening is one of the keys for a strong family relationship."  
Bishop Wilfredo Dasalla said, "All the fulltime missionaries assigned in our ward love the Manosig family so much because of their dedication in missionary work.  All of them are working with the missionaries. They have callings in the ward which they magnify faithfully. I am grateful to know the Manosig family. I am inspired to become a better father." 
John Timothy Manosig is one of 4600 missionaries currently serving in the 21 missions in the Philippines.  The Missionary Training Center located in Quezon City is one of fifteen locations throughout the world. Missionaries from the Philippines MTC serve in a mission in the Philippines or Asia areas. Training languages: Cambodian, Cebuano, English, Indonesian, Mandarin, Mongolian, Tagalog, Thai, Urdu, Vietnamese (all languages except Tagalog native speakers only). 
Most missionaries are young people under the age of 25, serving in more than 400 missions throughout the world. Currently, single men between the ages of 18 and 25 number 48,521 (66 percent). Single women over the age of 19 total 19,543 (26 percent) and retired couples number 6,015 (8 percent) of those serving.
The concept of a united family that lives and progresses forever is at the core of Latter-day Saint doctrine. Within families led by a father and a mother, children develop virtues such as love, trust, loyalty, cooperation and service.
According to Church doctrine, a marriage performed in one of the Church's temples does not dissolve at death as long as the couple remain faithful to their temple vows. Rather, the family relationship continues beyond the grave, and individual family members can progress throughout eternity.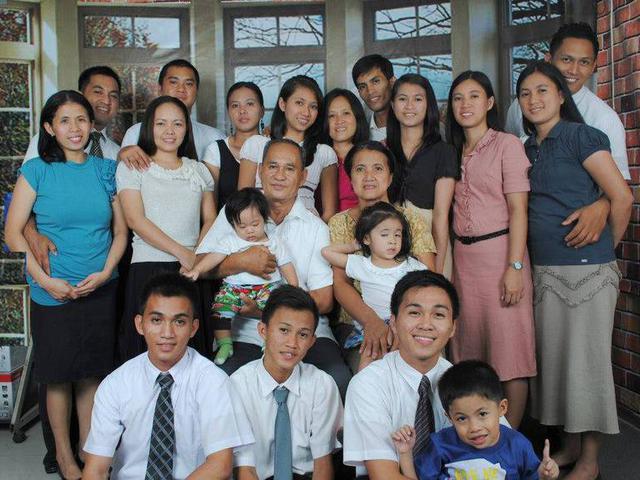 2012 photo of the Manosig family above.   A photo in 2006 and photo at the time of sealing in 1989 below.