Story Number: NNS160701-22Release Date: 7/1/2016 11:04:00 AM

By Mass Communication Specialist 1st Class Elizabeth Merriam, Commander, Task Force 73 Public Affairs

LIGAO CITY, Philippines (NNS) -- Pacific Partnership 2016 visited Ligao West Central Elementary School June 28-29, as part of a cooperative health engagement (CHE), promoting health education and providing services led by Filipino health officials of Daraga in Albay Province.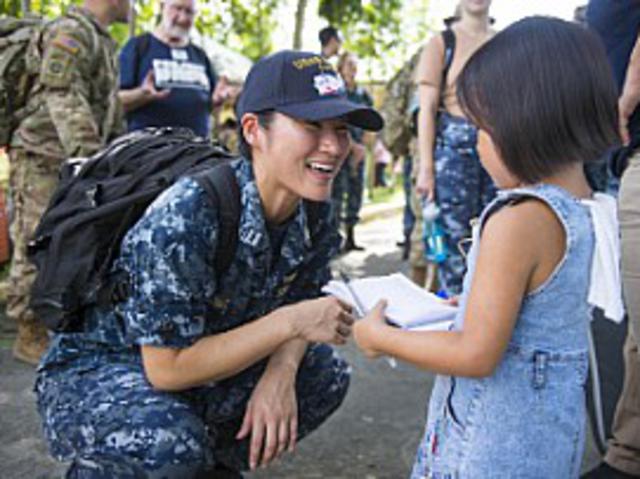 160628-N-BB534-944 LIGAO CITY, Philippines (June 28, 2016) Lt. Gabrielle Jung, a Navy dentist and native of Aurora, Colorado (left), talks with a student at Ligao West Central Elementary School during Pacific Partnership 2016. Jung was at the school as part of a cooperative health engagement where Pacific Partnership 2016 personnel attached to hospital ship USNS Mercy (T-AH 19) and members of the Armed Forces of the Philippines spent the day educating people on health care, hygiene and nutrition. Participants also provided direct care services including optometry, dental care and physical therapy. Pacific Partnership is visiting the Philippines for the seventh time since its first mission in 2006. Partner nations will work side-by-side with local military and non-government organizations to conduct cooperative health engagements, community relation events and subject matter expert exchanges to better prepare for a natural disaster or crisis. (U.S. Navy photo by Mass Communication Specialist 1st Class Elizabeth Merriam/Released)
The CHE participants transformed the school's open courtyard into an array of colorful booths promoting education on topics including maternal and child health, infectious disease control, rabies awareness, HIV education, and nutrition.

"We're doing education side by side with the Philippine dietician. So, I'm learning from her, how they teach nutrition education here and I'm teaching her what we do back in America," said Lt. j.g. Shelby Naughton, registered dietician assigned to hospital ship USNS Mercy (T-AH 19). 

Inside the school, students watched a puppet show where two friends learned about the dangers of smoking. 


"I think the children are enjoying this and I hope that they're learning and getting something from the presentation," said Jairus C. Perez, welfare project manager for Latter-Day Saint Charities. "It's good, it's interactive; after the presentation there is a question and answer session for the kids using the puppets." 

In addition to the anti-smoking education campaign, the charity also donated hygiene kits and offered translators for those seeking medical screenings at the CHE. 

"The services we are providing are optometry, dental and family medicine. So within family medicine, we're doing adult medicine as well as pediatrics," said Lt. Leland Comer. 

The engagement also included veterinary and physical therapy services. 

"We'll be here to help out the entire family for anything they need; whether it be their children, their animals, themselves, or their grandparents, we can help them out," said Comer.

All potential patients started at the check-in area. Here they verified their information and had their vitals taken by student nurses from the Bicol University College of Nursing in Legazpi. Once paperwork was complete, patients met with specialized doctors and nurses. Comer discussed how all of the partner nations were working together to accomplish a common goal.

"We have the Philippines, and we have our partner nations, which today I've physically seen not only the U.S., but Australia, New Zealand and Malaysia are out working today. We've got all of us working together to provide health care for the population of Ligao City."

After spending the day working closely with members of the Philippines Medical Corps, Lt. Emily Croom, a Navy doctor assigned to Mercy, said she thought the methods she used when providing medical care are very similar to the Filipinos she worked with in Ligao City. 

"I think it's interesting to see the different cultures. And to see that it's the same complaints I see in my clinic back in the United States, and we manage them similarly," said Croom. "We also knew what services the Philippine doctors could offer and we could refer them to those locations if they needed further care."

Capt. Jenna Marie S. Bonayao, Philippine Nurse Corps, said she had previously participated in events similar to the CHE, however this was her first time working with foreign military.

"I have done this several times, but for people who have come from the different countries this is my first time. It's very fun to be working with them," said Bonavao. "We Filipinos are hospitable but I think [visiting medical personnel] are also hospitable, especially their interaction with the patients. I would be very glad to do this again."

Pacific Partnership 2016 will continue onto Vietnam after departing the Philippines where partner nations will continue to focus on enhancing regional responsiveness in crisis.

For more information on Pacific Partnership 2016 follow us on Facebook and twitter:www.facebook.com/pacificpartnership and @PacificPartnership

For more information, visit www.navy.mil, www.facebook.com/usnavy, or www.twitter.com/usnavy.

For more news from Commander, Task Force 73, visit www.navy.mil/local/ctf73/.
Reprinted from http://www.navy.mil/submit/display.asp?story_id=95489