Leaders of The Church of Jesus Christ of Latter-day Saints encouraged Mormon women to focus on the doctrine of Jesus Christ as hundreds of thousands of women, young women and girls 8 years old and older gathered around the world for the first session of general conference. The general women's session of the 186th Semiannual General Conference was held on Saturday, September 24, 2016, at the Conference Center in Salt Lake City, Utah. The meeting was conducted by Sister Linda K. Burton, Relief Society general president.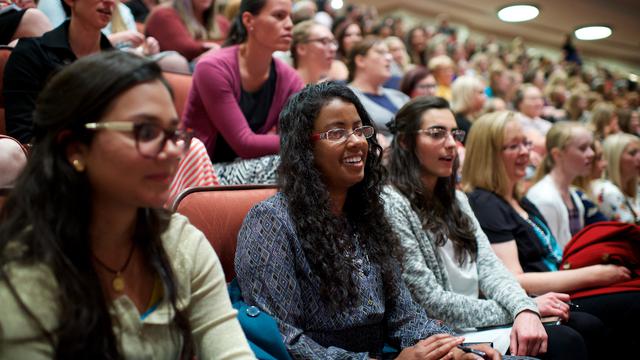 Women in the Conference Center in Salt Lake City listen to Church leaders during the general women's session of general conference, September 24, 2016.
"Continue daily to build on the bedrock foundation of the doctrine of Jesus Christ," urged Sister Carole M. Stephens, first counselor in the Relief Society general presidency. Sister Stephens focused her remarks on a talk given by President Russell M. Nelson of the Quorum of the Twelve Apostles a year ago titled "A Plea to My Sisters."
She said the Savior can provide "permanent relief" from the sorrow caused by sin, strengthen us when we experience pain caused by the "unrighteous actions of others" and provide comfort to those who experience "disaster, mental illness, disease, chronic pain, and death."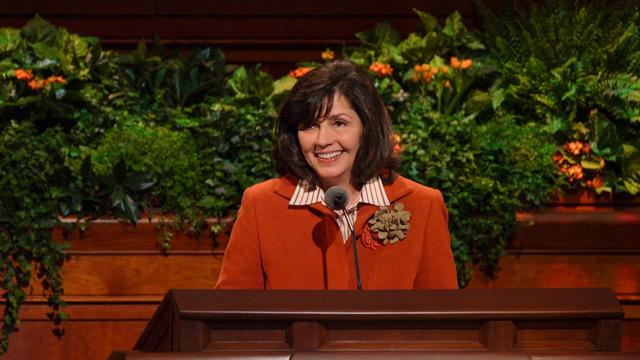 Sister Carole M. Stephens, first counselor in the Relief Society general presidency.
"Our faith in Jesus Christ enables us to meet any challenge," stressed Sister Stephens, who told the women that she loves to learn from them as she travels around the world. "There's nothing like being arm in arm, eye to eye, and heart to heart with you."
"Sisters, we live in perilous times," said Sister Bonnie L. Oscarson, Young Women general president, who referred to "the increasingly secular condition of our world."
Sister Oscarson continued, "If current trends are an indication, we need to be prepared for the storms that lie ahead."
The Young Women leader called on the girls and women of the Church to "study the essential doctrines of the gospel and have an unshakable testimony of their truthfulness." She also referenced President Nelson's talk given in the October 2015 general conference. He predicted attacks against the Church would continue and that women needed to gain a strong understanding of the doctrine of Christ.
Sister Oscarson encouraged women to study the Atonement of Jesus Christ, teach their families and others about the plan of salvation, understand the need for the restoration of the doctrine, and study and understand temple ordinances and covenants, or promises made with the Lord.
"I worry that we live in such an atmosphere of avoiding offense that we sometimes altogether avoid teaching correct principles," said the youth leader. "If we don't teach our children and youth true doctrine — and teach it clearly — the world will teach them Satan's lies."
Sister Jean B. Bingham, first counselor in the Primary general presidency, addressed the topic of charity and the Church's efforts to assist refugees in communities around the world.
"As you have shared your time, talents, and resources, your — and the refugees' — hearts have been lightened," said Sister Bingham. "The building of hope and faith and even greater love between receiver and giver are inevitable results of true charity."
"We become focused on the Pinterest or Instagram versions of life or [get] caught up in our school's or workplace's preoccupation with competition," she said, encouraging the women to use positive words to build others up.
"Whether we are 8 or 108, we can bring the light of the gospel into our own environment, be it a high-rise apartment in Manhattan, a stilt house in Malaysia, or a yurt in Mongolia," added Sister Bingham. "We can determine to look for the good in others and in the circumstances around us."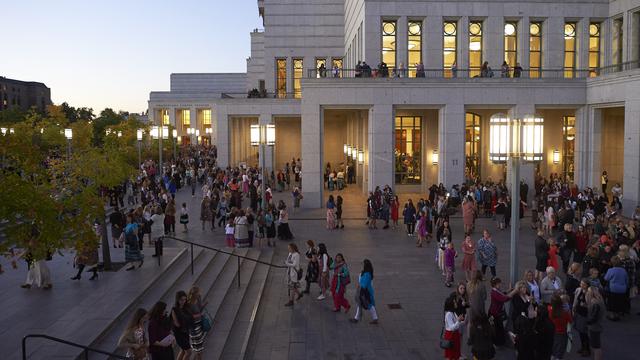 Latter-day Saint women outside the Conference Center where they attended the general women's session of the 186th Semiannual General Conference, September 24.
As the concluding speaker, President Dieter F. Uchtdorf, second counselor in the First Presidency, reflected on the influential women in his life, including his grandmother, mother and wife, as he discussed the power of faith.
"Perhaps what humbles me most is to know that the same influence is replicated millions of times throughout the Church through the abilities, talents, intelligence, and testimony of women of faith like you," said President Uchtdorf.
"Sometimes, it's not easy to develop faith in spiritual things while living in a physical world. But it is worth the effort, because power of faith in our lives can be profound," he said.
"Faith is trust — trust that God sees what we cannot and that He knows what we do not," said President Uchtdorf, a lesson he learned as airline pilot when he had to rely on his instruments and air traffic control when flying into thick fog or clouds.
President Uchtdorf also told the story of when persistent missionaries knocked on the door of his wife, Harriet, when she was a young girl living on the top floor of a four-story apartment building in Frankfurt, Germany, with her mother and sister following the death of her father. "How often have I given thanks that they kept going — even to the fourth floor, last door."
He concluded, "God rewards those who earnestly seek Him, but that reward is not usually behind the first door. So keep knocking. Don't give up. Seek God with all your heart. Exercise faith. Walk in righteousness."
Music was provided by a choir comprised of young women from congregations in Ogden, Huntsville and Morgan, Utah.
The general women's session is the first of six general conference sessions. It was broadcast live in many languages to Latter-day Saint chapels, on television and radio and over the internet.
General conference continues next Saturday and Sunday, October 1–2 at the Conference Center with two-hour sessions each morning at 10 a.m. (MDT) and afternoon at 2 p.m. (MDT). The general priesthood session will be held Saturday evening, beginning at 6 p.m. (MDT). All sessions will be broadcast and streamed live on LDS.org.