Mormon Helping Hands in partnership with GMA Kapuso Foundation (GMAKF) have prepared over 32,000 school kits to be distributed throughout the Philippines.
Members from the Quezon City, Quezon City South, Pasig and Fairview Stakes (Diocese) and missionaries of the Quezon City Mission of The Church of Jesus Christ of Latter-day Saints worked to put together 32,380 school kits using materials provided by GMAKF as part of their annual school kit project. During the five day period from Monday through Friday the volunteers worked approximately 3,500 hours. This does not include the travel time to and from the activity, which was often one to two hours each way.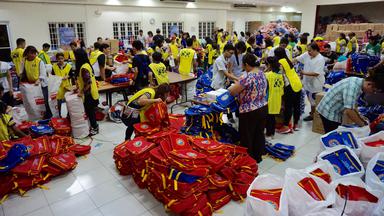 Rogelio Tomas L. Gutierrez, GMAKF Project Manager explained, "These school kits will go to kindergarten and grade 1 students for the coming school year. The areas that were selected to receive the school kits are among the lowest income municipalities nationwide." 
Lesli Gampon, a member from Quezon City Stake expressed, "The feeling is great because you are helping young students who will be so excited to receive these school supplies."
This activity was a great example of how members of The Church of Jesus Christ of Latter-day Saints follow the example of Jesus Christ in giving service to others.