2,400 school bags containing school supplies and 200 sets of instructional materials for 200 teachers were turned over to the Department of Education, Region X of Cagayan de Oro. The turnover ceremony was held at the covered court of Camaman-an Elementary School, the worst hit of the 8 public schools affected by the January 16 urban flood.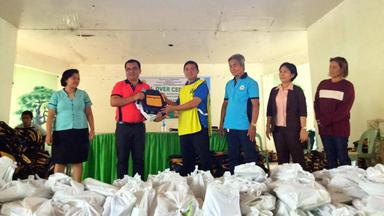 Prior to the turnover, Mormon Helping Hands from 3 Stakes (Diocese) in Cagayan de Oro City participated in the repacking of the school supplies and instructional materials. LDS Charities recognized the need to provide the materials when it learned that the students lost their bags and everything in it when floodwater entered their classrooms while classes were ongoing.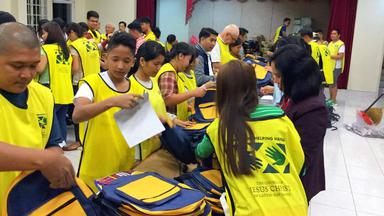 The turnover ceremony was attended by Hon. Pedro I. Arda, Barangay Chairman of Camaman-an Cagayan de Oro and Ms. Mary Ann M. Allera, Chief Education Supervisor, Curriculum Implementation Division representing Elena M. Borcillo, CESO V, Schools Division Superintendent.
Ms. Allera and Mr. Candolyn L. Quilit, Principal of Camaman-an Elementary School, received the materials from CDO Stake President Edwin C. Sacay who represented LDS Charities, the humanitarian arm of the Church.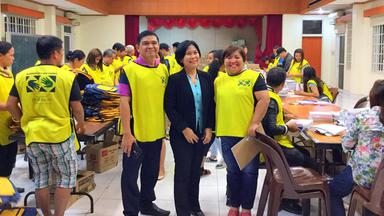 Dr. Jean Loquillano, Senior Education Program Specialist for Social Mobilization and Networking Linkages, gave the overview and rationale of the support package.
Education lies close to the hearts of members of The Church of Jesus Christ of Latter-day Saints and resonates with many of the other values they hold dear. Mormons love learning and are dedicated to the acquisition of knowledge. Their commitment to education, both as a principle and as a practice, is evident in their beliefs, teachings and everyday activities. They affirm that education is a broad, lifelong pursuit with a variety of vital purposes. They have a unique understanding of what education is — a principle that recognizes the human soul as well as the intellect. Moreover, Mormons have a tradition of education that is rich and longstanding, something they cherish and continue to maintain. Because they believe that education deserves their best efforts, Latter-day Saints afford it significant resources and energy.