Senior leaders of The Church of Jesus Christ of Latter-day Saints joined Catholics in Utah for the installation of the 10th bishop of Salt Lake City. Bishop Oscar A. Solis was appointed by Pope Francis to lead the Diocese of Salt Lake City.
Bishop Solis is from the Philippines, where he was ordained a priest. He was the associate pastor of a parish in the Archdiocese of Newark in New Jersey for four years before moving to the Diocese of Houma-Thibodaux in southeastern Louisiana, where he served for a decade. He was named an auxiliary bishop to the Archdiocese of Los Angeles before coming to Utah.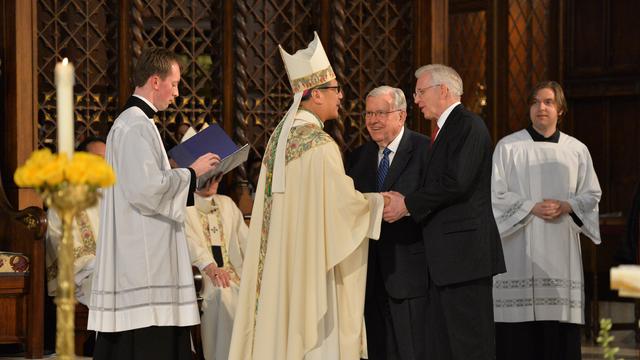 Elder M. Russell Ballard and Elder D. Todd Christofferson of the Quorum of the Twelve Apostlesand Elder L. Whitney Clayton of the Presidency of the Seventy attended the installation ceremony for Bishop Solis on Tuesday afternoon, March 7, 2017, at the Cathedral of the Madeleine.
"We value our long-standing relationship with The Church of Jesus Christ of Latter-day Saints," said Bishop Solis. "Our communities share a call to social justice and love for the poor. The task before us is one of building and strengthening our inclusive communities of faith. I look forward to continuing a culture of dialogue and encounter that leads us together to God."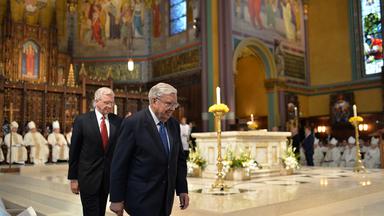 "Latter-day Saints cherish the long-standing friendship we have developed with the Catholic community in Utah and around the world," said Elder Ballard. "We look forward to partnering with Bishop Solis as we stand together and give witness to Jesus Christ as His disciples."
"We celebrate the installation of Bishop Solis as the leader of the Diocese of Salt Lake City and the newest member of our faith community in Utah," added Elder Christofferson.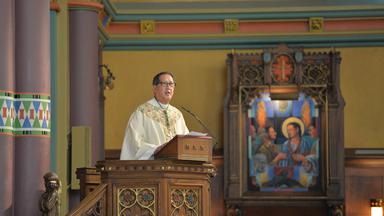 Bishop Solis replaces former Bishop John C. Wester, who is now the 12th archbishop of the Archdiocese of Santa Fe. Elder Ballard attended the installation mass for Archbishop Wester in New Mexico in June 2015.