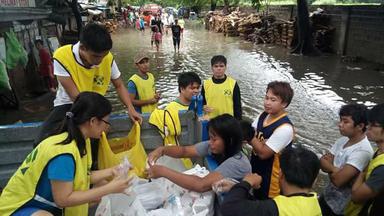 Mormon Helping Hands, from two congregations of The Church of Jesus Christ of Latter-day Saints in Danao, Cebu distributed food packs, clothing, and worked to evacuate families who were affected by flash flooding at the height of Typhoon Crising, April 16, 2016. 
With the approval of local church leaders, Sunday church meetings were moved to a later hour so that volunteers could help in rescue efforts of families trapped in flooded areas. "When I was going to church for our Sunday services the road was not passable," stated congregation leader, Raymond Mallapre. He contacted Stake (diocese)  President, Elmer Juntilla , to request that the Mormon Helping Hands give assistance.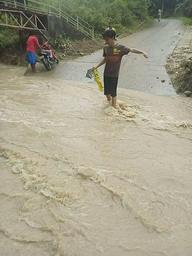 Members of the church were also affected by the flooding. Many of them swam to rescue others who needed more help than they did. Sister Nieara Rel Juntilla swam in the raging, murky water with other church members to distribute food. She was thankful for the opportunity to serve, "it was really a challenging task, but it helped me build a stronger faith in Christ to see people helping others." While everyone serving was completely wet, all of the food distributed was dry.
"I was really pleased with how fast the members responded to our call for help…the depth of the water was no match for the depth of their desire to render Christ-like service to their neighbors in need," affirmed President Elmer Juntilla who oversaw the rescue operation.
The Danao Chapel opened it's doors to the community as a temporary evacuation shelter.
Save
Save
Save
Save