Ray Goodson and his foundation, Rise and Rebuild, have continued to fill a small, but desperate need in Leyte and Cebu. They build comfort rooms (CRs). Ray served as one of the first missionaries in the Philippines from 1961-1963. In the years since, he has returned many times because of his love for the people of the Philippines and their beautiful country. LDS Charities, the humanitarian arm of The Church of Jesus Christ of Latter-day Saints, helps with funding for the construction of these much needed comfort rooms.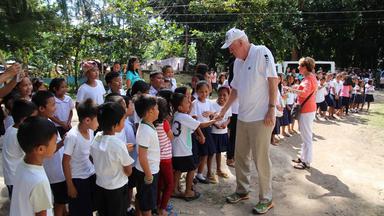 Debra Goodson says, "We were overwhelmed at the need at this elementary school."  The Goodsons received a very touching welcome from the children and the teachers. "It makes all of the effort worthwhile," she explains.  Reyson Pua, the head of this project, organized the 6th grade students to assist him. They formed a " block brigade" from the truck to the building site on the school grounds.
The Rise and Rebuild Foundation has two of their own block making facilities, one at Leyte and one at Cebu. This helps defray costs and employs 70 people who otherwise have no source of income.    
Recently, as they were scouting sites for CRs they discovered another desperate need. In Babatngon, Leyte a Nutrition Center was built at the request of the teachers. They told the Goodson's that 70% of the 500 students at the school were malnourished. Friends of the Goodson's, so touched by this situation, provided most of the funding for the Nutrition Center. "We build and furnish the buildings, the government provides the food, the teachers and students grow a vegetable garden to supplement their daily food, and the parents cook," reported Debra Goodson. 
The highlight of the turnover was a band and super entertainment by the children.
This year the Goodson's will build between 80 and 100 CRs. 
Save
Save
Save
Save