LDS Charities brought relief to Southern Cebu towns on December 31, 2014 by bringing in water filtration equipment, food kits, cooking wares and sleeping kits. Mormon Helping Hands volunteers also logged in 2,000 man-hours of service in the preparation and delivery of the goods. Typhoon Seniang (Jangmi) was not as strong compared to previous typhoons.  However, continuous heavy rainfall caused landslides and flooding. It destroyed P685 million worth of crops and agricultural equipment as well as P72.95 million worth of public infrastructure.
The 3 portable filtration systems were distributed in Barangays Tupas and Ylaya in the municipality of Ronda.
Seeing further need for clean water, Jairus Perez, Welfare project manager, went back on January 3 and brought with him to Poblacion Ronda a bigger mobile water refilling station. This helped alleviate the water needs of residents in that area of which Mayor Blanco was grateful for.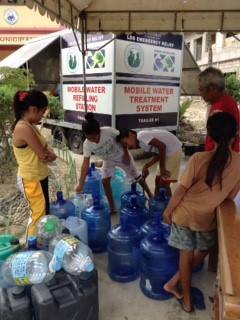 Other donations by the Church include 175 family size tents, 1200 cooking kits and 450 food kits which were distributed together with the Provincial Government of Cebu in various towns such as Ronda, Barili, Alcantara, Alegria and others from January 4-6. Some of the food kits were also donated to the ABS-CBN Foundation.
On January 19, 55 Mormon Helping Hands volunteers from Cebu City Stake (diocese) helped distribute 800 sleeping kits hopping from one town to the other for the next 12 hours. The Church of Jesus Christ of Latter-day Saints provides relief and development projects for humanitarian purposes in countries all over the world. Projects operate without regard to the nationality or religion of the recipients.