Blessed Honored Pioneer
Stepping stones for generations were their deeds of every day.  
Building new and ever firm foundations...Forging onward, ever onward. 
Blessed Honored Pioneer.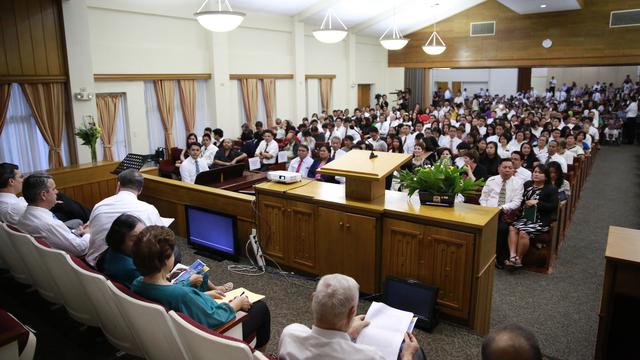 March 6 was a night to remember.  Hugs, stories and testimonies were shared at Buendia Chapel as pioneers spoke of the early days of the Church in the Philippines.
Elder Haynie highlighted the seeds of remarkable growth (currently 720,000 members) in the Philippines planted by Latter-day Saints servicemen and women. In 1945, a young Red Cross worker from Utah named Maxine Tate arrived in the Philippines.  Following the war she married E. M. "Pete" Grimm, a U.S. Army colonel and long-time resident of Manila. The Grimm home was the center of Church activity with most of the first 2,000 baptims in Manila performed in the Grimm swimming pool. Many of the Pioneers had fond memories of Sister Grimm and her swimming pool.
President Joseph Fielding Smith dedicated the Philippines for the preaching of the gospel on 21 August 1955.  
A Prophetic Prayer
At the American War Memorial Cemetery on 28 April 1961 at 6:30 AM, "while quiet peace shrouded that hallowed place, some 100 members of the Church-mostly servicemen and their families, but including David Lagman, a lone Filipino member-met near the small memorial chapel.  At the conclusion of a brief meeting, Elder Hinckley offered a prayer in which he expressed gratitude to the Republic of the Philippines "for the great price which has been paid by many to bring freedom of conscience, freedom of worship and freedom of assembly here in this land." Furthermore, he invoked blessings 'upon the people of this land, that they shall be friendly and hospitable and kind and gracious to those who shall come here, and that many...shall receive this message and be blessed thereby."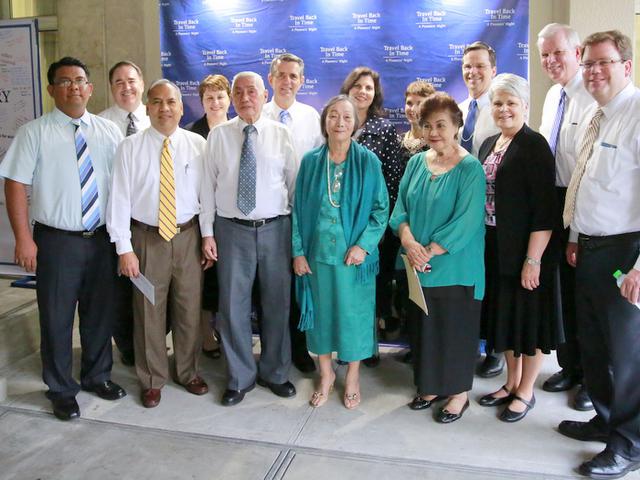 Present-day Area Leaders, Elder Steven E. Snow, and Pioneer Members.  
The highlight of the event was the testimonies of local Mormon pioneers, and the message shared by Elder Steven E. Snow, Church Historian, who concluded the evening by emphasizing on importance of keeping records.
Local Pioneers
Nenita R. Gapiz, baptized in November 1961, narrated her experience as an early church member. She was baptized at the Grimm's family pool in Sta. Mesa. In 1964, the first Mormon wedding in the Philippines took place with her marriage to Ruben Gapiz. When she was asked the question why she stayed at church for about 55 years, her answer was simple, "because I know the church has the truthfulness of the gospel."
Rufelia Q. Salangad was not able to attend the fireside due to health reasons so her nephew read her remarks on her behalf. Her message focused on her testimony about prayer. She remembered this as the first topic the missionaries taught her. She was baptized in 1963 in Angeles, Pampanga. She prayed so she could serve a mission which she was able to do in 1966-1967. During that time, Philippines was part of the Southern Far East Mission led by Elder Garner. She said that she learned to develop Christ-like attributes during her mission. She was sealed with her family in 1984. 
Ruben M. Lacanienta was represented by his son, Ruel Lacanienta, who bore his testimony on blessings received as a member of the Church. Their family was baptized in 1963.  His dad on a video message told his conversion story. The missionaries one day knocked on his door and gave him a copy of the Book of Mormon. Despite many challenges, he read the book.  He reviewed and studied the book diligently. His heart was touched on its truthfulness which led to the baptism of his whole family.
Augusto A Lim, the first Filipino General Authority, addressed the congregation and recalled that after 9 months of investigating the church, he was baptized in 1964. He used to attend a school from another denomination for about 10 years and felt that what he was learning from Mormon missionaries were just the same except that prophets led The Church of Jesus Christ of Latter-day Saints. As he was studying, he read from Moroni 10:4 the invitation to read, ponder and pray about the truthfulness of the Book of Mormon. That verse left an impression on him and so he proceeded to read the Book of Mormon. He received the confirmation needed and soon he was baptized. Describing his feeling on his baptism, he said, "I felt the Spirit of God in our midst." 

Mary Ellen Edmunds sent her love from the US through a video message. She was the first sister missionary in 1963 and came back as a health service missionary in 1973. She reminisced her mission in the Philippines through sharing some of the dearest experiences she had as a missionary. She remembered her first time experiences. The first baptism, first death, first time riding a jeepney, first time eating balut, 100% attendance of 6 people on Sunday, and the heartfelt prayer of Bro. Ocampo, who was a recent convert at that time. Although there were language barriers, her experience praying with Bro. Ocampo in mix English and Tagalog strengthened her testimony about God's love and the Holy Ghost. She showed her journal and mentioned that about 75% of what's written there was about the Philippines. .
Milagros A Emata was baptized in 1967. She emphasized the importance of a strong faith in Jesus Christ despite challenges and trials. She said that her witness of the miracles and multitudes of blessings helped her stay in the church. Her children had various academic achievements and she was grateful of the righteous choices her children made which made them successful in life. Currently her family is very active in the church with her children and grandchildren serving in various Church callings.
Elder Steven E. Snow, Church Historian
Elder Steven E. Snow in his remark emphasized the importance of keeping personal records. He said that "we are making the history".  He also mentioned that the purpose of the said activity was to have a greater appreciation of Filipinos' own history and to promote testimonies and faith. President Ian S. Ardern concluded the event by building on what Elder Steven Snow said about being "recorder of our own experiences." He also quoted a famous quote, "The dullest pencil has a better memory than the sharpest mind."  He encouraged everyone to be their "own history department" and to share what they've recorder to build others' testimonies.