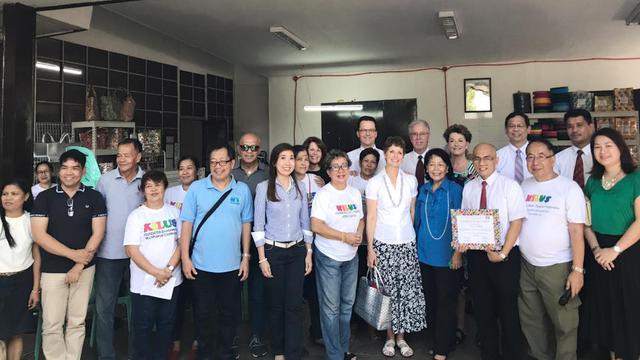 LDS Charities turned over equipment to KILUS Foundation. The turnover activity was attended by Philippines Area President Elder Shayne Bowen, Welfare Manager Carlos Revillo Jr, KILUS Founder Mrs. Edith Santiago and husband Alejandro Santiago, and Pasig Livelihood Foundation Chairwoman Maribel Santiago along with local church leaders.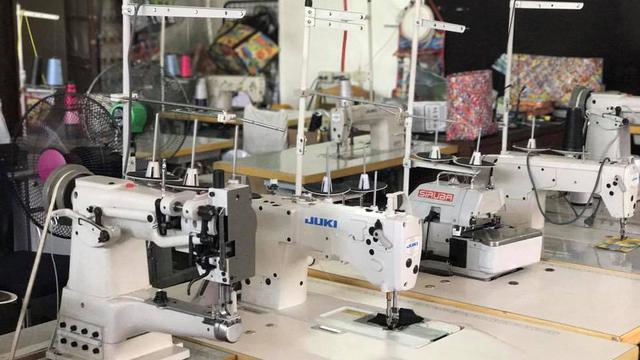 In late January 2017,  the KILUS Foundation cooperative building along C. Santos St. Pasig City caught fire, which burned down hundreds of recycled products such as eco-bags, ornaments, and accessories, ready for shipment to Europe. The fire also destroyed sewing machines, computers, tons of used plastic juice packs and other important equipment necessary for production and operation.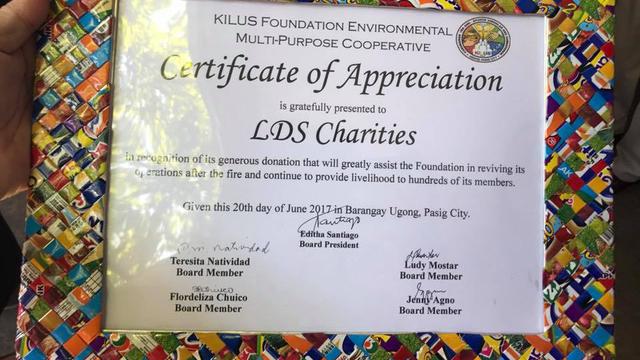 The Church of Jesus Christ of Latter-day Saints Welfare Department extended help to KILUS Foundation by donating sewing machines, computers, racks, cabinets, chairs, and many other materials and equipment. The donations were given with the intent to help the operations of the foundation and restore the loss of livelihood of many women.
KILUS Foundation, which is short for Kababaihan Iisang Layunin Umunlad ang Sambayanan, aims to provide women, mostly mothers, a means to earn additional income to help sustain their daily needs. Their  tagline "Transforming Trash into Cash" is not only to empower women by providing opportunities to extra income but also to promote a clean, sustainable environment by using recyclable materials in producing high-quality bags, accessories and ornaments.
LDS Charities is the humanitarian arm of The Church of Jesus Christ of Latter-day Saints. It is focused on relieving suffering for families of all nationalities and religions, and offers hope for a better life for millions of people around the world.