The Hey Joe Show will perform and will meet and greet with fans on Wednesday, 24 August, 5:00 pm at Eastwood Central Plaza in Libis.  This is in celebration of Mormon Newsroom Philippine's anniversary.  A pre-show event will be held at 3:00 pm wherein projects of the Church presented through videos will be featured in between interesting performances by the youth.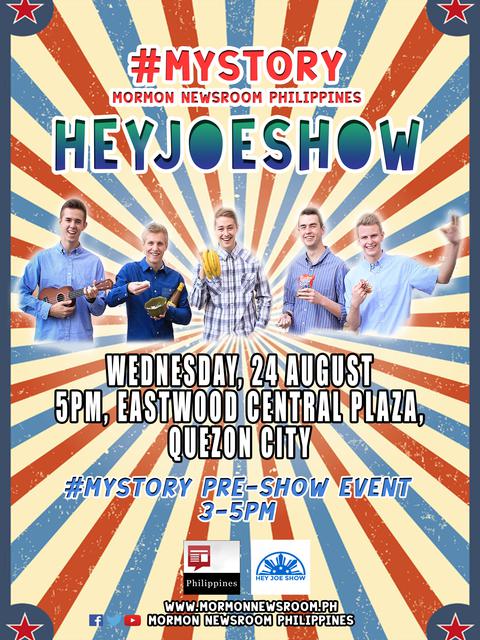 A #MyStory social media campaign was also launched 05 August encouraging fans of Newsroom to share their inspiring stories through a photo challenge on Facebook. Newsroom offers stories that feature humanitarian service, love for families, strengthening faith, and other noteworthy topics experienced by real people every day. Stories bring out the fact that faith can defy challenges and that the human spirit always triumphs!
Many responded to the #MyStory Photo Challenge when the video posted on Newsroom's Facebook page calling for fans to join the campign was launched.  It reached 200,000 viewers which generated 6,000 likes. The poster inviting fans to join the show on 24 August also reached close to 200,000 people with almost 10,000 likes. 
To date, more than 35,000 fans have liked Mormon Newsroom Philipines. To visit the site and Facebook page, please click on the links.
Website: Mormon Newsroom Philippines
Facebook: Mormon Newsroom Philippines
Sumner, Connor, Davis, Tylan and Jake learned the rich and diverse Filipino culture while living in the Philippines for two years as missionaries of The Church of Jesus Christ of Latter-day Saints. The Hey Joe Show is a multi-platform social media group dedicated to celebrating and exposing Filipino culture to a global audience. They provide clean, wholesome entertainment predominantly in the Visayan language. 
The 24 August performance is open to the public and is free of charge.