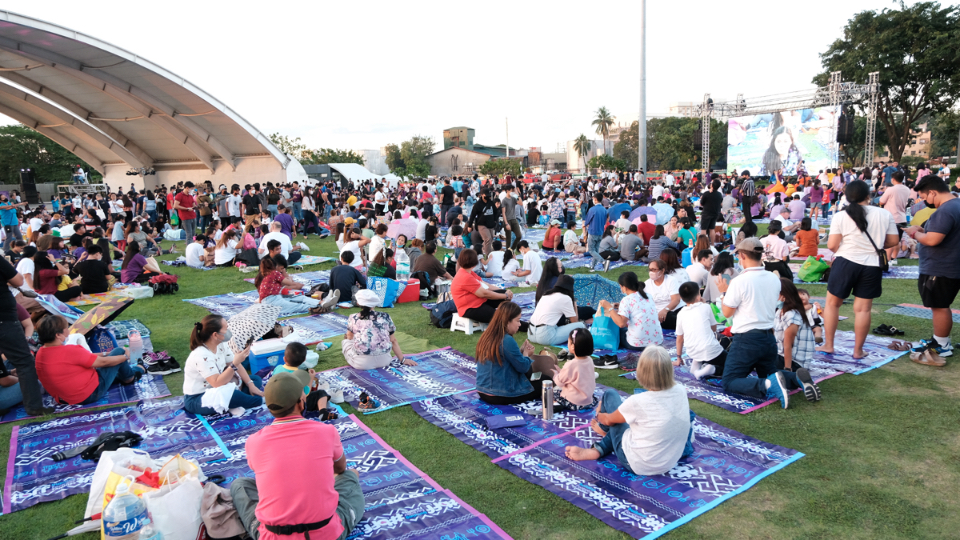 As part of its commitment to strengthening families, The Church of Jesus Christ of Latter-day Saints joined the country in celebrating the 30th National Family Week from September 25 to October 1, 2022. The week-long celebration was held in collaboration with the National Committee on the Filipino Family (NCFF) and all partnering government agencies and civil society groups.
The Church has always supported this nationwide initiative, and this year's focus was on #BFF or "Building Forever Families." A week's worth of family-focused content was published on its official Facebook page and YouTube channel hosted by celebrity Latter-day Saint couple Eric and Rona Tai. These #BFF episodes, broadcast every night at 7:00 from September 25-October 2, featured Church leaders and local Latter-day Saint families highlighting lessons and topics that can help strengthen the Filipino family.
Consistent with the nationwide initiative, the Church encourages all stakes and districts (dioceses) to join in the week-long celebration. Here are some activities that were organized by the dioceses nationwide.
Iloilo North Saints Kick Off National Family Week Celebration Amidst Bad Weather
To support the National Family Week 2022 celebration, members from the Iloilo Philippines North Stake (diocese), in partnership with the Calinog Municipal Police and the Community Investigative Support Iloilo (CIS), held a kick-off activity at the Calinog Meetinghouse on Saturday, September 24.
The activity began with a caravan led by Calinog Municipal Police and the Community Investigative Support (CIS) Iloilo. An open-house exhibit followed the opening program. Governor Arthur Defensor Jr. of the Iloilo Province, Merly Camarig Delfin from DSWD Calinog, Elsie Caballero Padernal from the Panay-Bukidnon Tribe, and Love Gerardo gave their warm remarks during the exhibit.
Pastor Pedro Hormasa of the Seventh-Day Adventist expressed his gratitude, "I'm delighted to be invited to this Family Week Celebration of The Church of Jesus Christ of Latter-day Saints. The Church is very clean and bright, and everything was well-organized, making me feel the Lord's presence. I am happy that your church greatly supports the strengthening of families."
Pastor Ronald Gene of the Gospel Baptist Church also emphasized how honored he was to be invited, "I am impressed with the cleanliness of your church and how well it is organized. Your members are very friendly, and I'm truly happy that your church supports family programs like this. I felt the presence of the Holy Spirit when I was in your church."
Other local government officers, DSWD staff, principals, leaders, and friends of other faiths, also graced the affair. Despite the bad weather, the event was a remarkable success.
Tacloban Philippines Stake Leads Interfaith Forum on Family Values
Members of the Tacloban Philippines Stake organized an interfaith forum on "Sharing of Family Values" as one of its featured activities to celebrate this year's National Family Week at the Stake Cultural Center in Tacloban City on September 24.
During the live-streamed interfaith sharing, the religious leaders emphasized the importance of prayer, communication, responsible parenthood, love, forgiveness, and other virtues to maintain a harmonious relationship inside the home amid various socio-economic problems and the advent of modern technologies, including social media.
"We are humbled to have three interfaith leaders in Eastern Visayas. I am grateful to share and learn with different religious leaders," President Jhumer Operio mentioned in his remarks.
Pastor Jerry "Sambo" Yaokasin of the Tacloban Christian Church, Reverend Father Kim Margallo of the Archdiocese of Palo and Saint Teresa of Calcutta Mission Station, and Pastor Roy Moraleta of The Potter's House Christian Church graced the interfaith affair.
"Take advantage of technology to connect with our families even if they are far from us. Sometimes we connect too much, but we fail to communicate," Pastor Yaokasin shared in his message. "Many of the social problems affecting the youth today can be traced to the breakup of a marriage and the breakdown of a family," he added.
"If there's no real communication, the family is devastated. Families don't talk to each other anymore because of too much use of technology," Father Margallo pointed out in his remarks.
A Motorcade with A Cause in Agoo and Sta. Cruz Laguna Stakes
Nothing, not even the rain, can dampen the enthusiasm of the Agoo Saints in expressing their support for the National Family Week celebration. Members of the Agoo Philippines Stake took to the streets to convey their strong faith and regard for home and family life as they joined the motorcade organized by their stake leaders on September 30.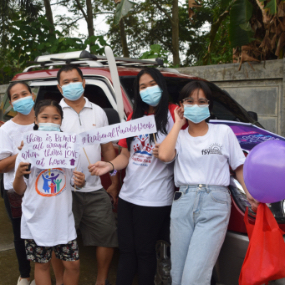 Amid the heavy downpour, members, including full-time missionaries and friends of other faiths, waved flaglets, balloons, and banners bearing quotes about the importance of family. Members of the PNP force marshaled the vehicles in a pre-determined route within the Agoo area.
Mayor Frank O. Sibuma, Vice-Mayor Antonio A. Eslao and Barangay Chairwoman Excelia F. Baloran of Sta. Barbara graced the event as they expressed appreciation to the Church for its active role in preserving family values and shaping its people's character for a better community. Barangay Chairwoman Baloran emphasized the different programs and activities of the Church that strengthens families. At the same time, Vice-Mayor Eslao attested that Jesus Christ is our guide to having a better family. He added that the priority agenda of the local government to increase literacy rate supports and benefits the family as it addresses the growing concern on teenage pregnancy and generational poverty.
Mayor Sibuma, in his remarks, also expressed his belief that a child reared with a robust set of values is more likely to enjoy a life of decency and success.
The three local officials encouraged the youth to make education a priority. Then, turning to their parents, the officials reminded them to spend quality time with their children.
Part of the program was a short Zumba activity that energized everyone and a movie night that marked a faith-promoting and strengthening experience for all.
In Sta. Cruz Laguna, Church members rode around the town to give copies of The Family: A Proclamation to the World to every person they met in the street on a motorcade to join in the celebration on September 24, 2022.
After the motorcade, local government officials and other personalities shared messages. The speakers were Hon. Florindo Damitan, Bubukal's barangay captain, Vice Mayor Laarni Malibiran, and the Commission on Population and Development Provincial Department Head, Miss Nelia M. Espina, imparted their knowledge and shared personal experiences about protection for families, the importance of family, and family challenges.
Various fun games for individuals and families were played and enjoyed. Mats, blankets, and snacks were also laid on the floor as members and families joined the crowd in watching the movie "Love, Kennedy."
San Fernando Saints Inspired by Messages About the Family
Church members from San Fernando La Union Philippines Stake welcomed religious leaders and friends of other faiths to celebrate National Family Week on October 1 at the Lingsat Chapel, San Fernando City, La Union.
In his opening message, Stake President Josue G. Jundos welcomed the participants and encouraged the members to strengthen and protect their families.
Rev. Noel Peter Lazo, Parish Priest of the St. Catherine Alexandria Parish of the Roman Catholic Church, shared the significance of the family's role in society. He said, "It is the family that draws people together. It is the family that molds people to become better citizens. The family contributes to building a good community of responsible and committed citizenry." In addition, he also emphasized the importance of devoting ourselves and spending quality time with our families.
Governor Raphaelle Veronica Ortega-David of the Province of La Union and Mayor Hermenegildo "Dong" Gualberto of San Fernando City La Union gave their messages through pre-recorded videos.
Hon. Ortega-David expressed that celebrating this meaningful event is an excellent opportunity to recognize and honor every Filipino Family. "We believe strong family ties contribute to building a greater nation," she highlighted.
Mayor Gualberto extended his greetings and encouraged the members of the Church to let love and kindness prosper in each of their families. "May your bonds rooted in faith and compassion become stronger," he stated in his video.
Following their messages, the members watched "Love, Kennedy," an inspiring story of a girl named Kennedy Hansen. It was a moment filled with love and inspiration as members received guidance and direction to help strengthen themselves and their families.
Lopez Philippines Stake joins in the Celebration with Community Leaders and Friends of Other Faiths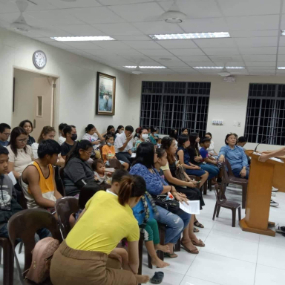 To support the annual celebration of National Family Week, members from Lopez Philippines Stake coordinated with the local leaders from Sangguniang Bayan (SB) and the school head of Don Gregorio C. Yumul Sr. Elementary School (DGCYES) for a kick-off event at the Cultural Hall of Lopez Stake Center on September 29.
In his message, SB Councilor Efren V. Paraiso shared his family practices to have a good relationship. He also mentioned that despite his busy schedule, he has time for his family. "Bahagi po ng aming programa ay nakasentro sa pamilya. Kapag maayos ang pamilya, magiging maayos at payapa din ang komunidad. (Part of our program is family-centered. When the family is healthy, the community will be healthy and peaceful)," he emphasized.
Joel V. Rosales, Principal I of DGCYES said that as husbands, men should be loyal to their wives and set a time for family bonding and togetherness. At home, children should be nurtured with love by parents. "Kapag ang bata ay hindi nagagabayan ng mga magulang ay nagiging problema rin ng paaralan. Kaya bilang namumuno sa paaralan ay sinusuportahan ko ang pagkakaroon ng maayos na pamilya. Ang aking kahilingan sa mga magulang ay gabayan ng tama ang mga anak. (When the child is not guided by the parents, they also become problems of the school. So as the head of the school I support having a good family. My request to parents is to guide the children correctly)," he highlighted.
As a token of appreciation, the Stake Communication Council and Arthur T. Andes, Jr., second counselor to the stake presidency, handed the framed Family: A Proclamation to the World and Church info kits to the guests.
Calasiao Stake Celebrates National Family Week in One Accord
"A Filipino family is a symbol of strength and support.", Congresswoman Ma. Rachel J. Arenas of the Third District of Pangasinan said as she extended her warm message to celebrate National Family Week 2022 on October 1, 2022.
The celebration commenced in two separate areas, dividing the stake, which consists of five wards or congregations: in Calasiao and Malasiqui municipalities, with the participation of Malimpuec Ward from Bayambang Stake.
Calasiao Municipal Vice Mayor Kevin Roy Macanlalay spoke about the importance of families as the smallest but the strongest unit of society. He was delighted to witness how members of the Church prioritize the family. He also learned about family history and was surprised when he learned about his ancestors through FamilySearch.
In the municipality of Malasiqui, local government leaders attended the event with Miss Jessica Guico, who represented Congresswoman Rachel "Baby" Arenas, Councilor Rodito Austria, Mayor Noel Geslani, Vice Mayor Alfe Soriano, Councilor Dang Mamaril and Malimpuec Barangay Captain Mario De Vera. Malasiqui wards also showcased the preparation of the 72-hour kit.
The program included games, food, fellowshipping, and socializing and ended with a movie that adults and children enjoyed with their popcorn.
BFF Outdoor Movie Night
And to culminate the week-long celebration, the Church organized its first-ever BFF Outdoor Movie Night, also hosted by Eric and Rona Tai,  where over 5000 members and friends of other faiths attended the event on October 1, 2022, at Circuit Events Grounds Makati. Families and friends enjoyed mini booth games, inflatables for kids, entertaining buskers on the ground, and free popcorn for everybody!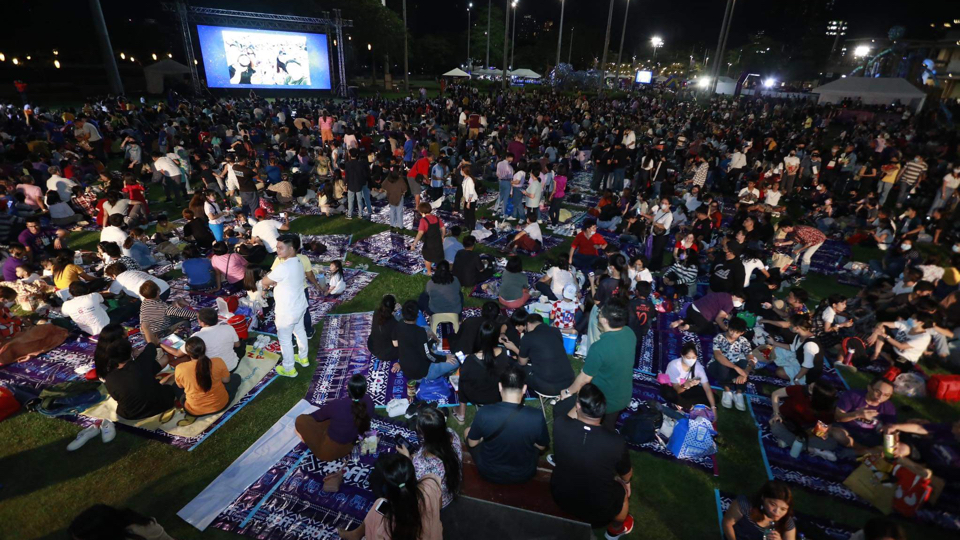 "Why are we here? Because we want to share to the world that marriage and family matter everywhere in the world," Elder Artemio Maligon, Area Seventy, emphasized in his welcome remarks during the activity.
Members from other stakes also held their Outdoor Movie Night experience in their stake centers where they also enjoyed other games and fun activities.
About National Family Week
The National Family Week celebration is in accordance with Proclamation No. 60, signed in 1992, declaring every last week of September as National Family Week in recognition of the sanctity and value of the family. This declaration, signed by the late former President Fidel V. Ramos, is in accordance with the Philippines Constitution, which affirms that "the state recognizes the Filipino family as the foundation of the nation." The Church has remained at the forefront since 1992 in supporting this proclamation.
The theme set by NCFF for this year is Urbanisasyon at Pamilyang Pilipino: Magkaagapay sa Pagpapatibay at Pagpapaunlad ng Bansa (Urbanization and the Filipino Family: Working Together for a Strong and Progressive Nation). The Church supports this nationwide initiative by encouraging all stakes (dioceses), districts (small dioceses), and missions to join in the celebration.