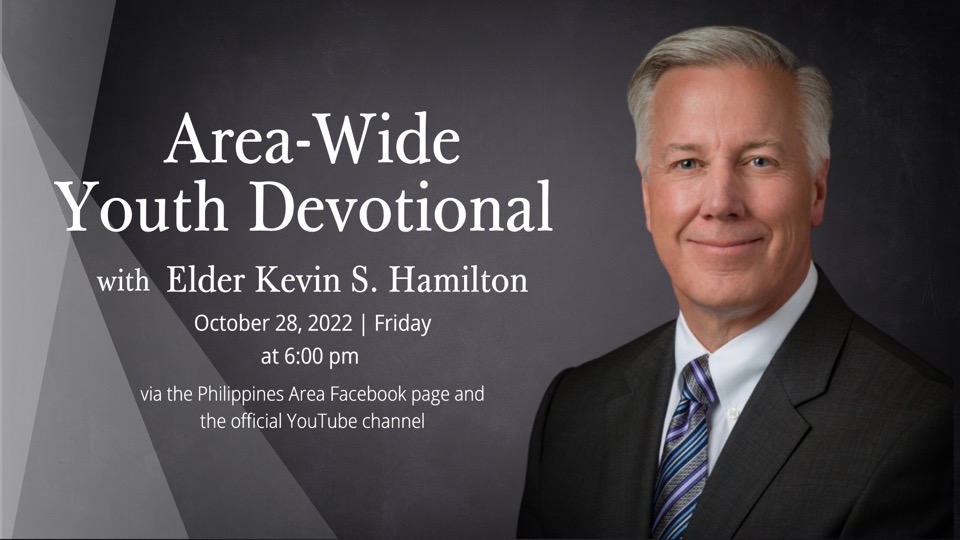 Youth throughout the Philippines are invited to join the area-wide devotional with Elder Kevin S. Hamilton on Friday, October 28, 2022, at 6:00 p.m. The devotional will be broadcast online via the Philippines Area Facebook page and the official YouTube channel. 
Elder Steven R. Bangerter, Philippines Area President, and his wife, Sister Susan A. Bangerter, will join him in the devotional. Parents and youth leaders are also encouraged to join and watch the devotional.
Elder Hamilton, a General Authority Seventy, serves as Executive Director of the Family History Department. He was sustained a member of the Second Quorum of the Seventy of The Church of Jesus Christ of Latter-day Saints on April 6, 2013, at age 58. At the time of his call, he was serving as a public affairs director in Southern California.
Elder Hamilton has served in numerous callings, including full-time missionary in the Switzerland Geneva Mission, bishop's counselor, bishop, high councilor, stake president, and president of the Belgium Brussels/Netherlands Mission.
Kevin Scott Hamilton was born in Wenatchee, Washington, in March 1955. He married Claudia Keysor in July 1978. They are the parents of six children and reside in Agoura Hills, California.