Three Filipino Latter-day Saints qualified as semifinalists for the annual songwriting competition hosted by RootsTech Connect. Jodel Asur and Oliver Bondoc qualified for the amateur category of the competition, while Samuel Soria got in the youth category. 
Their entries, which are centered on the theme "Connections," were motivated by their vastly different circumstances and experiences within their families and as members of The Church of Jesus Christ of Latter-day Saints. The three semifinalists, Oliver, a full-time missionary; Jodel, a father, and branch (congregation) president; and Samuel, a senior high school student were eager to share their songwriting journeys. 
A faithful missionary 
Oliver Bondoc from the Muntinlupa Stake (Diocese)  is a licensed chemical engineer and is currently serving a full-time mission in the Philippines Naga Mission. He wrote his song, Reunite, to tell a message about the importance of family history work and performing saving ordinances for the dead to reunite families.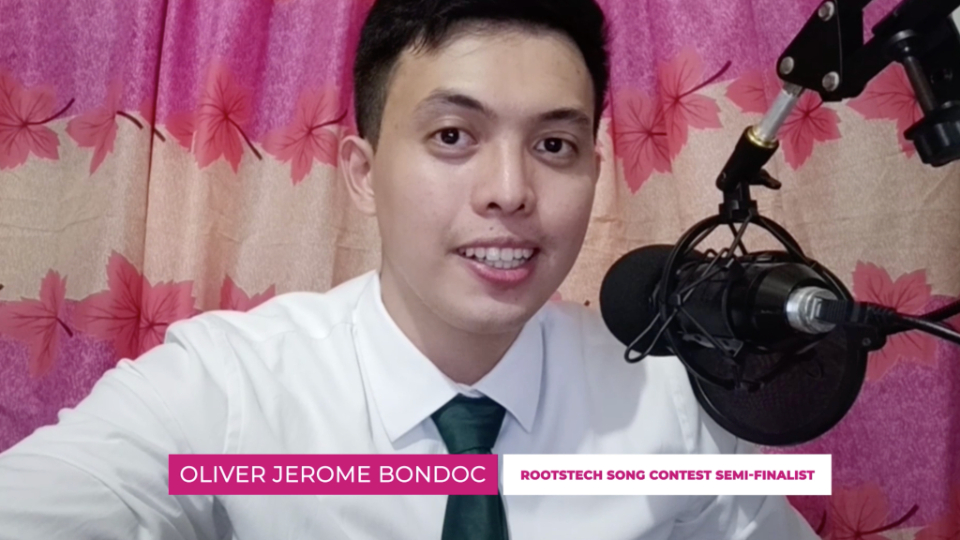 Elder Bondoc wrote his song while he was preparing for his mission, and it was a special experience for him to be able to express his testimony of family history work through song. Qualifying as a semifinalist was like a dream come true for Elder Bondoc, as this was the first time that one of his songs was able to qualify for a spot in a songwriting contest. 

Elder Bondoc was a convert and only found out about the Church through a close friend in his last year of high school. Because his family lived in Bataan while he studied at the University of the Philippines Los Baños, the distance made it difficult to be taught by the missionaries consistently. He sought to know more about the Church in the next two years before he was finally baptized when he turned 18 years old. 

In college, he was part of the Los Baños Latter-day Saints Association, which gathers young Latter-day Saints students away from home. The companionship and support that he felt from the students' association served an important role in encouraging him to be an active member of the Church. His friends from the association came to know him to be a talented young man as he started to work part-time as a wedding singer in his 3rd year of college. 

After graduating with a degree in chemical engineering and receiving his license, he moved to Muntinlupa to work with the intention to save up enough money to serve and to prepare for his full-time mission. Elder Bondoc worked for one year and then began preparing for his mission. 

The young missionary recounted how a close friend of his, who is now also serving a mission, supported and helped his mission preparation through family history work. "While preparing for our mission, a friend of mine helped me to engage with family history work. Because of their help, I was able to find and map the names of six generations of my family in my family tree. I felt so happy."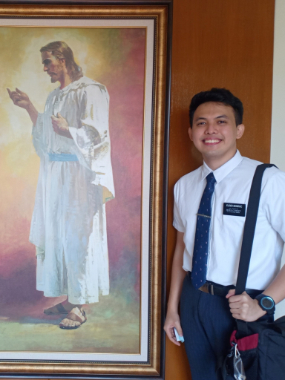 In order to preserve this experience of profound joy, he took to writing poetry about this experience. He said, "Because I love to compose songs about my experiences in life, I wrote a poem about family history work and how my friend helped me build my family tree. I wrote about the joy I felt when I do indexing and finding the names of my family, which my friend taught me to do." 

After reading the poem that he wrote about family history, he was impressed to submit an entry. After much prayer and pondering, he made multiple modifications to eventually create the song which he would eventually present. 

The song Reunite captures the experience of bringing names to the temple to perform ordinances for the dead by proxy. Elder Bondoc reminds listeners through his song that because of Heavenly Father's plan, it is possible for us to reunite with our families after mortal life through Jesus Christ. 

"My favorite lyrics from this song would have to be 'In the place with no more goodbyes, we'll reunite… in this place where love will never end.' I love knowing that there is a place waiting for us where I never have to say goodbye to the people I love. In this mortal life, we cannot avoid death and separation, but if we do family history work, not only our family but also our friends, we can meet in that place without goodbyes filled with never-ending love with Jesus Christ and our Heavenly Father. I have truly felt the spirit and the love as I do family history work, knowing that this is not where everything that we do ends", he said.  

A loving son and father 

Jodel Asur is the branch (congregation) president of Tabaco Branch in Albay, a father, and is expecting a daughter with his wife in March. His song, Right Here, details how remembering and writing down stories about the family who have passed away can help those they have left behind to cope and continue to feel connected with them.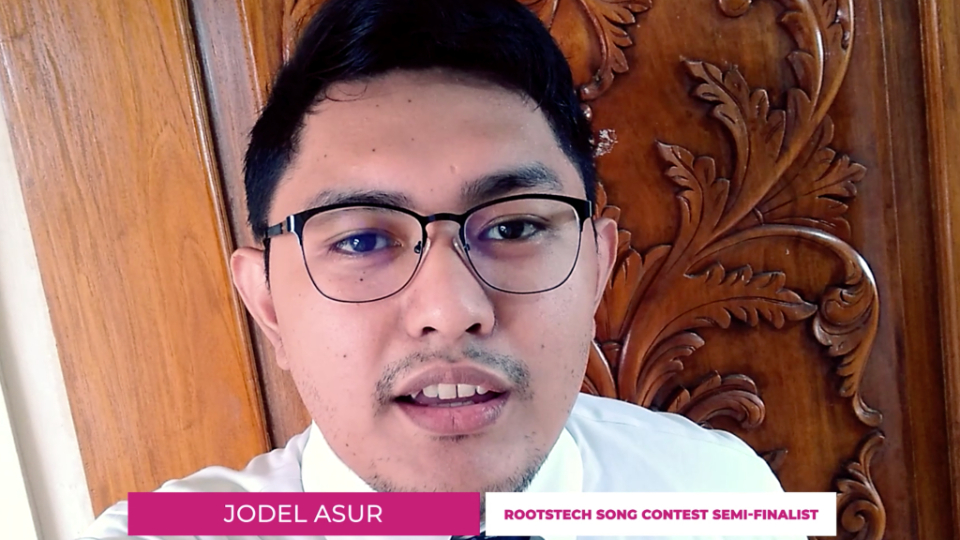 A longtime pianist since his childhood in the Church, the prizes for the winners, which include electronic pianos sponsored by Kawai caught his eye. As a child, his mother urged him to learn the piano as she was unable to learn how to play the piano in her own childhood. Growing up in the Church, Jodel learned to love the piano and was a pianist in his branch and had experience playing for multiple choirs, including his branch's choir and the Institute choir when he was in college. He was also a choir pianist for the Makati Stake when he was living in Metro Manila. 
Jodel, who was praying for an opportunity to finally obtain a piano for himself, jumped at the window that had opened to him and used his musical experience with the piano to write a song and submit an entry. 
Although he had initially joined with the intention of obtaining the prize if his entry won the contest, his journey quickly became an inspiring and spiritual experience for him. With the theme in mind, Jodel had the thought to make use of the world's current difficult circumstances amidst the COVID-19 pandemic to convey a message about how families can remain connected in spite of being physically isolated from each other. 
It was then that he remembered the difficult experience of almost losing his father to COVID-19. "When I keyed in on the topic of isolation, my mind immediately recalled our experience when dad was in the hospital. When he was in the hospital and we were in the quarantine facility, that was the first time that my mom and dad were apart," Jodel recalled.
Two weeks after Jodel's father was admitted into the hospital, his family joined together in a special family prayer virtually because his father felt that he was getting weaker. "It was the first time that it became clear to me that it is a possibility that he might not only be isolated from us in quarantine, but isolated from us in this earthly life", he said.
With this experience in mind, he then wrote Right Here to imagine how he and his family might have coped and tried to feel connected to his father if he had not lived through the ordeal. He remarked that if his father did pass, that he found comfort in knowing that he could still feel connected to his father through family history. 
"It's about remembering stories, and as we remember stories and the life and legacy of our loved ones, it helps you feel that they are still with you," Jodel said.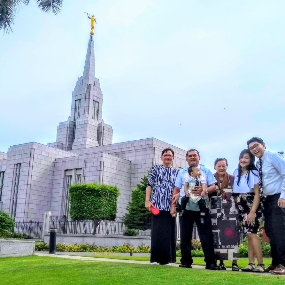 Jodel paid special attention to emphasize the importance of collecting and writing stories as part of family history work in his song. "There's a bigger picture in family history. It's not just about getting their names and birthdays, bringing them to the temple, and calling it a day. It's about really knowing them and appreciating the things that they have done because those might have had an influence on your life without you knowing about it unless they were documented." 

He testified, "Family history work is there for God's work to be extended to those who have passed, but it is also a blessing for those of us who are alive because it helps us appreciate the joy of having a family, and it helps us to feel that God is there throughout not just our lives, but also throughout the lives of our family." 

A hopeful young man 

Samuel Soria is a 16-year-old young man in the 11th grade. He is serving as a ward family history and temple consultant. Who I Am, his composition for the youth category of the competition is about how connections to our family, to ancestors, and to God can help us to stand on our feet and remember our identity as children of God.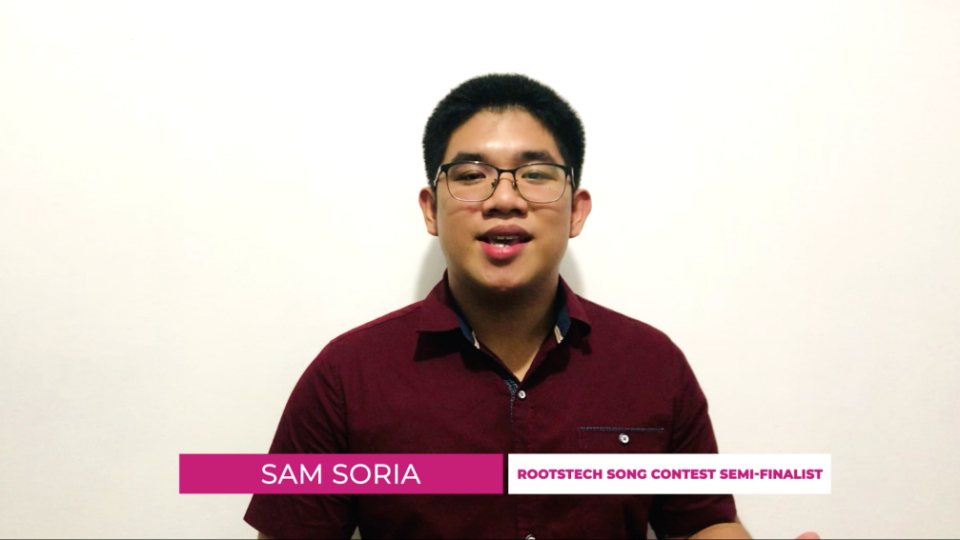 Young as he is, this is not his first foray into songwriting. In 2018, he wrote his first song, called Sing a Happy Tune, and has since made it a hobby of his to write music. His mother, knowing about his hobbies of songwriting and composing music, told him about the contest after she saw one of her friends share the contest's details on Facebook. When he found out about the contest, he immediately took the chance to write new music. Beyond this, however, he said, "My main reason for joining is to share my gratitude for my family and the blessings and help I have received from God as I have strived to connect with Him." 

Despite his willingness to join the competition, however, when he started to write his song, he was actually struggling with school, the expectation to succeed in academics, and the pressure from being compared to his peers. Amidst these difficulties, he received much help from his family and Heavenly Father. 

These experiences inspired him to write his song. Samuel paid much thought to the theme and to whom he could relate to the theme. Going back to his experiences, he settled on writing about his family and God. He then thought about his own struggles and the struggles that are common to all people, and finally started to write the lyrics after crafting his message. 

He shared, "We are all struggling. Sometimes, we have negative thoughts like we are alone, and the adversary tries to deceive us and blur our identity and our destiny, but I realized through the help I receive from Heavenly Father and from my family that I was not alone all along."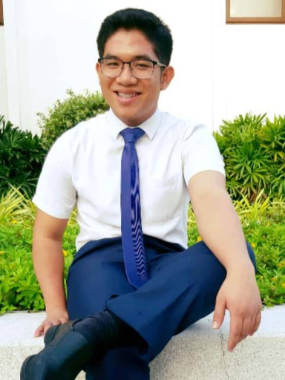 Speaking on the meaning of his song and its connection to the theme, he said that asking for God's help reminds him that he belongs to a Father in heaven and that God has given him a family and that thought gives him hope. 

Samuel shared that before the lockdown, he and his family went to the temple regularly and that he would do indexing to search for names. He said that doing this helped him to feel that the Lord leads in this work and that the Lord will help anyone who does His work. 

He also shared how he, as a young ward family history and temple consultant, taught the youth in his ward to write stories about their ancestors. Helping them was a refreshing experience for him and the youth in his ward, and he said that he felt happy to see the joy that his friends experienced from drawing closer to their ancestors from finding out about their stories of faith. "I draw strength from their experiences in life and stories," he said. 

The young man was excited to share his testimony. He said, "I know that families can be together forever… I know that temple and family history work are the work of the Lord. It is important to bring and seal families together so that we can live together forever, even in the next life… I know that Heavenly Father loves all of His children, and someday, we will see Him again as an eternal family." 

About RootsTech Connect 

RootsTech Connect is a virtual conference focused on using technology to celebrate and connect families. The conference will be held from February 25 to 27, 2021. The event is completely free and open to join and may be registered for at the RootsTech website, and will feature celebrity keynote speakers and a variety of classes on a number of different topics from speakers from around the world. 

Voting has closed for the RootsTech Song Contest. The finalists for the RootsTech Song Contest will be announced in the opening session of the event on February 24, 2021, at 9 PM Mountain Standard Time (MST).