For decades, leaders of The Church of Jesus Christ of Latter-day Saints have always encouraged members to store at least a three-month supply of food. This principle derives from one of the Church's extensive welfare programs: self-reliance.
With a desire to follow Jesus Christ's example of obedience to Heavenly Father, Latter-day Saints strive to apply this gospel principle in their lives.  The Serrano, Querido, and Manalo Families are examples who have practiced the principle of food storage.
With the COVID-19 pandemic disrupting normal activities and livelihood income, practicing the principles of self-reliance long before a crisis occurred prepared these families, giving them the peace of mind amid adversity.
Abigail I. Serrano, Iriga 1st Ward, Iriga Philippines Stake
"Ever since we were little, we have been taught and counseled repeatedly by our prophets of old and prophets today to be spiritually and temporally prepared," Abigail shared. "We have grown living these principles within the walls of our homes."
Abigail, a mother of a three-year-old, expressed gratitude for the principles taught in the Church about being self-reliant, paying tithes and offerings, building storage of food and financial reserve, living providently, and following the Lord's way.
"We have always been keeping a 72-hr kit as a reserve for emergencies," shared Abigail. "But with the rapid increase of cases of COVID-19 in December 2019 in Wuhan, China, and the rapid spread of the virus worldwide in January, we counseled together as a family to establish food storage that we could keep and consume for the next three to six months."
Since January of this year, they have been buying goods and supplies, such as canned goods, sacks of rice, dried beans, peanuts, packs of flour, seeds that we could plant around the house, medicines, babies' needs, and other necessities. They have also started collecting and storing firewood for cooking.
Abigail shared that in the first two weeks of the enhanced community quarantine (ECQ), they worked on tilling their garden so they could plant perennial vegetables and crops, like ladyfingers, swamp cabbages, string beans, snow cabbages, hot peppers, eggplants, tomatoes, bitter gourds, bottle gourds, squashes, and onion. She explained that they made this decision so that they would not be a burden to their community.
Through their garden, Abigail shared that they were able to help their neighbors. They shared some of their seedlings to that their neighbors can plant their own vegetables.
In addition, the Serrano raise their own free-range native chickens, which provide them meat and eggs. "Because we have been building a financial reserve by regularly saving a portion of our income, we were able to buy all of these goods anytime," revealed Abigail.
Abigail expressed that the lessons they have learned helped them become better prepared for the future and not fear when uncertainties and calamities arise such us the pandemic. "There is really great wisdom in preparing for the future," she said.
Roberto Querido, Angeles City, Pampanga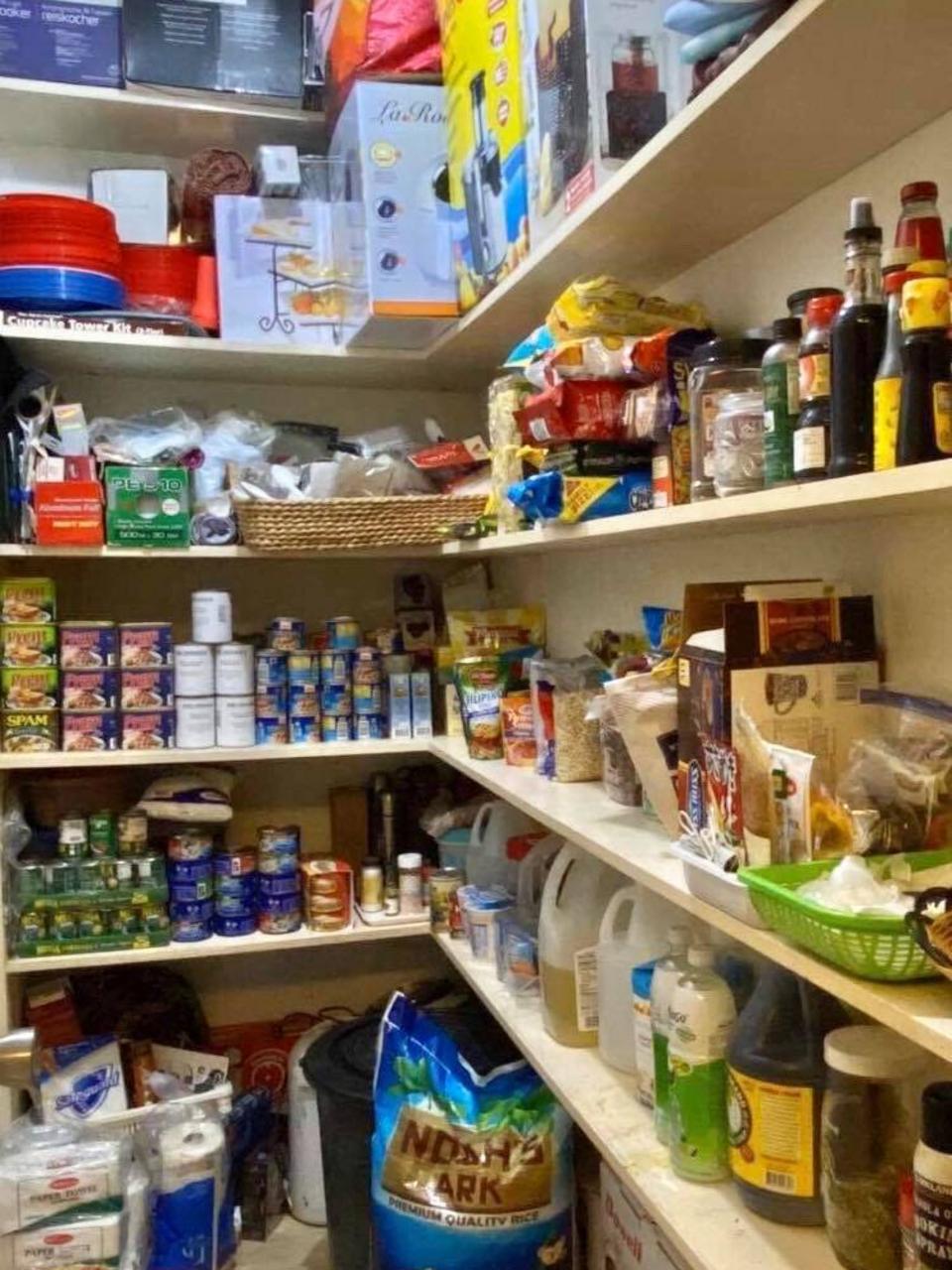 Roberto, a retired Seminary and Institute director, shared that even before the start of the COVID-19 pandemic, they have already built a reserve of food good for two to three months. He said that this has been made possible through years of diligence.
Since their five children were little, the Querido Family has been practicing the principle of emergency preparedness.
"Our leaders have been encouraging us long ago to keep our food storage current, so we will be prepared any time when we need them [the] most," shared Roberto. "It is our responsibility to provide for ourselves and our families. We have also been counseled for many years to be prepared for adversity. When emergency cases or other disasters strike, we are ready to combat them, and we have something for our use and share. The words of our leaders about being prepared motivated us to follow all the way. That we should always be ready at any time by having the basic supply of food and water in the home.
Even now that their children have grown and had their own families, the Querido Couple is happy to see that their children are living the principles of self-reliance, having enough food in their pantries.
Querido shared that their pantry wasn't full when they first started. He revealed that their food storage began when they started to buy at least three days of food and water every time they did their grocery shopping. Eventually, they were able to build a reserve that could last them for three months.
"When you make it a habit to put more food in your home storage every time you buy food, you'll eventually realize that you have enough food that can feed you [and your family] for more than a month," he explained.
Roberto also explained that high income isn't necessary when building a supply of food for the family. "When we properly budget our money, pay our tithes, and buy extra food, we'll be ready to provide for our future needs quickly, particularly in emergencies like the COVID-19 crises. We can also have the ability to share what we have prepared with others," he said.
Apart from having their own reserve of food, Roberto has started gardening so his family can have a constant supply of vegetables. He and his wife plan to build a reserve for the long-term. They are learning how to pack and store food properly so their food supply can last for many years.
Querido shared, "Caring for ourselves and others should be our constant concern as disciples of Jesus Christ. Following our leaders' words will help us become better prepared and have the ability to help others."
Roberto advised, "Be mindful of the commandment to have food storage in the home. We never know when we are going to need it. 'If Ye Are Prepared Ye Shall Not Fear.'"
Ida Manalo, Antimonan Ward, Lopez Philippines Stake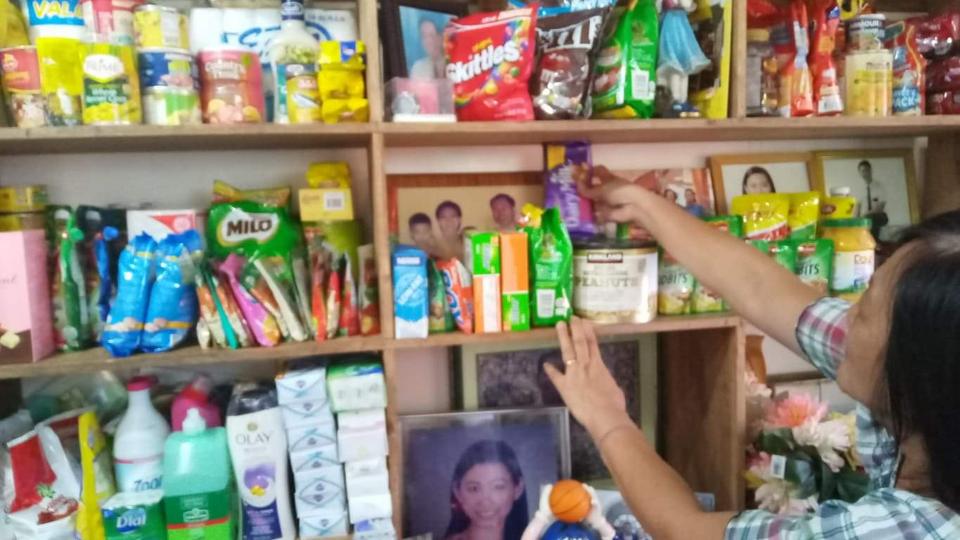 Ever since they married in 1986, the Manalo Couple has been practicing 'food storage' up to the present. This practice has blessed them on several occasions all throughout their married life.
"When Patriarch [Manalo] lost his job as a seaman in 1989, we did not owe any debt because we had savings and food storage. It was almost a year that my husband had no work, but we were able to survive," Ida narrated.
Manalo also shared that even when their children were studying in Manila and floods came and stores closed, they were prepared to stay at home because they had their own a 72-hour kit.
Because typhoons frequent the Town of Atimonan, the Manalo family always store food for one month so they could survive. They also made sure they have enough they could share with other members of the Church in case relief goods are delayed.
Apart from having an ample supply of food, Ida also shared that they also made sure they have enough savings for emergency cases. By having a financial cushion, they were able to avoid loans. She explained that they were even able to build their house without loaning.
"Blessings came from paying a full tithing, simple living, and living within our means," she explained.
When asked about pieces of advice they can give to those just starting, Ida said, "Always pay your full tithes and set aside money for savings whether your salary is small or big."
Ida also added to spend on basic needs and save money in case of losing employment. Despite the COVID-19 pandemic, the Manalo Family feels secured because they have enough food and savings.