"What doctrine, correctly understood, would motivate me to be a good parent?" This was one of the questions raised by Elder Renlund during an area-wide broadcast for parents on June 12. He emphasized that parenting may be difficult but that God's role in parenting wasn't for His children to be obedient but to have them choose to be obedient.
Elder Dale G. Renlund of the Quorum of the Twelve Apostles spoke to parents and facilitated a panel discussion together with Sister Ruth L. Renlund. They shared meaningful insights about the sacred responsibilities of parenting.
The program was conducted by Elder Taniela B. Wakolo of the Seventy. Sister Anita H. Wakolo joined him in the parents' panel discussion with Elder Eduardo M. Argana, Area Seventy, and Sister Ma. Cecilia Argana; Brother Dante and Sister Marissa Noynay from Cagayan de Oro; Sister Perfecta Bautista, a single parent and Area Organizer Adviser; and Brother Edmond Ryan and Sister Sharon Perez from Laoag.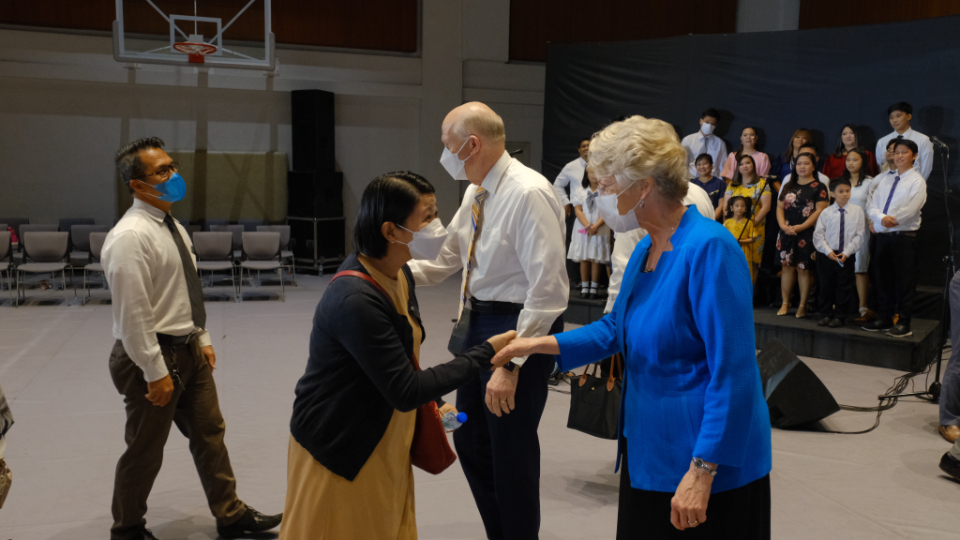 Five major doctrines in The Family: A Proclamation to the World
He said, "Parenting is difficult. It is difficult to accomplish and done in the right way. It is the most challenging task and requires the most out of us, the most inspiration from heaven to do it. And it's because of how God set it up to be."
Elder and Sister Renlund highlighted five major doctrines that can be found in The Family: A Proclamation to the World. These doctrines, Elder Renlund said, when correctly understood, will motivate us to become good parents:
All children are spirit sons or daughters of heavenly parents and have a divine nature and destiny. We need to know that we are dealing with a beloved child of God with a divine nature and destiny. It is easy to forget that, but this is a doctrine that, when correctly understood, will help us even in challenging situations as parents. 
The family is central to Heavenly Father's plan. As we work in families, we are part of the Creator's plan for our eternal destiny. The family is central to His objective, and that objective is "to bring to pass the immortality and eternal life of men" (Moses 1:39). Elder Renlund added that if we lose focus, it's easy to fall into certain traps along the way and not take this responsibility as seriously as we ought to. 
Our children obtained a physical body and accepted God's plan to come to earth to become heirs of eternal life eventually. As parents, it is our duty to help our children remember who they are; that they accepted God's plan to come to earth. 
Parents have a solemn responsibility to love and care for each other and their children. We must understand our sacred obligation to rear or bring up our children in love and righteousness. It is a solemn responsibility to provide for their physical and spiritual needs, teach them to love and serve each other, observe God's commandments, and be law-abiding citizens wherever they live.
Happiness in family life is most likely to be achieved when founded upon the teachings of Jesus Christ. Successful marriages and families are established and maintained on principles of faith, prayer, repentance, forgiveness, respect, love, compassion, work, and wholesome recreational activities.
"If a parent goes a little off course, the children are likely to exceed the parent's example. To any of the adults of the church, parents, or otherwise may be given to cynicism or skepticism, please be aware that the full price to be paid for such a stance does not always come due in your lifetime. No child in this church should be left with the uncertainty of his or her parent's devotion to the Lord Jesus Christ, the restoration of His church, and the reality of living prophets and apostles. They, parents, must live the gospel as conspicuously as they can." -Elder Holland quoted from former apostle Richard L. Evans
How can parents effectively parent adult children?
One panelist answered that "we need to set a good example for our children and encourage them to have a current temple recommend." Brother Perez said that teaching children about the gospel is never too early. 
Elder Renlund shared one principle found in Isaiah 58 that can be taught primarily to parents with adult children. He said that parents should encourage their children to live the law of the fast and to pray. 
Sister Marissa Noynay highlighted, "We always encourage our children to have a testimony of their own. We encourage them to do small and simple acts like reading and studying the Book of Mormon and attending the Seminaries and Institutes program of the Church."
Elder Wakolo added that encouraging and helping youth and adults to prepare and serve missions can help them stay on the covenant path.
Parents' takeaways from the broadcast
Brother Reggie and Sister Rochean Ariola, parents of three, aged 12, 10 and 7, shared that they were reminded of the importance of The Family: A Proclamation to the World and the doctrines it contained. 
His wife, Sister Rochean, said that her favorite part of the discussion was on the importance of communication in the family, especially on one-on-one interviews with your children. She said this is one of the ways that we can show them that they are our priority.
"Sometimes we should teach the gospel not just by our words but also through our actions. I was reminded that even when we teach our children correct principles, we also need to act and live these principles," Brother Reggie said.
Brother Harvey Clemen and Sister Lovely Jewell Maasin emphasized how they felt blessed to hear the apostle's words and the panel's answers. They are parents to two children. Sister Maasin said that as young parents, it is a challenge for them to know what to teach their kids aged 2 and 4. 
"We felt they were too young to be taught these principles because they might not understand. But because of what we have heard today, we now have ideas on what to teach them. We learned the perfect doctrines to teach and the importance of teaching them correct principles at a very young age," Sister Maasin added.
Brother Bobet and Sister Sonia Francia mentioned the importance of helping their children realize and remember that they chose to follow God's plan, which is why they are here on earth. Brother Francia emphasized the need to understand that children have agency and that they are free to choose what is right from wrong. They are parents to grown-up children aged 26, 25, and 18.
"I was reminded of not expecting too much from my kids and to accept and love them no matter what happens," Sister Sonia shared.