Several Filipino Latter-day Saints erupted into shouts of joy when President Russell M. Nelson announced the construction of a temple in Dubai during the Sunday afternoon session of the April 2020 General Conference.
The Dubai Temple will be the first to be built by the Church in the Middle East. It will serve thousands of Latter-day Saints living in two stakes in the Gulf States and a number of member districts in the Middle East, Northern Africa, Eastern Europe and Western Asia.
Read the full story on the eight new temples announced by President Russell M. Nelson Monson during the General Conference of The Church of Jesus Christ of Latter-day Saints: https://newsroom.churchofjesuschrist.org/article/new-temples-april-2020-general-conference
Nobeth Fontanosa Binay and her husband who have worked in Sharjah and Dubai for the past 12 years expressed their feelings of sheer happiness over the building of a temple.
"All the fasting and prayer we did as a stake (Abu Dhabi Stake) was answered and fulfilled by the Lord through his servants. The work is hastening on. My appreciation goes to the UAE government for granting approval for the Church to build the first temple in the Middle East," she expressed enthusiastically.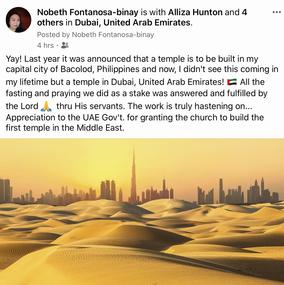 The United Arab Emirates has been an example of tolerance and religious inclusion since the country was founded in 1971. The first self-standing Church meetinghouse in the Middle East was dedicated by Elder Jeffrey R. Holland in the emirate of Abu Dhabi in 2013. Today, there are more than 1,600 Latter-day Saints in the United Arab Emirates.
Ronan and Liezl Romualdo have been living in Dubai for the last 14 years. They recalled joining a stake-wide fast to pray and plead to the Lord for a chapel to be built in their mids.
"We are still in shock. The Lord blessed us so much with a temple to be built in Dubai. We thank the local leaders and the prophet himself for all the efforts," he expressed in awe.
The new temple will be built in District 2020, the future legacy site of Expo 2020 Dubai. The site will include both a meetinghouse and a temple. The meetinghouse is where Church members living in Dubai will meet for weekly worship services.