The Interfaith Youth Camp is a yearly event by the Religions for Peace Asia & the Pacific Interfaith Youth Network (RfP-APIYN) to provide young leaders with the tools they need to work together to address myriad problems that young people face. This year, the camp focuses on the theme, "Asia Youth as Peacebuilders", which aims to educate and empower the youth to tackle societal issues within their countries and become peacebuilders in their communities.
Youth at the forefront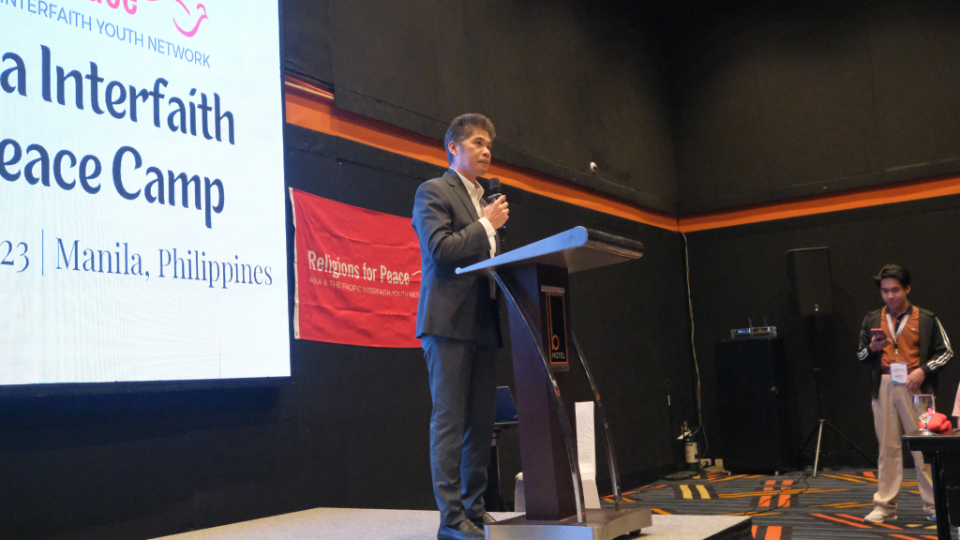 Religions for Peace Philippines – Secretary-General Dr. Pablito Baybado Jr. welcomed the delegates by addressing Asia's two primary troubling realities: first, Asia being the continent of the poor, and second, Asia's children and women are the most vulnerable in society. Dr. Baybado addressed that resolving these two troubling realities lay in the hands of ‌‌youth alone, them being ‌future generations. He then urged everyone to "Go out, not to wait… Go to the peripheries, go to those who are wounded, to where there is injustice, to where there is discrimination, and do something positive…and make this [Asia] a better place."
After Dr. Baybado's welcome message, Rev. Kim Taesung of the Seoul Peace Education Center, and Rev. Masamichi Kamiya, senior advisor to the Secretary-General of Religions for Peace Asia, gave their opening remarks. Rev. Taesung highlighted that the event provides the delegates with the opportunity to understand Asia's faced challenges, such as poverty, conflict, and discrimination. Rev. Kamiya then challenged the delegates that after the camp, they were not only "peacebuilders" but "change-makers" too.
Peace being more than the 'absence of conflict' 
The plenary section of the camp was opened through the keynote speech of Congressman Hon. Jude A Acidre. In his remarks, Hon. Acidre helped the delegates set up a more profound definition of peace through the Hebrew word Shalom, "Shalom is not just the absence of conflict, it's not just the absence of war…they refer to well-being, they refer to fullness – completeness." Hon. Acidre gave the delegates four variables in achieving peace, "to learn to listen, to learn to act, to learn to lead and to inspire, and to learn to love." Hon. Acidre ended his keynote speech by emphasizing that peace stems from achieving "harmony with oneself," then with "other individuals," and then "with the community."
Following Hon. Acidre, president of the Religions for Peace Philippines Dr. Lilian Sison, gave her remarks. In her speech, she asks everyone to be vigilant in seeing the injustices, modern-day slavery, gender-based violence and inequality in our society and to lend everyone's voices in promoting truth.
Delegates and Religions for Peace committee members ‌became panelists during the plenary sessions of the camp, which discussed topics on "Human Trafficking: Challenges and Opportunities" and "Children's Rights and Peacebuilding." Panelists shared their perspectives as professionals from varying fields of study, such as medicine, law, religion, and education, and their experiences addressing these issues.
Dr. Jaqueline Mallari of the University of Santo Tomas, who also serves as Deputy Team Leader of the Religions for Peace Youth Media Team, shared that human trafficking can take on varying forms; and those who became victims of it came from vulnerable sectors [children and women] of the society. She also addressed that amid issues of human trafficking come cases of Human Immunodeficiency Virus (HIV) and substance use disorders.
Ms. Nadia Afreen Khan, a Muslim delegate from Religions for Peace Bangladesh, placed great emphasis on children's rights, saying, "We all know the basic children's rights, but we don't know how to protect the children's, children's rights." Ms. Khan also talked about the crisis faced by street children deprived of their fundamental rights, such as the right to proper documentation that inflicts street children's rights in gaining an education and the opportunity to supply themselves better futures.
Building friendship through capacity building
Delegates also took part in various workshops during the 3-day Youth Camp. A workshop on "Youth, Peace and Security" hosted by the Church headed by Atty. Salma Pir Rasul and Ms. Linar Orbista of the Philippine Center of Islam and Democracy, Ms. Orbista emphasized the need for workshops that supply capacity building training, peace education activities, skills programs, and create safe spaces where youth can further recognize skills needed in peace building.
Mr. Shameer Rishad, Secretary-General of APYIN, Chair of RfP India Youth Committee, and Founder of Javed Abidi Foundation, conducted a workshop on "Peace Education", where delegates took part in forming a definitive definition of what a safe space is as a collective.
Dr. Renz Christian Argao, the moderator of APYIN, CEO of Argao Psych and Deputy Secretary-General of RfP Philippines, gave a workshop on "Religions for Peace Youth Leadership". Dr. Argao introduced five key issues that Religions for Peace aims to address and how the youth can help address these issues.
Mr. John Ismael Medina, Deputy Secretary-General of APYIN, a faculty member of the University of Santo Tomas Senior High School and Communications Officer of RfP Philippines Youth and Mr. Shameer Rishad conducted a workshop on "Projects and Programs Planning". Delegates were tasked as groups to create projects and programs to address an issue faced by their communities.