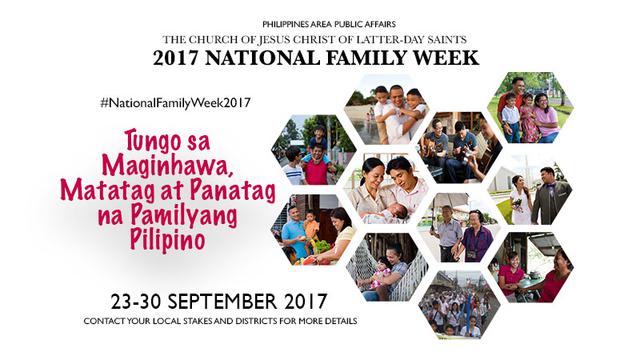 To help build strong families, The Church of Jesus Christ of Latter-day Saints will celebrate the National Family Week on 23-30 September 2017. The 2017 theme is "Tungo sa Maginhawa, Matatag at Panatag na Pamilyang Pilipino".
As this is the 25th year the country will observe this event, the Department of Social Welfare and Development (DSWD) national office will host the celebration. The Church supports its nationwide initiative to promote and strengthen families.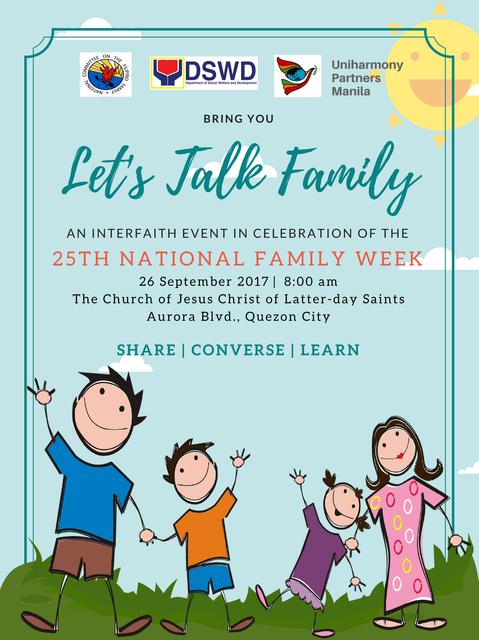 This year's observance focuses on building stable, strong and secured families for the next generation. One of the activities the Church will participate is the Interfaith event called Let's Talk Families. This activity is a focus-group discussion wherein participants from different interfaith groups will share insights on how they strengthen their families within their organization. The objectives are to learn and understand how parents build strong connections and improve parent-child relationships despite cultural and religious diversities.
The Interfaith event is in partnership with DSWD and Uniharmony Partners Manila, a faith-based organization that promotes interfaith harmony and cooperation for nation building.
This interfaith event will be on 26 September 2017 at The Church of Jesus Christ of Latter-day Saint Aurora Chapel located at Aurora Boulevard corner J.P. Rizal Street, Quezon City. It will start at 8:00 am and end at 12:00 nn.
The Church has been taking part in the celebration of National Family Week since 1992 through Proclamation No. 60. Stakes (dioceses) and districts of the Church organize various activities and events to promote the importance of families in cooperation with different local government units, non-government organizations and other institutions that advocate for families.