On December 15 2022, Internationally-renowned Filipino singer and theater performer Lea Salonga performed with The Tabernacle Choir at Temple Square on its annual Christmas Concert. During the performances, thousands from different walks of life were able to witness the glorious performances of world renown artists. Two of these very fortunate individuals were celebrity husband and wife Mikael Daez and Megan Young, who were invited by The Church to visit Salt Lake City to attend the concert.
"Overwhelmed"
"We were there to watch The Tabernacle Choir, featuring Lea Salonga. I had already heard of the Tabernacle Choir, so sikat na talaga sila! (so they were already famous)" Mikael expressed in their Youtube Channel Mikael and Megan.
In the video post, Mikael introduced, "Every year, they have this concert, they feature different artists, different singers, and it just so happens that for this year it was Lea Salonga, which gave us a chance to watch." Mikael related.
"I didn't know what to expect as we got here, we just went here knowing that there will be a choir, there will be singing, and there's Lea Salonga." Megan further related after entering the Conference Center.
In the video, they expressed surprise at how grand and majestic the Conference Center in Salt Lake was. "The concert hall was what stood out. It was a beautiful concert hall, the way the seats were arranged, the way it looked." The 1.4 million square-foot Conference Center has a capacity of 21,200 seats and can house a Boeing 747 between the seats and the stage. He further shared, "..and of course, the organ." Megan added " I don't think I've ever been in a theater like that, and I realized later on that was the organ at the stage area!"
"This is the first choir I've watched live." Mikael expressed "I also love the storytelling" said Megan. The Concert also featured renowned theater actor Sir David Suchet, who told the audience the story of British Humanitarian Sir Nicholas WInton.The Christmas Concerts usually have accomplished actors of the screen and stage tell traditional holiday tales to accompany the music sung by the Tabernacle Choir and its guest performers.
'The stage design was so cool because I realized, later on, while the show was ongoing, that it was a bunch of really huge books that were piled up on each other." She further related on the side character's performances " They had kids that performed at the concert"
Filipinos and Music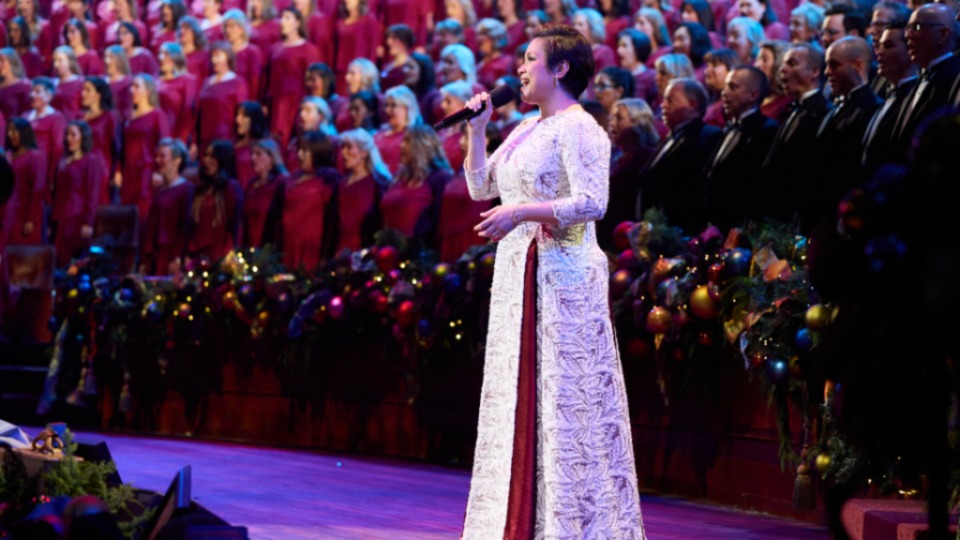 Mikael and Megan also chatted with some Filipinos in the audience after the show. Along with the celebrity couple were GMA 7 journalist Howie Severino and other crew members of the GMA Integrated news team. "The company was also something I truly enjoyed because we got to meet a lot of new people and see how they live their own lives"
"Lea Salonga sang a Filipino song." Megan also related..The song was "Payapang Daigdig" written by Felipe De Leon at the wake of World War II. Mack Wilberg, Music Director of The Tabernacle Choir suggested the idea that Lea sing a Christmas song from the Philippines and also created the arrangement for the choir and orchestra. The song was chosen upon the suggestion of Lea's Musical Director and brother Gerard Salonga.
In a panel interview with Howie Severino, Wilberg related about working with Lea Salonga "I've found that she's really quite, not only a great voice, but a remarkable musician"
Lea expressed, "It was something I had missed because, it had been a while since we were able to gather that many people in one space to be able to be in communion with live music and performances."
"We would like to say 'thank you' for inviting us..thank you for hosting us!" Mikael added "It was nice to get to know the differences between their Church and our own." And the experience overall in terms of just visiting the concert, watching it and watching Lea Salonga was just so fun!. I would like to do it again" Mikael expressed at the end of the video.
Mikael Daez is a Filipino commercial model, actor, news anchor and gaming vlogger. Megan Young started in show business as a contestant in StarStruck, a talent search competition in the GMA network.and is an actress, model and beauty queen and was crowned Miss World Philippines and Miss World 2013.
Hear more of their experience during the concert on an episode of Church News podacst with Sarah Jane Weaver.