Read about how Bishop Domingo's life was blessed because of the Brigham Young University (BYU) -Pathway Worldwide program.
My name is Al Jonathan Domingo and I am a proud graduate of the BYU-Pathway Worldwide program.
Deciding to enroll in the program was a tough decision to make. I knew that it meant investing time and money. I was also aware that I had to sacrifice a lot of things. But after much thought and prayers, I decided to enroll.
The first few weeks in the program were a grind for me. I had to juggle between family, work, school, and my calling in the Church. As the bishop (local leader) of the Cogeo ward (congregation) in Marikina, I have the responsibility to take care of the needs of the people under my stewardship. I had to learn how to manage my time to cater to all my activities while making sure I wasn't neglecting my studies.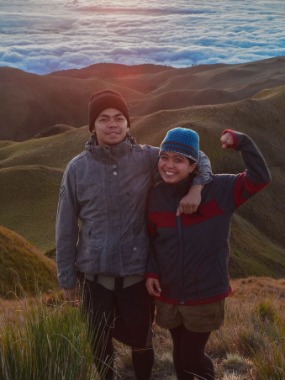 One of the things that really got me to stay in the program was the weekly gatherings we had. I enjoyed hearing the stories and experiences of my fellow students. I felt my testimony of the gospel of Jesus Christ strengthened as I listened to others share their thoughts and insights. Those gatherings gave me the boost I needed to keep going.
Miraculously, as the weeks progressed, I was able to manage my time and finances better than before.  I found myself gaining a new perspective in life, even an eternal one! By focusing on the things that mattered the most, I found myself making better decisions in all aspects of my life.
It's been over a year since I made that decision to enroll in BYU-Pathway Worldwide. As a Pathway graduate, I can see how all those hardships I went through shaped me into a better person. Looking back, I can see God's hands supporting me to conquer the seemingly impossible tasks I had to do. I will always be grateful for the Pathway program and for the people I met along the way. I am happy that I took this journey. I know that this is one way of God's saying that He will always be with me.
BYU - Pathway Worldwide
The Church of Jesus Christ of Latter-day Saints emphasizes the importance of continued secular and spiritual education. The Church Educational System (CES) is the umbrella for all education programs of the Church. 
BYU-Pathway Worldwide is responsible for all online certificate and degree programs offered by the CES. It provides access to spiritually based degrees at an affordable price. Its mission is to develop disciples of Jesus Christ who are leaders in their homes, the Church, and their communities. As of 2020, BYU-Pathway Worldwide has served more than 50,000 students in 152 countries. Certificates and degrees are offered in partnership with BYU-Idaho and, beginning in 2021, Ensign College.