Barangay Bonbon is located on the banks of Mananga River.  During rainy season, the water rises, making it difficult for residents of Barangay Bonbon to cross over the river.  The water also rages and surges neck-deep when strong typhoons hit the area causing landslides, soil erosion and other disastrous effects.  Worse, there is no bridge for residents  to cross in times of emergencies.
Geraldine, a resident of Bonbon for 18 years spoke of the hardships her family experienced. When the river seems impassable, she, along with her children have to take an alternate route that costs them an extra 50 minute walk just to reach their school.  The route is muddy and slippery, and the kids have to carry their uniforms and shoes inside their bags so they can go to school neat and clean. 
In response to this need, Mormon Helping Hands from Cebu City Stake (diocese) planned for the construction of a foot bridge.  Reyson Pua, a member of the Cebu City Stake Presidency (diocese), coordinated with Rise and Rebuild International, a nongovernment organization founded by Ray Goodson, one of four missionaries who first opened the Philippines to missionary work.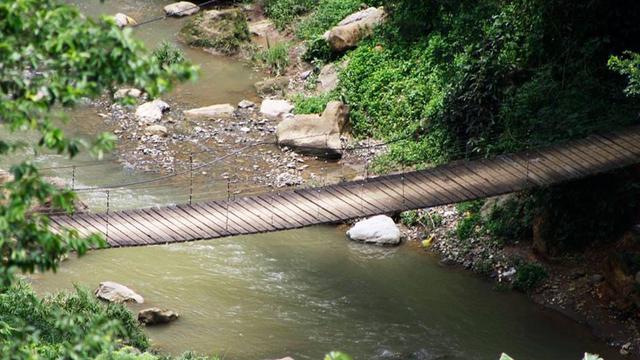 Together with Barangay Captain Eduardo Cabriana and other Bonbon officials, the foot bridge proposal came to its fruition. The construction which started on April 20, 2015 was completed on May 16 of the same year.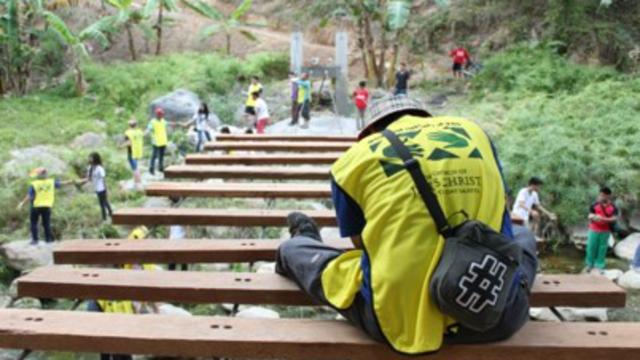 The hanging footbridge is suspended over the river connecting two sitios of Barangay Bonbon. It spans 35 meters long with a width of 1.5 meters.  Both of its ends are concrete columns that are anchored to the ground. Horizontal and vertical rope wires are clipped together to form a secure handrail and fence, which is a primary load-bearing element.  The deck is made of thick coco lumber slabs fastened by big bolts to make the platform sturdy and stable. It is elevated about 3 meters above the river high enough not to be reached by a water surge.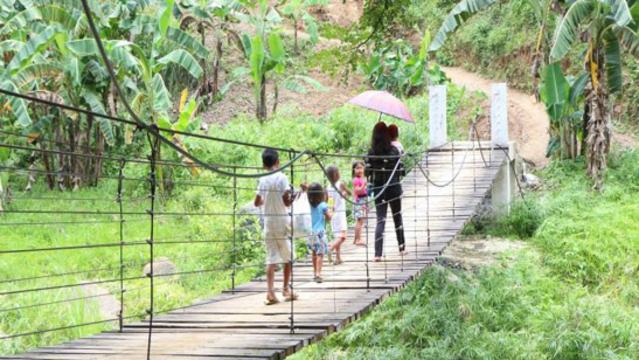 Barangay Bonbon residents and the neighborhood have greatly benefited from construction of the footbridge.  For 78-year old Tatay Abundio, the bridge is a tremendous blessing because he can now cross to the other side a lot quicker than before. He has used it to easily visit the wake of his friend in another Barangay.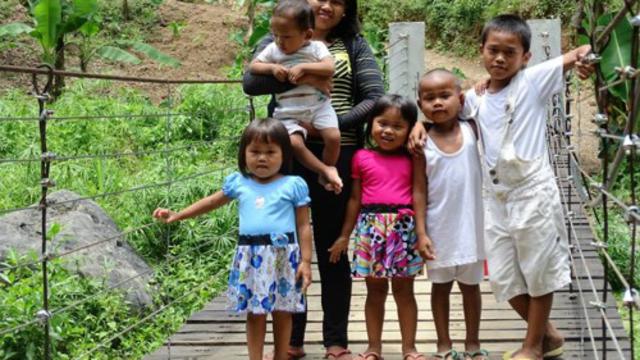 The bridge is a symbol of hope, service and unity.  It provided residents a safer and quicker access as they travel to work, and helped mothers take their children to school for the continuance of their education.
One Mormon Helping Hand volunteer exclaimed, "I am very happy with what we have accomplished. As always, we serve because we want to follow the teaching of Jesus Christ to serve others."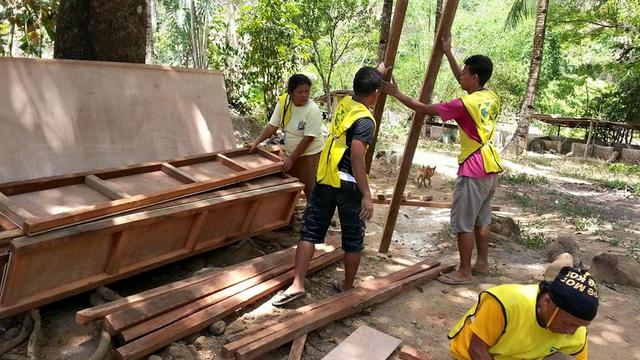 Report by Lilbeth S. Reniva
Photos by Jocelyn L. Pugoy