World Sight Day is an international day of awareness on the global issue of eye health. This year, it is celebrated on October 14 with the theme #LoveYourEyes.
The power of sight is often taken for granted, but it greatly affects a person's quality of life. Results of a 2018 study showed that 29% of Filipino children have vision impairment. Because of the global pandemic, this number is expected to increase as children spend more time viewing digital screens.
As part of its commitment to help address the vision problems of underprivileged students, Latter-day Saint Charities (LDSC) worked with the Mabuhay Deseret Foundation, a non-government organization, and the Biliran Schools Division to donate 1400 pairs of prescription glasses to school-age children as part of the Biliran Vision Project. 
Elder Jairus Perez, LDSC Country Director, said, "Many Filipinos, especially children, live with undiagnosed eye problems. [Our objective] is to prevent blindness and visual impairment as we strengthen eye care services to the poor by mentoring vision professionals who work in health care organizations. We also provide equipment, supplies, and organizational support to these eye care professionals and programs. "
In September 2020, LDSC had initially shipped 812 prescription glasses to Biliran. With school nurses trained by an optometrist, the Division distributed the glasses and taught students its proper care and maintenance. Four months later, Elder and Sister Whitmore, full-time Humanitarian service missionaries, facilitated in donating additional prescription glasses and conducted free eye consultation services for every student in the Division. Those with visual impairments received free eyeglasses.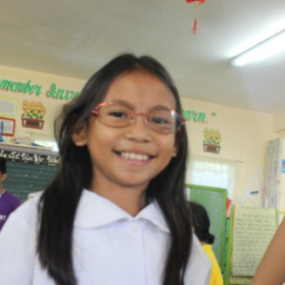 Mary Petalcorin, a 6th-grade beneficiary, expressed her gratitude for the opportunity to see clearer. She said, "My heart is full of gladness... because I can now see clearly! With my new glasses, I can read and answer my learning modules."
Another beneficiary of the Biliran Vision Project was 10-year-old Shannel. Because of poor eyesight, she experienced headaches and had difficulty reading. After receiving her prescription glasses, her mother shared, "My daughter's reading has noticeably improved! No more headaches! Thank you for the free eye consultation services and the glasses." 
Of the project, Elder Perez shared, "As people trying to be disciples of Jesus Christ, we are under the divine mandate to care for those in need. We are trying to do our little share to help the community. Seeing the happiness in the eyes of the children when they received their glasses is priceless. I am sure our Heavenly Father is also happy for them."
Latter-day Saint Charities
Latter-day Saint Charities is the humanitarian arm of The Church of Jesus Christ of Latter-day Saints. Its core purpose is to relieve suffering, foster self-reliance, and provide opportunities for those who want to serve voluntarily. Vision care is one of their nine signature programs.
LDSC follows the admonition of Jesus Christ which is to "feed the hungry, give drink to the thirsty, take in the stranger, clothe the naked and visit the sick and afflicted."