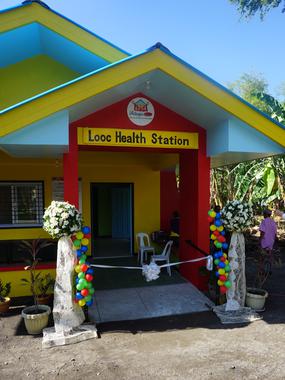 A turn over ceremony of the new Looc Health Station on edge of Lake Taal in Batangas brought together project partners, government leaders and beneficiaries. "With the Looc Health Station, the people will have good health for a better future" says Mayor of Balete, Hon. Leovino Hidalgo.  After the breaking ground last June, a well-organized team went into action.  United Architects of the Philippines (UAP) – Batangas Chapter, D.M. Consunji, Inc., ABS-CBN Corporation, Health Futures Foundation Inc., and Latter-day Saint Charities – Philippines Inc., all played important roles.
The brightly-colored concrete building complete with a reception area, consultation and delivery rooms recently opened with a team of health professionals. The newly turned over Looc Health Station in Batangas will be the hub for health and wellness for people in the barangay (village). 
The barangay is planning to choose a captain for each group of ten families that will organize health-promoting activities and plan for community vegetable gardens.
Hon. Carlito Ocampo, Barangay Head, welcomed project partners, guests and beneficiaries.
Dr. Jaime Galvez Tan, Chairman of Health Futures, Inc., gave an inspiring address urging everyone to think positively, and live healthy and productive lives. 
The local team of health professionals in their purple and yellow uniforms were in the audience and were acknowledged by Dr. Pozvilinda M Ozaeta, Provincial Health Officer, Batangas and Dr. Elizabeth V Sario, Provincial Health Team Leader, Batangas.  
The Partners each took a turn expressing their appreciation for the government officials and partners who contributed to the project.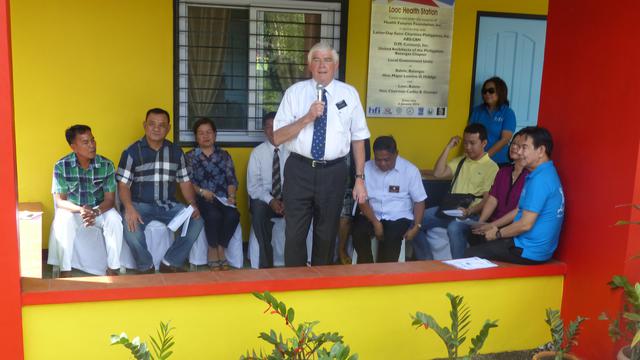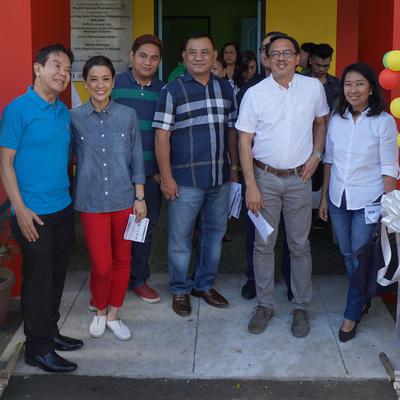 Elder Norriss Webb of Latter-day Saint Charities thanked everyone for their great teamwork.  "Contributions from members of The Church of Jesus Christ of Latter-day Saints throughout the world made it possible for LDS Charities to be a partner in this wonderful team effort.  We are happy to be part of it.  We hope for longer and healthier lives for everyone in this area."  
Mr. Higino T Dungo, Head, Public Service Group ABS-CBN Corporation also spoke.  He brought his news team including newscaster Bernadette Sembrano. Hon. Leovino Hidalgo gave the acceptance speech and expressed gratitude for the work of all the partners.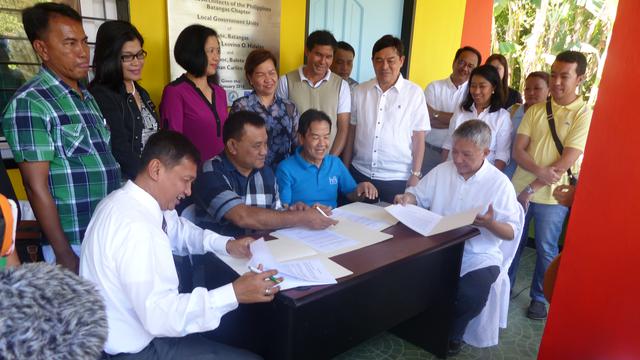 Grateful members of the neighborhood gathered on all sides of the building to listen to the ceremony and crowded in close to watch the signing of the Deed of Donation, the presentation of the Ceremonial Key and closing remarks by Dr. Czar Qinto, Municpal Health Officer, Balete.  The opening prayer was offered by Elder Daniel Soweto of The Church of Jesus Christ of Latter-day Saints and at the close, a Blessing was given by Fr. Carmelo A Caluag, Head, Integrated Public Service ABS-CBN Corporation.
Latter-day Saints are counselled to help those in need. President Dieter F. Uchtdorf of the First Presidency has said, "As we lose ourselves in the service of others, we discover our own lives and our own happiness" ("Happiness, Your Heritage," October 2008 general conference).