An area devotional for Latter-day Saints ages 18 to 30 in Asia and the Pacific will be led by Elder Ronald A. Rasband of the Quorum of the Twelve Apostles on March 14, 2021. The broadcast will be available for all Filipino Latter-day Saints to watch on YouTube in Tagalog and in English.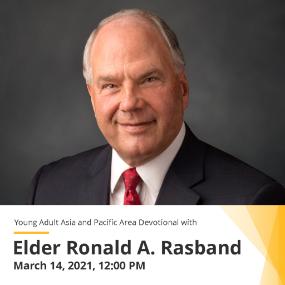 The Church of Jesus Christ of Latter-day Saints encourages its members to study the gospel using the Scriptures and other study materials in their native languages and has made this virtual event available for viewing in Tagalog for Tagalog-speaking members in the Philippines.
This area devotional will be the fourth in a series of six Apostle-led area devotionals for the young adults of the world which began on the last week of February. Three area devotionals, led by Elder Neil L. Andersen, Elder Jeffrey R. Holland, and President M. Russell Ballard have already been broadcasted. Following the area devotional for Asia and the Pacific, there will be two more area devotionals to be led by President Dallin H. Oaks and Elder Ulisses Soares.