For three days, there was a throng of visitors at the Family History Exhibit in Robinsons Place Calasiao.  More than 1400 visitors took time to know more about their family history.
Precious family treasures and informative banners were on display.  Volunteers with internet access were hands-on as they helped visitors register to FamilySearch, a popular genealogical website sponsored by The Church of Jesus Christ of Latter-day Saints and is available to the public for free.
"This exhibit is awesome!" exclaimed a visitor, Mr. Kurt R. Ramboyong. "In our culture, Filipinos value family very much.  An intelligent and spectacular idea in linking one's generation to another generation," he added.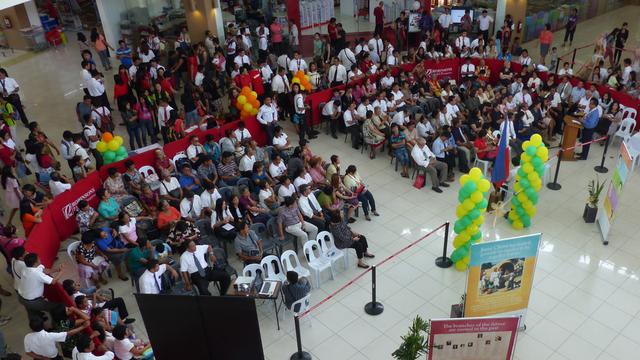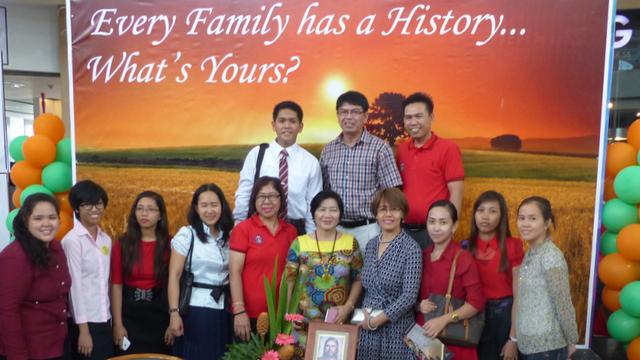 During the opening program, Ms. Alta Grace Cadalig, Asst. Group Communication Manager of Robinsons Place, gave a warm welcome. "It's Robinsons Place's privilege to join as partners in this public service endeavour." 
Local ecclesiastical leader, Pres. Gilbert Z. Untalan of Calasiao Philippines District (diocese) highlighted the event by saying, "One cannot reach his destination if he doesn't know how to look back to the past or where he came from. Thus, knowing our identity is important as we aspire and strive to achieve our goals and ideals in life."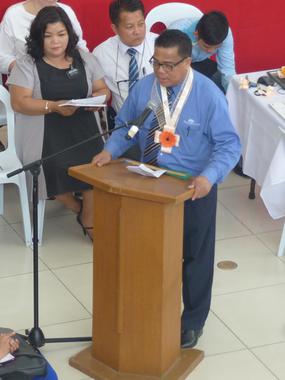 Manny Baul, Philippines Area Director for Family History, told why family history is important to him. During a World Ward II bombing raid in Bataan Manny's grandfather died of a heart attack. 
There were rumors that people in Pampanga had sided with the Japanese and Manny considered them "traitors." As the leader of a gang of youth, he beat up anyone from Pampanga.  
One day, Manny met a man with the last name Baul from Pampanga.  He discovered that both of this man's parents were Kapampangan. He told the audience, "It was time to call a truce. Later I joined the Church. When you discover who you are, you discover that everyone is your brother or sister."  
The exhibit is a showcase for a free service to help people find their history.  Offered by FamilySearch, anyone interested in discovering more about their families can search on the internet at FamilySearch.org  from their own home or receive personal assistance in one of 176 Family History Centers nationwide . Modern technology makes it all possible.  Filipinos can now dig deep into the past and learn who they really are. 
Responses from Local Leaders
Atty, Joey Tamayo, a municipal councilor in Dagupan City, said, "I'm very happy to discover my roots and to know that I have an ancestor who became a governor of the province of Pangasinan."
A guest from media, Mr. Ike Palinar of Aksyon Radyo, registered to FamilySearch.org. He said, "I can recall my paternal grandfather's name,  but I didn't know his wife's  name.  I'm very happy to find  my grandmother's name.  I didn't know that there is a church which does Family History work like your Church. You exert extensive efforts in this work."
Dr. Froserfina J. Bravo, OIC Schools Division Superintendent, DepEd Dagupan said,"I didn't know there is a work such as this.  I want to explore more of it.  When I retire from my job, this is what I'm going to do."
FamilySearch is a free service provided by The Church of Jesus Christ of Latter-day Saints. FamilySearch's commitment to helping people connect with their ancestors is rooted in the Mormon belief that families are meant to be central to our lives and that family relationships are intended to continue beyond this life.
FamilySearch is the largest genealogical organization in the world.  Since 1894, FamilySearch has worked with archives, libraries, and churches in over 100 countries to facilitate economical access to records that help people find their ancestors. FamilySearch adds 400 million new historic records every year, and these records and services are available online at FamilySearch.org, or through over 4,600 family history centers in more than 130 countries, including the renowned Family History Library in Salt Lake City, Utah.  There are 176 family centers in the Philippines with a staff of volunteers to assist everyone who wants to discover more about their family and their heritage.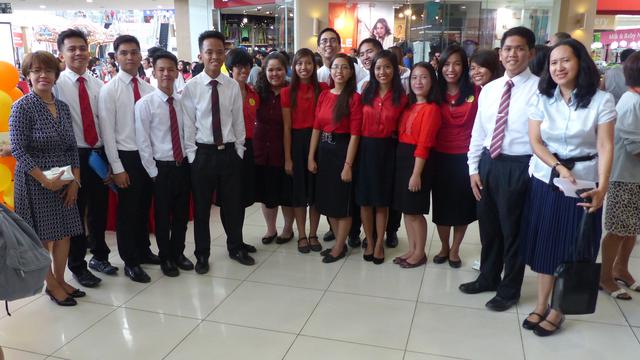 Organizers and Performers of the Famiy History Exhibit, May 2016 Robinsons Place Calasiao