The Church of Jesus Christ of Latter-day Saints in partnership with Uniharmony Partners Manila (UPM) and the National Committee on the Filipino Family (NCFF) will host the 3rd Interfaith Family Forum (IFF) in celebration of the 28th National Family Week.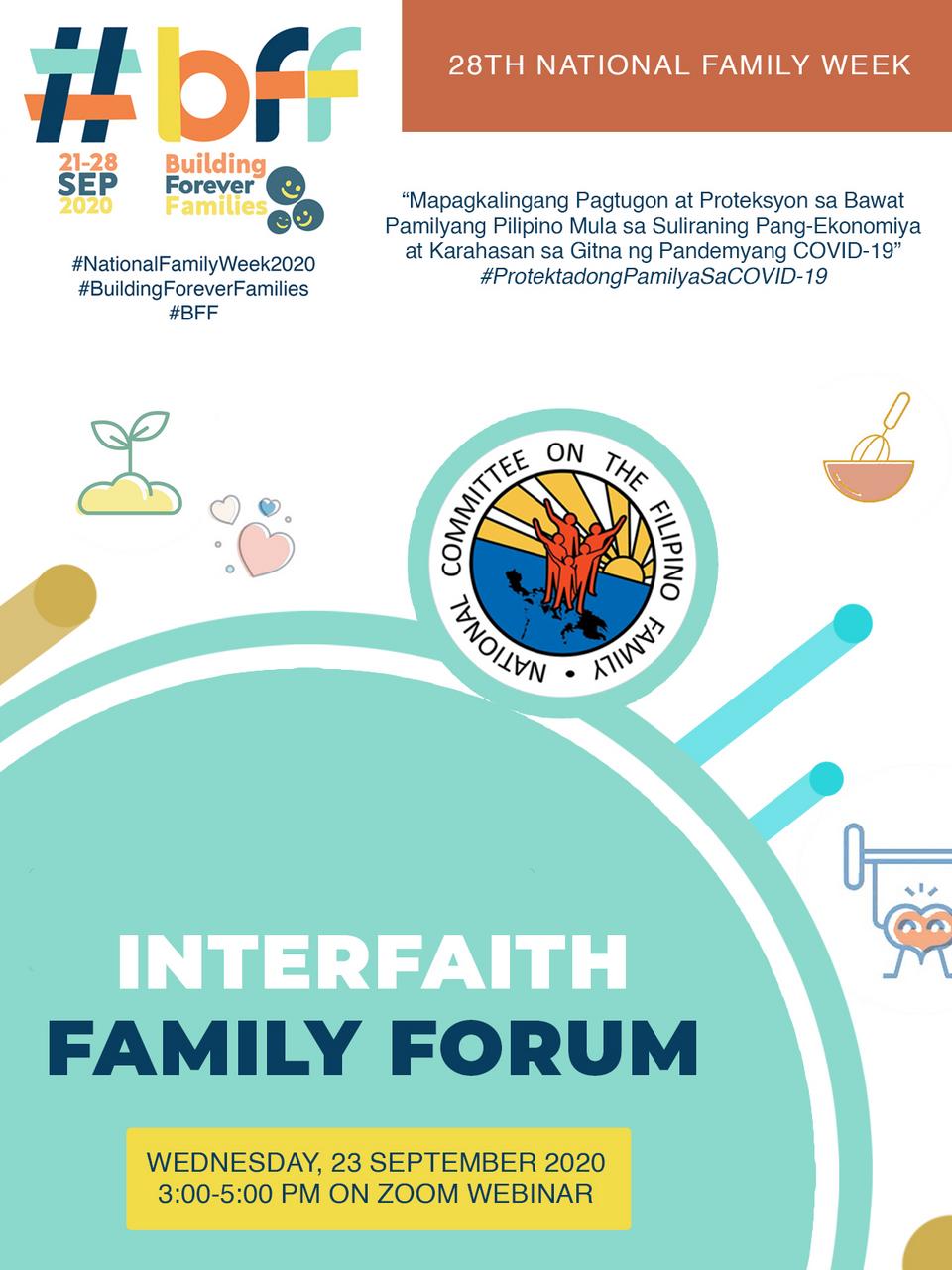 This forum will be on Wednesday, 23 September at 3:00 pm to 5:00 pm through Zoom Webinar. The topics will focus on the theme "Mapagkalingang Pagtugon at Proteksyon sa Bawat Pamilyang Pilipino Mula sa Suliraning Pang-Ekonomiya at Karahasan sa Gitna ng Pandemyang COVID-19" [Caring Response and Protection of Every Filipino Family from Economic Concerns and Dangers Amid the COVID-19 Pandemic].
A lineup of expert resource speakers is in place and will share their knowledge and expertise on topics such as Mental Health and Suicide, Addiction and Pornography, Social Media Dilemma, Self-Reliance through Gardening, Spirituality in the Family and the Philippine Situation on the Mental Health of Youth. Following the discussions, the forum will open for questions that speakers can help address.
The webinar is open to all, and the Church and its partners, UPM and NCFF encourage everyone to register in advance through the Zoom National Family Week Webinar. Attendees will receive a unique "Join Webinar" link as confirmation.
About Interfaith Family Forum
As part of the National Family Week celebration, the IFF is organized through partnerships with the interfaith community and other NCFF agencies. It highlights various speakers who are experts in addressing issues that affect the modern family, such as mental health, spirituality, health and wellness, and many others. The goal is to raise awareness on such issues and to educate families on the ways they overcome factors that impact their family dynamics.
About National Family Week
The National Family Week has been observed annually since 1992 after the signing of Proclamation 60, which declared every last week of September of every year as Family Week. This declaration is in accordance to the Philippines Constitution, which affirms that "the state recognizes the Filipino family as the foundation of the nation." The Church remains at the forefront since 1992 in supporting this proclamation.