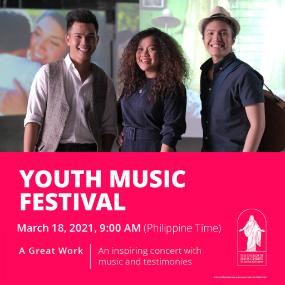 Youth in the Philippines are encouraged to tune in to and invite their friends to the Youth Music Festival, a virtual global concert that will be broadcasted on Thursday, March 18, 2021, at 8:00 a.m. The event will be available to watch on YouTube and on the Church's Facebook page.
The event, which is themed on the 2021 Youth theme, taken from Doctrine and Covenants 64:33-34, is a pre-recorded live stream virtual concert and will feature the participation of three outstanding, young Filipino members of the Church, Loredel Ducena from Fairview Philippines Stake, Ralph Mallapre from Cebu Philippines Liloan Stake, and Brio Divinagracia from Quezon City Philippines South Stake, who will give their rendition of one of the 2021 Youth Album songs in a special music video.
Aside from their participation, the event will also feature testimonies from youth and Church leaders, performances from youth around the world, and inspiring music in a host of different languages catered specially for the youth of the Church.
The 2021 youth theme video will also premiere during the event, after delays due to COVID-19 restrictions.