On April 27, 2013, thousands of Mormon Helping Hands volunteers worked together to do service projects in their communities.  This day of service is an annual event held in the Philippines for more than eight years.  At other times of the year, volunteers make themselves available in helping people whose lives have been affected by natural disasters and other emergencies. Mormon Helping Hands volunteers also partner with government and nonprofit organizations to support and improve the communities where they live.
The Helping Hands program reflects their desire to follow the example of Jesus Christ by serving others. The effort receives resources from Church humanitarian services, and the projects are coordinated by local Church leaders.
Cebu Philippines Mission
In Basak, Mambaling and Cebu City, volunteers held a feeding program. A total of 420 children and 100 adults were able to receive a free meal.  They also taught people in the barangay how to strengthen their families by doing the Family Home Evening program.  Pres. Darwin Clark Maandig, Stake President of Cebu Central  Stake (diocese) said, "This activity is not only about giving service in the community  but also about teaching them the importance of families. We are so thankful for all those who shared their time and talents with the children and made this a worthwhile experience."
Members in Naga City gathered in the early morning for tree planting. A total of 500 mangrove seedlings were planted.   Mangoves are a source of food for small fishes and play a vital role in the ecosystem. The mangroves also help protect coastal towns from typhoons by providing a buffer from the waves.  
Dr. Simeon Rose, PhD, from the Department of Environmental and Natural Resources (DENR) said, "This is a very big help to rehabilitate the environment. I'm thankful that Mormons have been helping us plant these seedlings for years now."
Members helped in clearing a blind curve on a road leading to Windfields Subdivision in Consolacion, Cebu.   This curve was covered with rocks and soil making it difficult for drivers to negotiate the area.  Bishop Policarpio from the Church said, "There are many residents near this area and we want to prevent accidents here. We cheerfully take part in responding to the needs of the people to improve the community."
In Lapulapu City, the Mactan Shrine was cleaned by volunteers in the early morning of April 26.  They wanted to help preserve and beautify one of Cebu's historical tourist destinations.
It was a great day for all 790 volunteers who gave a total of 2,930 hours of service!
Santa Cruz Laguna Philippines Stake
Victoria Branch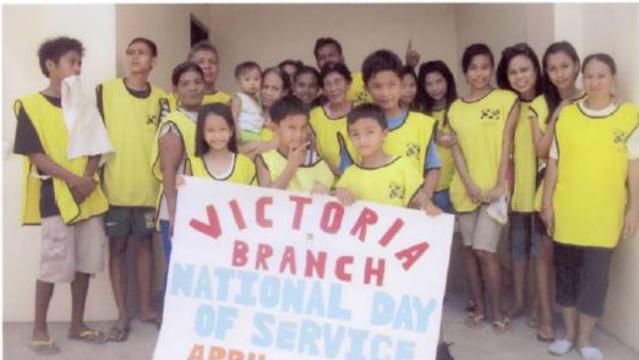 Members of Victoria Branch (congregation)  did a clean-up project in  Barangay Pagalanan. Nineteen members gave 76 hours of service as they worked to a feeling of unity and cooperation in their community.
Santa Cruz 1st Ward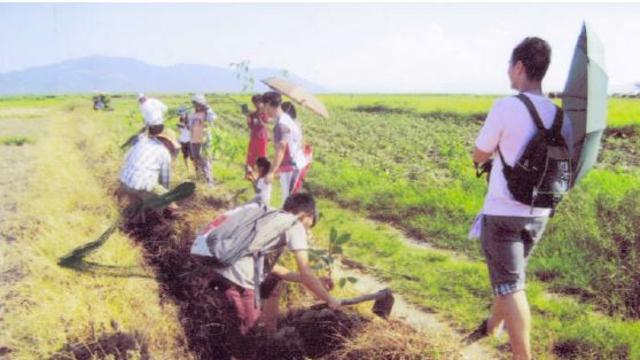 Members of Santa Cruz 1st Ward (parish) met at Santa Angel Norte to plant rubber trees in preparation for the rainy season.  Rubber trees help control flooding that usually occurs in the barangay and other nearby areas. Community relations were strengthened because of unity and cooperation. 
 Twenty five  workers gave 100 man-hours of service.
Lumban Ward
Thirty members went to Lumban Road to plant trees along the sides of the streets. They did this to control flooding on the low areas of this road everytime the rains come. Volunteers gave 120 man-hours of service.
Santa Cruz 3rd Ward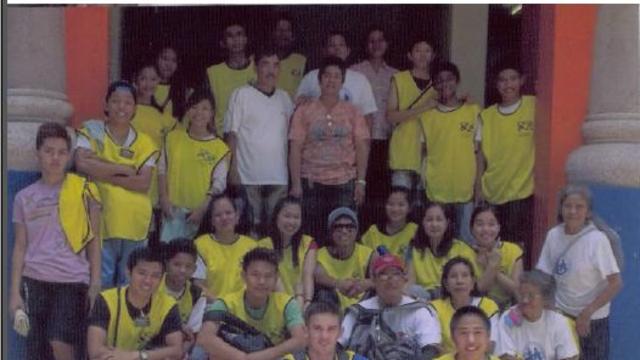 Santa Cruz 3rd Ward members cleaned the grounds of Palasan Elementary School in support of DepEd's "Brigada Eskwela" initiative.  Forty-five members accomplished 180 man-hours of service.  One volunteer related the wonderful feeling of love and care for the children in the community and their school.
Catanduanes Philippines District
Eighty  Mormon Helping Hands volunteers held various projects in three different barangays.  In Santo Domingo, participants worked with community leaders to clean the Sto. Domingo River in Virac. Fruit bearing trees were planted and open parks and areas were cleaned in Vicente Bagamanoc.
In  San Andres, the Municipal Ecological Park was cleaned. Church leaders and volunteers were able to coordinate the work with barangay leaders.  Hon. Antonio Romano, Municipal Mayor of San Andres, Catanduanes expressed appreciation for the service rendered.  The day ended with members doing a total 322 man-hours of service.
Daet Philippines Stake
The nine local units (congregations) in the Daet Stake (dioceses) of The Church of Jesus Christ of Latter-day Saints had a busy morning on April 27th for the National Day of Service. Stake leaders coordinated with Mayor Alexander L. Pajarillo to prepare for the tree planting activity. 1000 mangrove trees were planted in cooperation with the Local Government Unit of Mercedes. Though the mayor was not able to attend, he was represented by Councilor of Mercedes Hon. Ramil Apolinario, who is a member of the Mercedes Ward.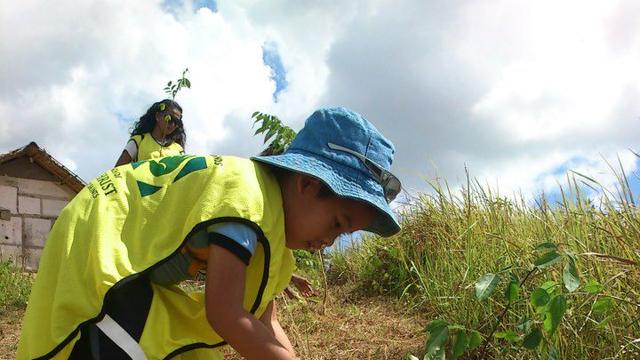 A separate tree planting activity was conducted by the Jose Panganiban and Paracale Branches of  Daet Philippines Stake. One hundred narra trees were planted in the watershed area of the municipality. They coordinated with the Municipal Sewerage and Water District (MSWD) of Jose Panganiban. All the Daet Stake units conducted their activates simultaneously.
Bishop Larievic De Guzman of Daet 2nd Ward shared his feelings from that day. "My attendance at the stake tree planting activity not only brought me and my daughter, Abish, closer together but I have also developed a closer relationship with my Creator.   I have realized that being stewards of His creation is very important. He has entrusted His creations to us that we may protect and preserve them. Our faith in God is like these creations. It is a gift that needs to grow and be taken good care of."
Mormon Helping Hands volunteers numbering 171 gave 628 man-hours of service.
Philippines Fairview Stake
Fairview Stake organized an information drive focusing on the importance of family preparedness and the need for every family member to have a 72-hour kit.  They met with barangay leaders to discuss the campaign and visited first the many  families living in disaster-prone areas.  They distributed flyers containing information on how to prepare a 72-hour emergency kit.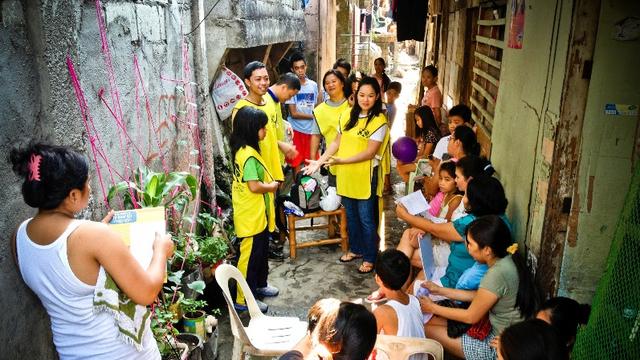 The youth who actively participated made up more than half of those who attended. They composed jingles and songs that were used as fun ways to interact with the people in the estero. The songs talked about being prepared for disaster by having a 72-hour kit as indicated in the lyrics below.
(To the tune of "Pusong Bato")
Nang dahil sa bagyo
Mundo ko'y biglang nagbago
Nawalan ng tahanan
At puro sakit ng ulo
Akala ko may tutulong
Yun pala'y iniwan niyo

Chorus:
At nang dahil sa bagyo
Ako'y di makakain
Di rin makatulog
Dahil walang matulugan
Di sana to mangyayari
Kung ako'y naging handa
Kung ako'y may 72-Hour Kit
The activity made a mark on people whose houses were filled with flood waters up to the rooftop during Typhoon Ondoy and other storms.  One mother said, "We always knew we should be prepared, but knowing what to prepare in a bag we could easily grab is a clearer way of teaching us how to save our own lives."
Aldrin Cuna who is Mayor Herbert Bautista's Chief of Staff found the activity very interesting and said, "This is the first time I have met a member of any church wanting to help the city. Normally, they come to the office asking for help." He agreed that disaster preparedness is very important and expressed willingness to work with the Church on many other projects.  
The caravan was met with positive response from the community.  Church members learned first-hand how people suffer from floods in the Fairview area. They felt the joy of contributing to the welfare of the people in their community.  There were 279 participants who rendred a total of 1,248 man-hours of service. 
Quezon City Philippines Stake
Members of the Quezon City Philippines Stake (diocese), in coordination with the management of the Ninoy Aquino Parks and Wildlife, held a clean-up drive at the said park. 132 members decked out in their yellow Mormon Helping Hands vests arrived early on the Day of Service to assist the park management clean and beautify the area.
Enthusiasm from the group brought cheers from Josephine L. Velasco, Barangay Captain of Central Quezon City who said she hoped to be part of another community service project of this group.   She said, "Whatever religion or political party we belong to, we all have a great responsibility to take care of the environment."
Elenida Basug, Environmental Education and Information Division Chief, thanked the members for doing something great for the environment.
Collectively, the group completed 528 man-hours of service.