As the pandemic continues to affect families all over the Philippines, local Church leaders with the support of the Welfare and Self-Reliance Services (WSRS) of The Church of Jesus Christ of Latter-day Saints remain resolute in their effort to help families learn to stand on their feet.
Such was the example of the local Church leaders and members of the Tacloban Philippines Stake (diocese).
Back in June 2020, Bishop Mark Espedilla of Tacloban 1st Ward (congregation), hosted a webinar about hydroponics. This was one of the many webinars organized by the Welfare and Self-Reliance Services in the Philippines in its #IChooseToBeSelfReliant campaign amid the global health pandemic. Jisaiah Enoch C. Alban, 23 years old of San Juanico Ward (congregation) of Tacloban Philippine Stake (diocese), and his father were among those who attended.
Right after the webinar, the Albans decided to make one of their own hydroponics systems. Before attending the webinar, they really wanted to learn a new skill during the quarantine period. Most importantly, they wanted to heed the call of their Stake President, President Pedro Bimbo Tan, to become more self-reliant by growing their own food. They were thrilled with the prospect of growing their own food, and they immediately started making their simple hydroponics system.
"Self-reliance starts with a desire to become self-reliant. I believe it's the ability to provide for yourself and family spiritually and temporally, and eventually, help others become self-reliant. I also believe that when we prioritize the Lord in all our undertakings, He will prosper and bless us. To become truly self-reliant, we must always be willing to keep His commandments," Jisaiah said.
They sought the help of Bishop Espedilla. Together, they bought all the necessary materials such as pipes, pumps, chemicals, and seeds. They were able to successfully build the system for about a week and enjoyed every bit of the process, which entailed seeding a few lettuce seed varieties. In a matter of days, they were able to transplant them into tiny pots filled with old, sterilized sawdust. After about two weeks, they transplanted the pots into the system and began their hydroponics journey.
To accommodate their hydroponics system, the father and son made a clearing in their terrace. They took down parts of the metal roofing and replaced them with clear, plastic roofing to let the sunlight in. Furthermore, they put up acetate coverings to make sure that the lettuce was not rained on.
Having addressed the problem with space, they made sure to be able to grow successfully about 42 heads of lettuce plants. Every day, they checked the system to make sure that no pests ate the lettuce seedlings. They also improvised their hydroponics system to make sure that no rodents will get to them. Eventually, their seedlings grew bigger, and in a matter of three to four weeks, their lettuce was ready for harvest.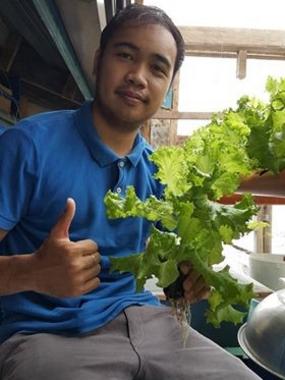 On 18 July 2020, a month after they started their hydroponics garden, the Alban family harvested their first batch of lettuce. It was a celebration for them as it was the first time they planted and harvested something as a family. For the Alban Family, seeing the lettuce grow from a tiny seed into a full-grown plant was a reward in itself. According to the father, it was a wonderful experience for them, and they are now excited to plant other varieties, and eventually sell them.
The Alban's experience showed how joyous it is to follow the counsel of Church leaders. "Because we chose to follow them, we were blessed with new skills and knowledge that helped us become more self-reliant. We also found a way to stay productive during the quarantine period. Our experience deepened our testimony that Heavenly Father blesses those who keep His commandments and the inspiration He has given to our leaders," Jisaiah testified.
"My Bishop, Bishop Deo Abellanosa of San Juanico Ward, expressed interest in building his own hydroponics system. Eventually, I will help his family too. I would also like my brother who has recently married and lives in Manila, to learn about it too," Jisiah shared.
"Our hydroponics journey did not end with the first cropping. We are now trying other plants like cabbage and pechay for our second cropping. My goal is to learn more about this system and eventually help bless others the way my family and I were blessed," he continued.