How can a young man with no legs and only the top portion of both arms benefit from a wheelchair? In January, seven-year-old Christian King Dagan was brought to the LDS Charities office of The Church of Jesus Christ of Latter-day Saints to be fitted for one. He was carried by his brother, Charles, and was so very shy that he would barely look out from where his head was buried in his brother's neck.

Beside his brother, King was accompanied by his mother, Ailine, and a very good friend, Esperanza Mopera, who championed his cause.  Esperanza moved to Polillo Island a couple of years ago and began a feeding program for the children. Someone told her about King and that he was very shy and embarrassed about his situation. She began sending someone to get him and bring him to her home so he could take advantage of the feeding program.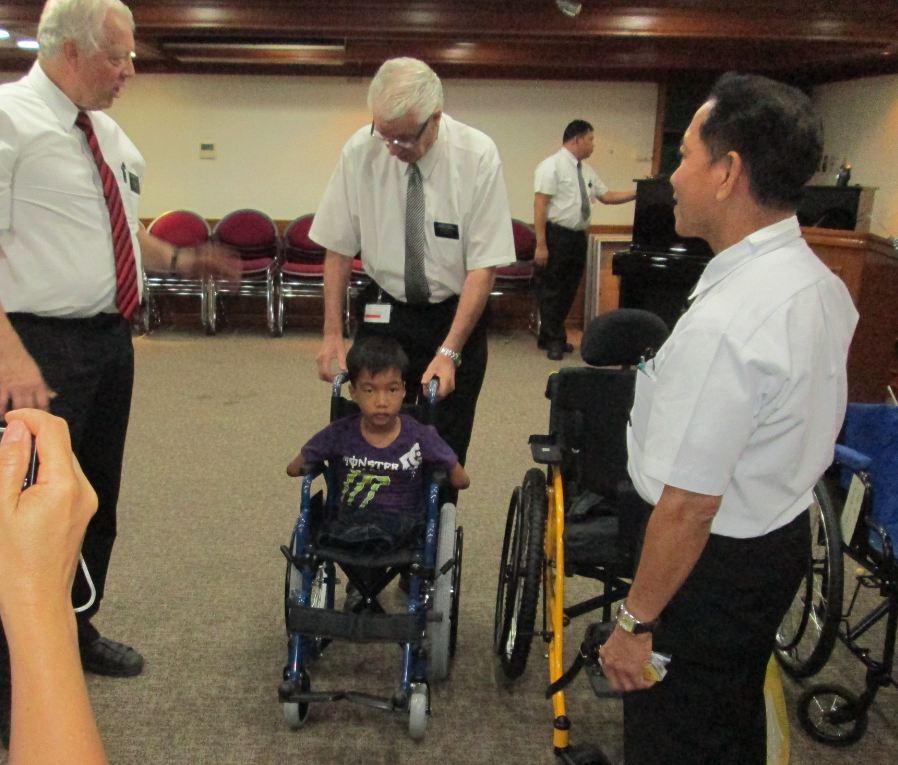 Soon she wanted to do more for him.  She contacted an orthopedic doctor and asked about getting prosthetics for King. She was told that he was yet too small and he would have to grow more before this was considered. She did have an adult chair that she offered to King's family.
Esperansa did not stop there. She contacted GMA Kapuso (GMAK) to see if they could help. GMA Kapuso is the foundational arm of the television station GMA 7.   They thought, given his circumstance, that maybe a skateboard would be the best thing for him. Unfortunately, this need wasn't currently part of any existing program.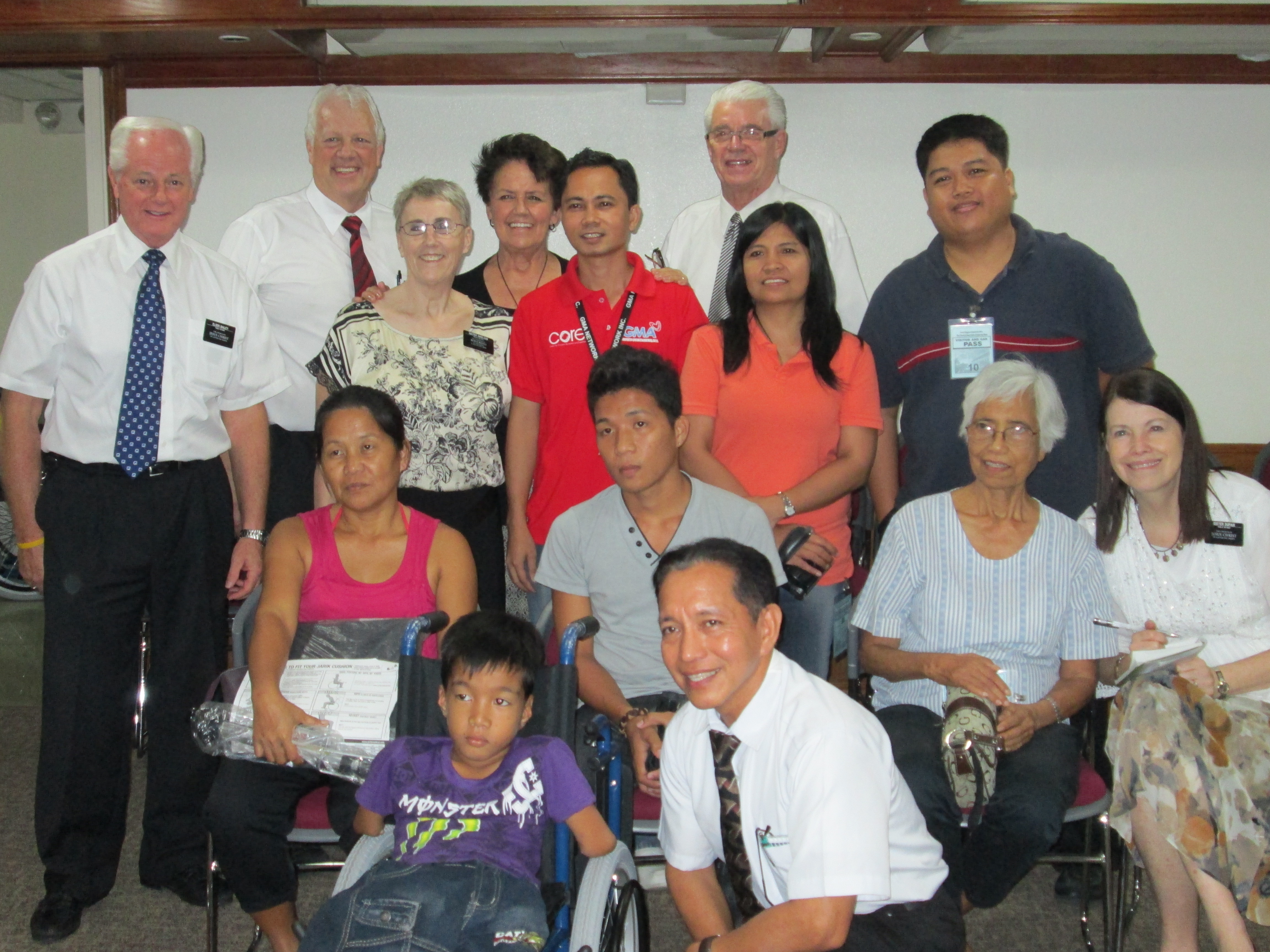 This past December, she again checked with GMAK and this time arrangements were made for King to come to Manila. As soon as they saw him, they knew that a wheelchair would be a better fit for his need than a skateboard, and LDS Charities of The Church of Jesus Christ of Latter-day Saints, was called immediately.  The small party, accompanied by a GMAK staff member and a photographer, soon arrived at the Manila Philippines Area Office (MPAO) of the Church.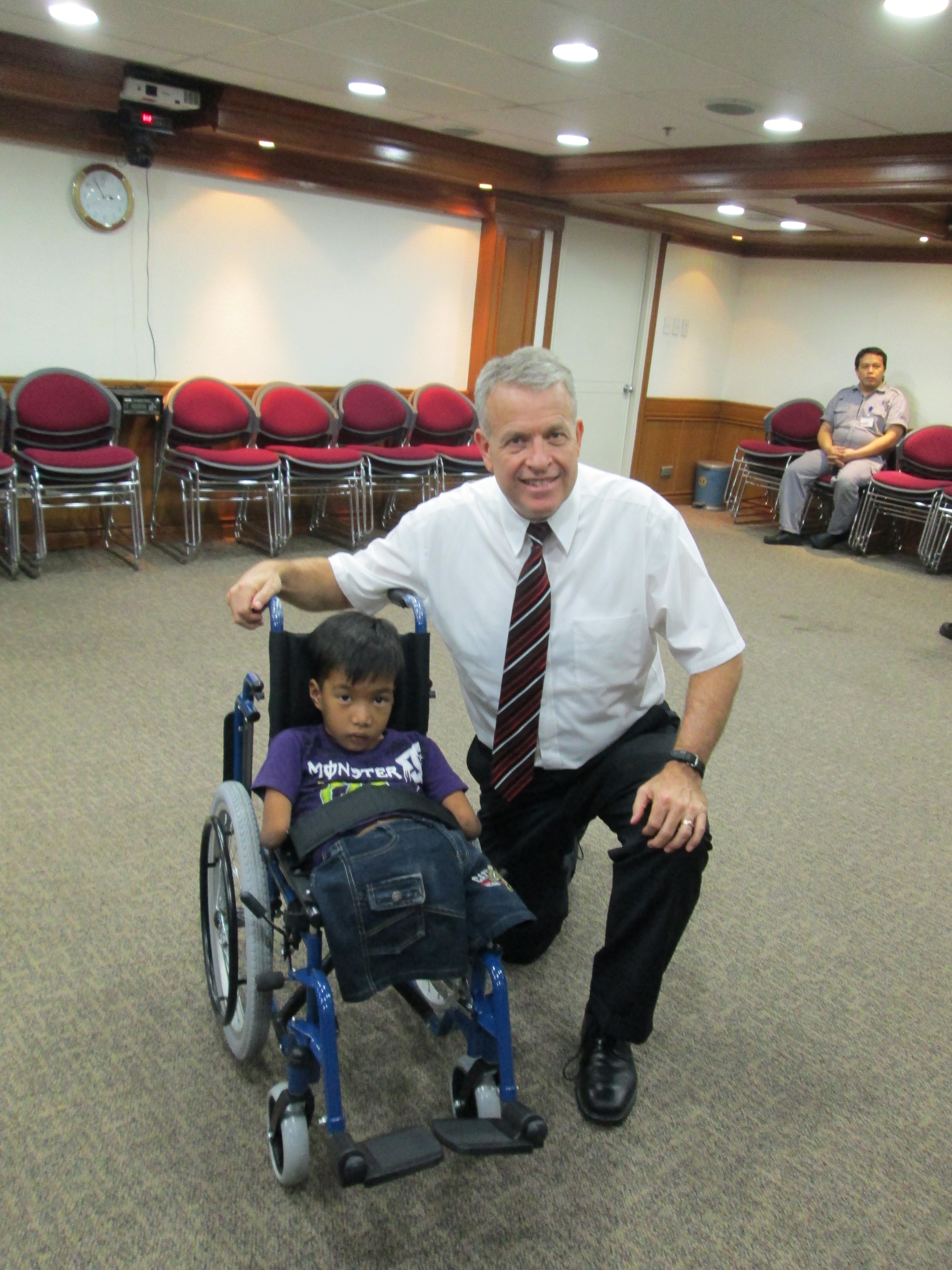 The worry for the technician was what kind of a chair could be used that would not tip over with King's upper body weight.  Elder Steven Hadlock of LDS Charities brought in three different chairs and found that King was heavy enough that the chairs were stable. Elder Hadlock tried King in each of the different styles and when the "right one" was found, King's face lit up.
Suddenly the little shy look was gone as he motioned everyone away with his upper arm. Why would he want everyone to move? The answer came quickly as he put his stubs, one on each wheel, and began to MOVE the wheels!  He was amazing! He wanted the group to get out of the way as he was mobile and he was ready to go! Around and around the room he traveled, then up and down the halls.  Finally he came to the door and with a broad smile said, "Bye!"  He had been there long enough and was ready to go home!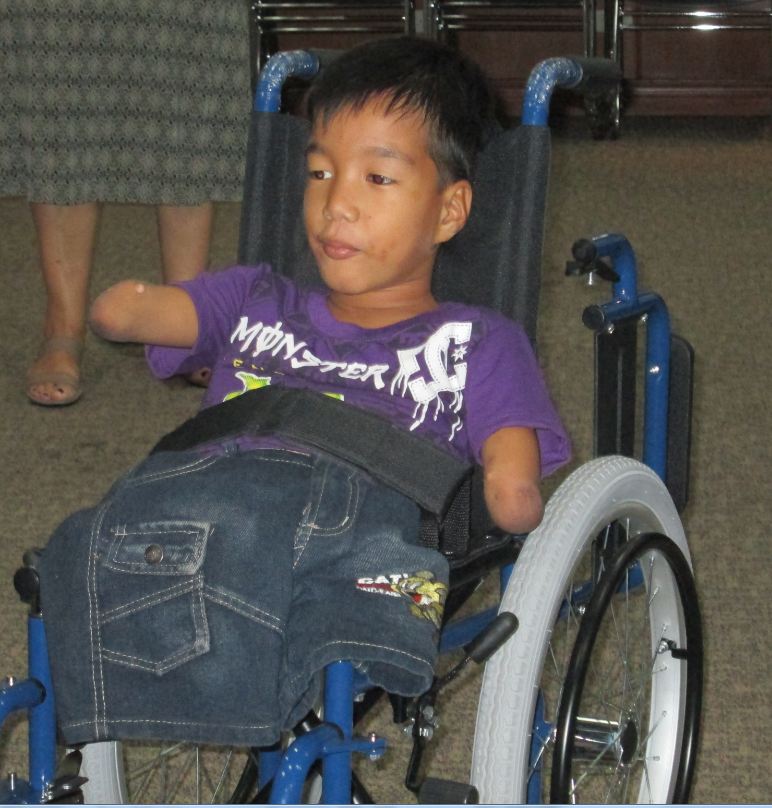 His mother, Ailine said, "He's very happy and excited. King's personality will change. He will be more active in doing things for himself and others."
Elder Roger Hardick, LDS Charities Country Director, said, "We follow the Savior as He helped the lame to walk. We can do that by giving wheelchairs to those who have no legs."