United States Vice President Joe Biden met with leaders of The Church of Jesus Christ of Latter-day Saints during a brief visit to Temple Square in Salt Lake City Friday, February 26, 2016. Elder D. Todd Christofferson and Elder Ronald A. Rasband, both of the Church's governing Quorum of the Twelve Apostles, and former U.S. Senator Gordon H. Smith of the Seventy greeted the vice president at the Family History Library. He was presented with his family history during the meeting.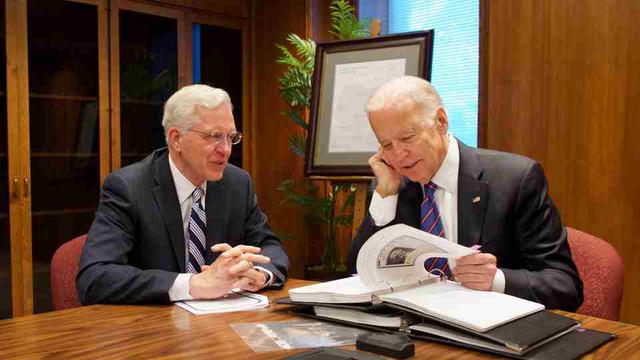 Biden was in Utah to meet with cancer researchers at the Huntsman Cancer Institute as part of a national initiative he is leading. He represented the state of Delaware for 36 years in the U.S. Senate before becoming the 47th and current vice president of the United States.
FamilySearch is a service provided by The Church of Jesus Christ of Latter-day Saints. FamilySearch's commitment to helping people connect with their ancestors is rooted in the Mormon belief that families are meant to be central to our lives and that family relationships are intended to continue beyond this life. Because interest in family history is not limited by culture, ethnicity, or religious faith, FamilySearch's resources are available to everyone who wants to discover more about their family and their heritage.
FamilySearch provides personal assistance for both experienced family historians and those who are just beginning their genealogical journey. This help can be accessed through the family history center network or by contacting FamilySearch Support at support@familysearch.org.