Marivic Londres Tagnong and Perfecta Magauay Bautista have been called as area organization advisers for The Church of Jesus Christ of Latter-day Saints in the Philippines. They will be serving alongside four, namely: Maria Christina Villanueva Itchon Concepcion, Rosemarie Balquedra Francisco Fernando, Donna Dell Bernadas Dumas and Diana Valencia Cruz.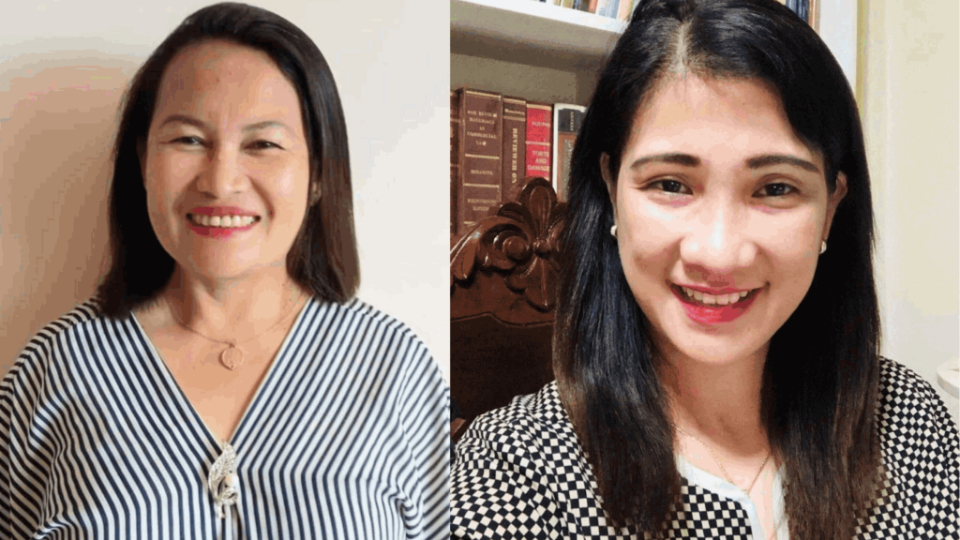 Sister Tagnong, a mother to three, currently serves as secretary to the Sangguniang Bayan of the Municipality of Sibunag. She graduated Cum Laude with a degree in Bachelor in Elementary Education and majored in English. She finished Master in Public Administration at the University of San Agustin. She has served in numerous callings including primary teacher, ward and stake young women president, ward self-reliance specialist, and seminary and institute teacher.
Sister Bautista is an education program supervisor for the Department of Education. She also works as a part-time professor in college and in graduate school. She has served in Church callings including, stake relief society president, sunday school teacher, and self-reliance services facilitator. Her name was inspired from James 1:17 which reads, "Every good and perfect gift comes from above."
"With the growth of The Church of Jesus Christ of Latter-day Saints throughout the world, the Relief Society, Young Women, and Primary organizations are thrilled to have women leaders in international areas to help provide instruction and mentoring", said former Relief Society General President Jean B. Bingham.
"Because they are familiar with the language, culture, and environment, these sisters can be on-the-ground help for many leaders who may be 'young' in the Church and yet anxious to fulfill their responsibilities well," she said.
Sister Tagnong expressed, "It is a very humbling experience to be called an area organization adviser. I am grateful for the opportunity to become a "mighty resource" to the Relief Society, Young Women, and Primary Presidencies."
Elder Taniela B. Wakolo, President of the Philippines Area, described the three-fold purpose of area organization advisers: to provide leadership instruction to sister leaders in support of rapid Church growth in the area; provide a model that effective progress occurs when women and men work together in unity, and include women's perspective at all levels of councils.
He emphasized that area organization advisers report directly to the area presidency. He said, "This direct reporting line will enable the vision of the area presidency to strengthen and expand the stakes of Zion to be taught in a consistent, seamless fashion."
Since each area organization adviser generally represents the Primary, Young Women, and Relief Society organizations, "they bring a wonderfully well-rounded perspective to their training and to the counsel they provide in the council setting," Elder Wakolo said.
With the recent call of area organization advisers in the Philippines, women are more empowered to serve in leadership callings that give them more capacity to love and serve all of God's children, just like the women spoken of in the scriptures.
Sister Bautista expressed, "Only the Lord knows the reason when He calls a dear one. Now, I have found purpose in my trials and adversities in life."
Former Primary General President Joy D. Jones affirmed, "[God] has prepared these sisters in their service and experience to serve as area organization advisers. It is humbling to feel His love for all of His children around the world. These sisters will provide a needed connection in their areas."