Intermittent rain did not dampen the spirit of some 200 Mormon Helping Hand volunteers from Daugpan who participated in an information dissemination for the Measles Campaign of the Department of Health (DoH). Shielding themselves with umbrellas and raincoats in their trademark yellow vests, Mormon Helping Hands volunteers combed every household, alley, street, store and restaurant along streets to distribute flyers and posters to inform the public on the measles immunization program set for September 2014. 
Parents are required to bring their children, 5 years old below, to the nearest barangay health center or vaccination post to receive both measles and oral polio vaccine. Atty. Farah Decano, City Administrator who represented Dagupan City Mayor Belen Fernandez during the information drive launching, lauded the Latter-day Saints by calling their efforts "a heroism"  since the campaign coincided with the commemoration of National Heroes Day.
"This must be an anti-selfie day, going beyond yourselves to do public service to others," she added.
"Heroism can be experienced in our daily lives by doing simple things for others.  This is a virtue of charity.  Charity is love.  And when you serve it with love, it is easy to go beyond oneself, it is easy to do anti-selfie things," Decano further said.   
She likewise mentioned the volunteers' annual participation and service rendered every time the Bangus Festival is celebrated in Dagupan.
"I really love the Latter-day Saints because they are offering much to help our city.  You put into action what JFK meant when he said ask not what your city (country) can do for you but what you can do for your city (country)," Decano said.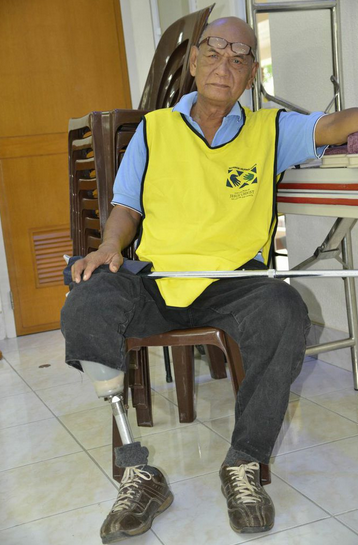 She called attention to 69-year old, Brother Manuel Tampoy, who joined the pool of volunteers despite being physically challenged with just the function of one leg.
"Alam ko na maraming mahihirap na kagaya kong makikinabang dito kaya gusto ko rin ang tumulong," Bro. Tampoy said.
Dagupan Philippines Stake (diocese) President, Gregorio Karganilla, concluded the day by quoting Mosiah 2:17,  "And behold, I tell you these things that ye may learn wisdom; that ye may learn that when ye are in the service of your fellow beings ye are only in the service of your God."