LDS Charities signed an agreement to provide a prosthetic-orthotic oven to Physicians For Peace which will be placed at the Prosthetic and Orthotic Center in the Sarangani Provincial Hospital.  It will be used in producing prosthetic devices for donation to the poor and the needy who are in need of prosthetic limbs in that region. 
The MOU signing was held on the 27th of May at the Manila Philippines Administration Office of The Church of Jesus Christ of Latter-day Saints.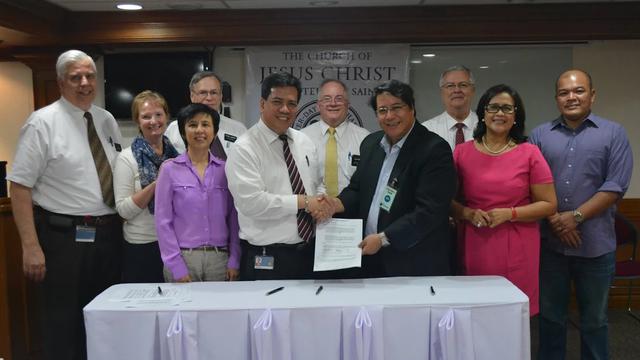 Dr. Teodoro J. Herbosa, President and Executive Director of Physicians for Peace together with  Dr. Josephine "Penny" Bundoc, Program Director, and Ms. Lyne Abanilla, Operational Director, signed the MOU with Benson Misalucha,  LDSC Country Director. This momentous occasion was witnessed by Hon. Steve C. Solon, Governor of Sarangani.
Dr. Herbosa, a former undersecretary of the Department of Health recalled and highlighted the help extended by the Church during the DOH Measles Project in September 2014 .  He said, "What your helping hands volunteers did in information dissemination could not have been done by anyone else. They were valuable."
Both partners expect the same success that will be generated by the operation of the prostehtic-orthotic oeven.
Physicians for Peace Philippines, Inc. has an amputee care program called Walking Free. It started in the country in 2005. It has been a source of help and hope to  indigent Filipinos through its provision of better access to prosthesis use by coordinating year round medical missions where amputee screening and prosthesis services are organized and conducted on site. 
LDS Charities is an application of the admonition of Jesus Christ to help others in need.