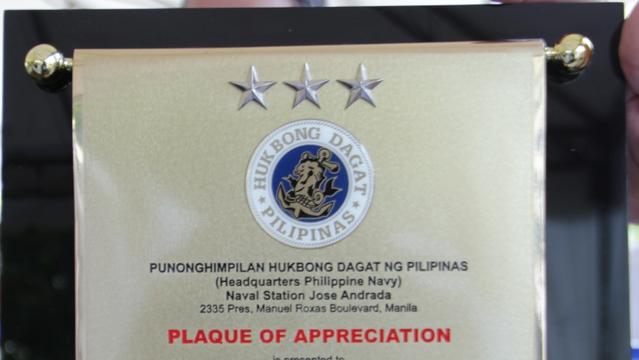 In grateful appreciation of its valuable contribution in collaboration with the Philippine Navy in disaster response, providing livelihood projects and providing humanitarian assistance to the populace of Southern Philippines."  These are the words written on the plaque of appreciation given by the Philippine Navy to LDS Charities during their 115th Founding Anniversary.
The anniversary and awarding rites were held May 21 at the Naval Pascual Ledesma, Fort San Felipe, Cavite City.  The plaque was signed by Flag Officer in Command of the Philippine Navy, Vice Admiral Jose M. Alano.  Distinguished guests in attendance were President Benigno Aquino III and Vice-President Jejomar Binay.
For the past 15 years, LDS Charities has been a consistent partner with the Navy in various humanitarian projects from the distribution of food and hygiene kits during emergency response efforts after calamities, to distribution of wheelchairs in different areas in the Philippines.  The partnership also contributed to the provision of seeds for farming, for food production as well as lobster farming in Sulu.  Tent kits and school kits were distributed in areas affected by Typhoons Sendong and Pablo as well as in conflict areas in Mindanao (Read A Model Partnership: The Mormon Church and the Philippine Navy).Very recently, LDS Charities and the Philippine Navy made possible the building of three multipurpose shelters for barangays Cateel, Boston and Bagangga (Read Philippine Navy, LDS Charities Sign MOA for Multi-Purpose Buildings in Mindanao). "The Bayanihan is one of most common value of every Filipino.  We help each other particularly in times of need.  The Filipinos have a kind heart and we are here to help each other.  This is part of the whole national approach which is government, civil society and NGOS involved in nation building.  The Church of Jesus Christ of Latter-day Saints is a Bayanihan partner and we are grateful for their contribution and service,"  said FOIC, VaDM  Jose M. Alano, AFP.
Sponsored by The Church of Jesus Christ of Latter-day Saints, LDS Charities is an application of the admonition of Jesus Christ to help others in need. Jesus Christ taught His followers to give meat to the hungry and drink to those who thirst. His is a gospel that includes taking in the stranger, loving neighbors as self, and visiting those who are sick or imprisoned. He taught that we are to love and care for each other, visit the fatherless and widows in their afflictions, and lift up those whose hands hang down and whose knees are feeble.
Unique in its support structure, LDS Charities has access to the resources of The Church of Jesus Christ of Latter-day Saints, which include food production and processing, donated used clothing, employment and social services, and the ability to purchase goods locally in many parts of the world. We sponsor relief and development projects in 179 countries. Assistance is rendered without regard to race, religious affiliation, or nationality and is based on the core principles of personal responsibility, community support, self-reliance, and sustainability. Largely run with volunteer labor, we operate both independently and in cooperation with other charitable organizations and governments. More than one million man-days of labor are contributed yearly by volunteers in support of welfare initiatives.
Humanitarian services include emergency response to natural disasters. Within hours of a disaster, the Church works with local government officials and Non-Government Organizations (NGOs) to determine what supplies and food are needed. Materials are then immediately sent to the area. It may also be part of a longer-term effort to meet serious and more entrenched human needs, such as the necessity to alleviate disease.
Our primary community development programs include clean water, neonatal resuscitation training, vision care, wheelchairs, immunizations, food production, and other health programs.
The assistance we provide is made possible by generous donations of cash and in-kind materials from members and friends of the LDS Church.