Restita Dimaandal can now breathe a sigh of relief when the third batch of vehicle bearing the rest of her family arrived at the Batangas Stake (Diocese) Center of The Church of Jesus Christ of Latter-day Saints on Wednesday afternoon of 15 January 2020.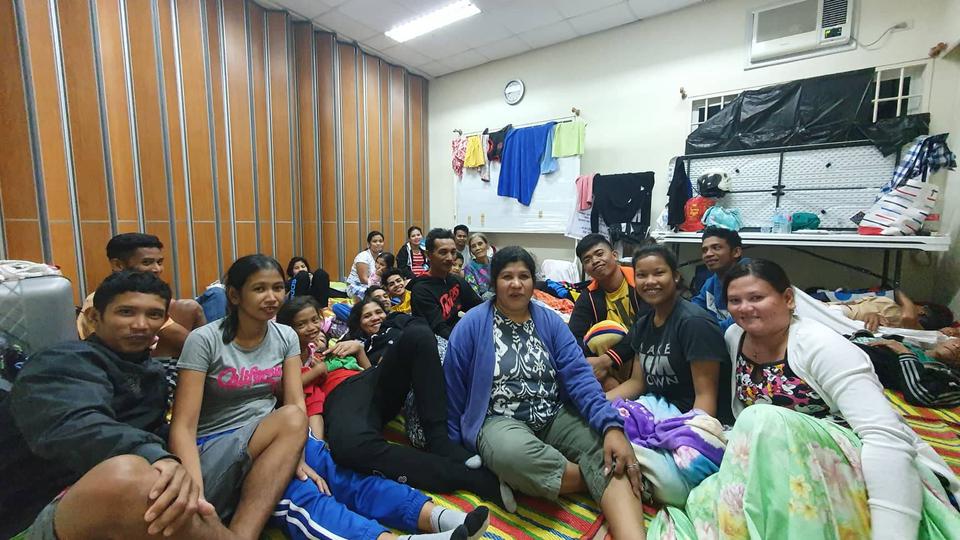 Restitita and 28 of her family members are part of the thousands of evacuees who fled from the Municipality of Taal to seek refuge elsewhere in the midst of imminent Taal Volcano eruption. After three harrowing days of not knowing where to go, Restitita and her entire household, including young children, can finally sleep.
She expressed gratitude to her relatives who are members of the Church and told them of the evacuation center. They traveled 59 kilometers in three batches from Pansol to Batangas City where they were welcomed by volunteer Latter-day Saints at the Chapel with food, water, clothing and shelter.
"Nung nandito na kami, nakakahinga na kami ng maayos," she said in Tagalog. [When we arrived here, we can finally rest.] "Hindi na po kami natatakot kasi po may pagkain po kaming nadatnan. Welcome po pala kami dito." [We're not afraid anymore because there's food. We know now that we're welcome here.]
Ministering in Action
The Batangas Stake Center is one of five meetinghouses within in the threatened region that were converted into evacuation centers. As soon as news of the Taal Volcano spewing ash as high as 14 kilometers on Sunday afternoon of 12 January came, members of the Batangas Philippines Stake under the leadership of Stake President Jon P. Reyes mobilized volunteer emergency response teams to aid evacuees.
Buses were dispatched to towns within the danger zone to bring evacuees to safety. Latter-day Saints with vehicles also volunteered in the rescue operations. Relief Society sisters bought food, water and basic hygiene kits. Ward (congregation) leaders organized food committees to prepare food for the arriving evacuees. Other members donated clothes and repacked sleeping kits for those arriving at the chapel. Portalets or portable toilets were delivered to the meetinghouse, and classrooms were turned into makeshift sleeping quarters assigned to families. By the time the first evacuees arrived, hot meals, clean clothing, and safe shelter welcomed them.
As of 15 January, there were 260 men, women and children staying at the Batangas Stake Center. Currently, volunteers from the different wards in Batangas take turns in cooking meals to ensure that there's food round the clock. Male members, on the other hand, follow scheduled routines to secure the chapel 24/7.
Similar rescue and relief operations are also organized in local meetinghouses in Lipa, Tanauan, San Jose and Darasa. Members and those of other faiths volunteered of their time and energy to help in the repacking of food, hygiene and sleeping kits for the evacuees. In total, there are over 450 people being sheltered in these chapels. Local Church leaders from different areas in Batangas continue to coordinate as the number of evacuees continue to arrive.
In addition, Latter-day Saints in areas outside the danger zone have initiated relief operations in response to the call for help. Others have rounded up their friends to deliver donations to Batangas. Church members from foreign countries have also coordinated with the Church's humanitarian arm, Latter-day Saint Charities to send aid to Taal evacuees.
In Biñan City, 31 member volunteers of Biñan Ward spent 11 manhours repacking kits for Dasmariñas evacuation sites. In the Bacoor Stake, three wards, a total of 50 volunteers, rendered 400 man hours for the repacking and distributing of emergency kits. The same relief operations took place in Las Piñas wherein 80 volunteers spent 800 man hours to help the Taal evacuees. Likewise, more than 40 volunteer members from San Pablo 4th Ward in San Pablo Stake spend eight hours a day for three days to repack and donate food and clothing. 
Latter-day Saint Charities Donation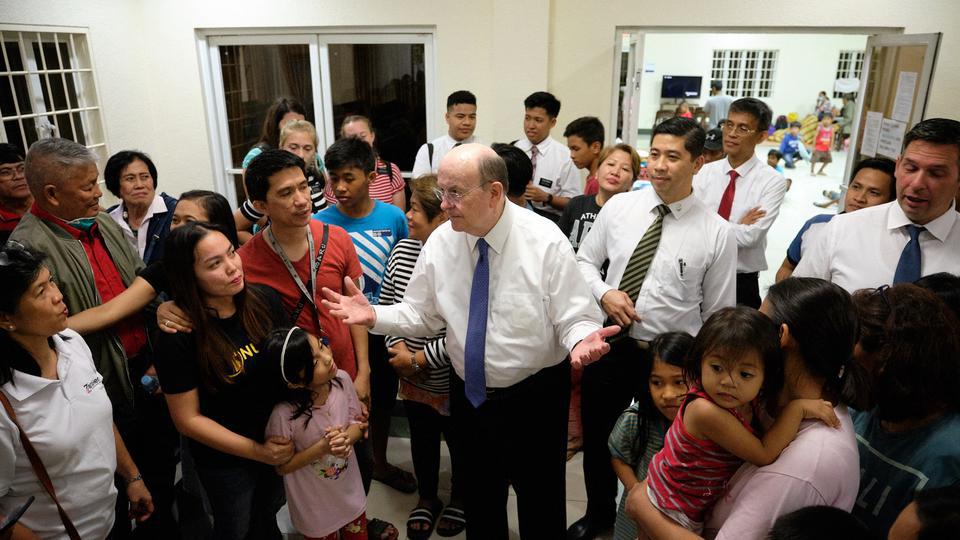 Elder Quentin L. Cook of the Quorum of the Twelve Apostles made an unannounced visit at the Batangas Stake Center on Wednesday evening, giving hope and comfort to the families staying at the chapel.
Elder Evan A. Schmutz, Philippines Area President, assured that the relief operations won't be the last.
That Wednesday afternoon, Elder Cook met with Philippine President Rodrigo Roa Duterte at the Malago Clubhouse of Malacañan Palace and presented a check of PhP 1,000,000.00 as donation and pledged a humanitarian project fund of PhP 5,000,000.00 for kits for food, sleeping, hygiene and face masks for people impacted by the Taal Volcano unrest.
As of 17 January 2020, there were 5,200 food kits, 2,000 hygiene kits and 1,000 sleeping kits repacked at the Bauan Meetinghouse in San Pascual, Batangas. Members and friends of the Church volunteered to repack these kits, which were apportioned to Angat Buhay Foundation (ABF) and Alagang Kapatid Foundation (AKF), on-the-ground NGO partners of Latter-day Saint Charities (LDSC). The Batangas Stake will receive these kits.
According to LDSC, these kits will benefit 4,386 families in the municipalities of Agoncillo, Alitagtag, Balayan, Bauan, Cuenca, Laurel, Lemery, Lipa City, Malvar, Mataas Na Kahoy, Nasugbu, San Luis, San Nicolas, Santa Teresita, Santo Tomas, Taal, Talisay, and City of Tanauan.
ABF and AKF have scheduled distribution to these locations 18 and 19 January 2020. However, according to Jairus Perez, Area Welfare Manager of LDSC, the dates of distributions may change as more development arise due to the volcanic unrest.
As the humanitarian arm of the Church, Latter-day Saint Charities is the application of the admonition of Jesus Christ to help and serve others in need. Within an hour of disaster, the Church, through LDSC, work with local government units and non-government agencies to determine the needed supplies are and the distribution to the affected areas. It largely runs with volunteer labor for repacking and distribution. The assistance that LDSC provides are made possible by generous donations of cash and in-kind materials from members and friends of the Church.
Story updated on 19 January 2020.