An effort to encourage people to perform acts of Christlike service during the Christmas season is receiving global attention. Videos produced by The Church of Jesus Christ of Latter-day Saints for its "Light the World" Christmas initiative have received nearly 69 million views.
The Church's "Light the World" initiative was launched November 25 on mormon.org to celebrate the birth of Jesus Christ and invite people around the world to follow Christ's example by serving others. The initiative includes a main video produced in 33 languages and a 25-day advent calendar, "In 25 Ways. Over 25 Days."
The main video has picked up nearly 35 million views, and nearly 31 million video views have been received to date on 25 short videos that offer daily ideas for service. A preview video posted in November garnered 3.5 million views.
Participants have been posting their experiences and sharing the videos on social media channels. Others have been quietly participating in the initiative. Such was the case of Maria Christina Concepcion, a mother and business consultant, who shared her experience prior to Day 1 as she prepared for the Light the World campaign.
"The night before Day 1, I laid my head on my pillow excited about the day that was about to start in a few hours. I was thinking about feeding the hungry as Jesus Christ did. I looked forward to the coming day with excitement and anticipation. I'll be doing what Jesus did, with a much clearer purpose which is to share the light of Christ for a more meaningful Christmas. And sleep gently came ...
It was a beautiful morning! As we left our home on our way to SM, we stopped by the traffic light intersection, and a father with a very young child came to knock on my window to ask for money. I rolled down my window and gave him two packs of cold fruit juices. We were still on our way to the bakery and we did not have bread or biscuits to go with it ... He did not expect it but he said thank you just the same.
As we crossed the bridge towards Carmen, I remembered the man who sits by the bridge day in a day out, even at night. As I scanned the pedestrian walkway, I finally saw him lying on the dirty cement floor. I told my family we will give him food on our way back. And we did! As our car stopped and as I rolled down my window, he looked up surprised. I handed him the paper bag containing the food and the drink. He stood up and extended his hand for a handshake. He was mumbling something in Tagalog about hoping to find a job soon. I shook his hand. Was he a Mormon? Only Mormons extend hands for a friendly handshake. Maybe ... Sadly, he obviously was mentally disturbed and hungry ...
We also brought bread and drinks for our farmhands when we visited the farm. We fed them alright.
As the day came to a close, my two daughters and I, coming from our girly date, went about to look for a place to eat. As we walked from one food establishment to another looking for what we wanted to eat, we passed by a woman literally seated on the sidewalk near the door of Mercury Drugs in Divisoria. She looked at me and asked for help, saying she's very hungry. I told my children I'll go inside Mercury to buy something and instructed them to wait for me. I went in and bought a pack of special bread. To me at that very moment the price of the food did not matter (had it been just a regular day i have to be honest the price would have mattered). As we went out the store I handed the bag of bread to the woman ... and I walked away with tears in my eyes.
Jesus Christ fed the hungry and I'm grateful I took the opportunity to do the same. It wasn't much; the food I gave wasn't much. More that the food I gave, that one day changed me for good. I now see people who are hungry, and I made a promise that I'll do what I can to do my part to share the light of the Savior by reflecting that light thru kindness to everyone.
I hope you'll do the same.
Let's light the world one good deed at a time."  ❤️
On Christina's christmas tree are decorative stars from the service kit created by the Philippines Area of the Church to help members track their service per day in the Light the World social media campaign of the Church.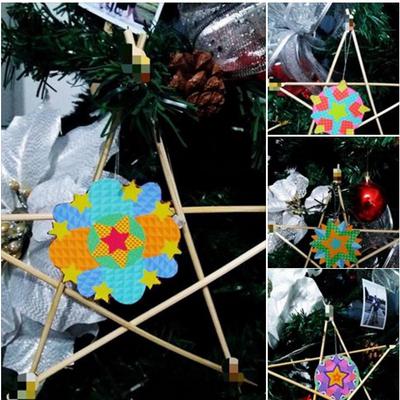 The "Light the World" website is available in English, Spanish and Portuguese. The Christmas initiative also features billboards in cities around the world, including New York City's Times Square, and displays in the Church's English-speaking visitors' centers and the Mexico City Visitors' Center.
The Christmas initiative runs through January 1, 2017. Those on social media are encouraged to share their experiences by using the hashtag #LIGHTtheWORLD.
Last December, the "A Savior Is Born" Christmas video had more than 50 million views. Millions also participated in last spring's "Follow Him" Easter initiative.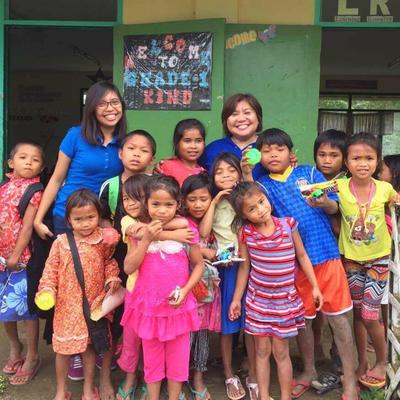 Christina (back right in blue) in one of her service projects together with her daughter (back left in blue) and pupils from Cadayonan Elementary School.