As part of its commitment to address COVID-19 related concerns, The Church of Jesus Christ of Latter-day Saints partnered with Silay City Schools Division Office (SDO) to distribute 1,731 hygiene kits to eight elementary schools in the city last September 17, 2021. 
Adapted for COVID-19, the hygiene kits each contain a 50 mL alcohol spray bottle, a washable face mask, a face shield, soap, and a printed guide on safety and health protocols. These kits are intended for the students' parents who frequently travel to pick up their children's learning modules and return to school to submit them.
Being a teacher himself, Bacolod North Stake (Diocese) President Christian Mojico shared that the idea for the donations came from his observations. He shared, "I noticed that some parents came to school not wearing a facemask or a face shield. They also didn't bring any alcohol with them. When I inquired why this was so, most of them responded that they could not afford these items." 
A brief handover ceremony took place at the Talisay Ward (congregation) meetinghouse with representatives from the Church's humanitarian arm, Latter-day Saint Charities (LDSC), local Church leaders, SDO officers, and school representatives. A Deed of Donation in acceptance of the hygiene kits was signed by President Mojico, SDO Senior Education Program Specialists Roy Balinas and Sussett Salcedo; and, the attending school representatives.
Speaking of the donations, Roy Balinas shared, "We are grateful to witness your kindness in supporting our schools and their implementation of Basic Education – Learning Continuity Plan (BE-LCP) which addresses the [health and safety] needs of our learners in their home learning spaces." 
The kits were distributed to the following schools:  
Mambag-id Elementary School 
Don Serafin L. Golez Memorial Integrated School 
Napilas Integrated School 
Doña Angeles J. Montinola Memorial National High School 
Patag Elementary School 
Don Serafin R. Gamboa Elementary School 
Sibato Integrated School 
Camantero Elementary School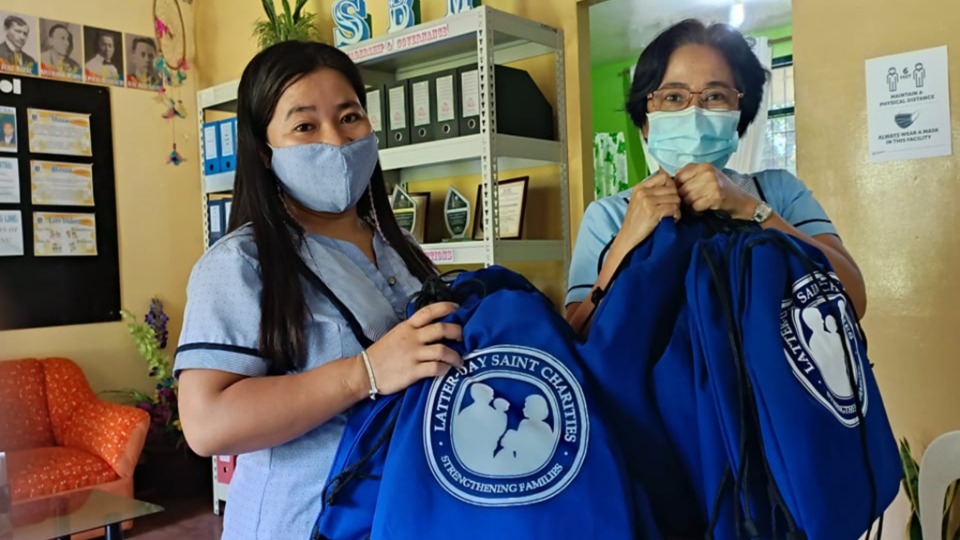 In attendance of the handover ceremony were President Joaquin Montero and President Marno Santander, members of the Bacolod North Stake Presidency; Elder Ernesto Deyro Jr., Philippines Area Authority Seventy, and his wife, Sister Cristine Deyro; Freddie Napay, Principal I; Jouides Sidayon, Head Teacher I; Rodlyn Pallorina, Head Teacher I; Joefrey Paborito, Head Teacher I; Relany Bitgue, Head Teacher I; Jennelyn Lotayco, Teacher I; Carline Billones, Teacher I; Marian Marie Miñosa, Bacolod Communication Council Director; Liza Marie Querimit, Bacolod North Stake Church Communication Council Director; and,  local Church leaders and members.
Latter-day Saint Charities
Sponsored by The Church of Jesus Christ of Latter-day Saints, Latter-day Saint Charities is an application of the admonition of Jesus Christ to help others in need. Jesus Christ taught His followers to give meat to the hungry and drink to those who thirst. His is a gospel that includes taking in the stranger, loving neighbors as self, and visiting those who are sick or imprisoned. He taught that we are to love and care for each other, visit the fatherless and widows in their afflictions, and lift up those whose hands hang down and whose knees are feeble.