For Filipinos, family means everything. The welfare of each family member, including extended relatives like grandparents, aunts, uncles and cousins, remain of paramount importance.
For Latter-day Saints, the knowledge of the eternal destiny of families further magnifies their determination to build and strengthen familial relationships.
The onset of the COVID-19 pandemic affected millions of families in the Philippines alone. Nevertheless, many Latter-day Saint fathers continue to serve in the frontlines.
Whether it's to man checkpoint stations, deliver food supplies or serve as a barangay worker, these devoted fathers are determined to be positive contributors in their communities to help other families cope with the crisis.
Here are some stories of our Latter-day Saint unsung heroes and how the restored gospel of Jesus Christ helped them persevere amidst the pandemic.
Amor S. Rivera, Member of the City Decontamination and Disinfectant Team, Naga Philippines Stake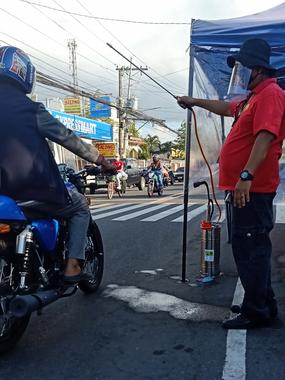 Before the onset of the COVID-19 crisis, Amor Rivera, a father of two, was a freelance sales agent. When Naga City was put on lockdown in early March, he lost his income. When his city government called for citizens to volunteer as frontliners, he signed up.
"I was a bit hesitant," Rivera revealed. "But it has always been my passion to help wherever am called, so I volunteered."
Knowing the risks it would entail, Rivera consulted his family first. They were hesitant at first but after much prayers and consultation with Heavenly Father, his family conceded.
Rivera became a part of the Disinfection and Decontamination team. He was assigned to a checkpoint station and his duties included spraying passing vehicles and pedestrians with disinfectant.
Although he was happy to be of service, Rivera's fears of contracting COVID-19 and exposing his family could not escape his mind.
With the fears and anxiety building up inside, Rivera cried out his soul and prayed to God. Despite the uncertainty, his faith in God remains strong.
"I know Heavenly Father would not allow that. I am doing what is right the best I can. He won't let that happen," he said. "During this pandemic, I became one of the instruments of God to help prevent the spread of this deadly virus. I want to leave a legacy to my community and to my children that, "When ye are in the service of your fellow beings, ye are only in the service of your God"(Mosiah 2:17).
Ramiro Maestrado, Police Officer, Tagbilaran Philippines Stake
For Ramiro, he is not only a father to his family but also a bishop to his ward (congregation) in Bohol. Professionally, he is a police officer assigned previously to work as a close-in security officer for the Vice Governor of Bohol. After being promoted, he become a Deputy Chief of Police for a neighboring town, Cortes, Bohol.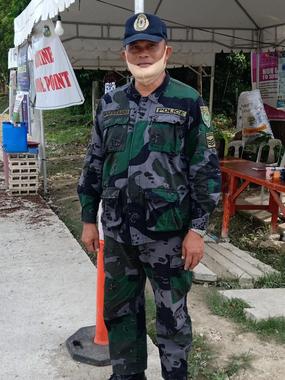 Despite his hectic schedule as a deputy chief, Maestrado made sure that he spends quality time with his wife, three children, and parents. As a bishop of Dauis Ward, he also made sure that the temporal and spiritual needs of his members are met.
This dynamic changed when the Philippine National Police issued a directive that all police officers should be on full alert status, prohibiting leaves and days off. His new assignment led him to be stationed in a quarantine area with a 24-hour shift schedule from Mondays to Sundays.
Maestrado admitted that he fears for his health. At age 51, he isn't as physically strong as he used to be. He also shared that juggling his time between his family, Church calling and job responsibilities is not easy. Nevertheless, he finds strength in God and his faith in Jesus Christ.
Quoting from scripture verse, the police deputy chief said, "God giveth no commandment or any type of challenge save he prepares a way for us to be able to do the things He wants us to do."
Maestrado continues to hold on the Lord's promise that He knows each of His children and is able to help everyone who trusts Him. And the Lord did not disappoint. His wife and children continue to support him. His counselors in the bishopric extended help to minister to members in need. He also has a high-ranking police officer who understands and respects his request to worship during the Sabbath.
Peter Caro, COVID-19 Volunteer, General Santos Philippines Stake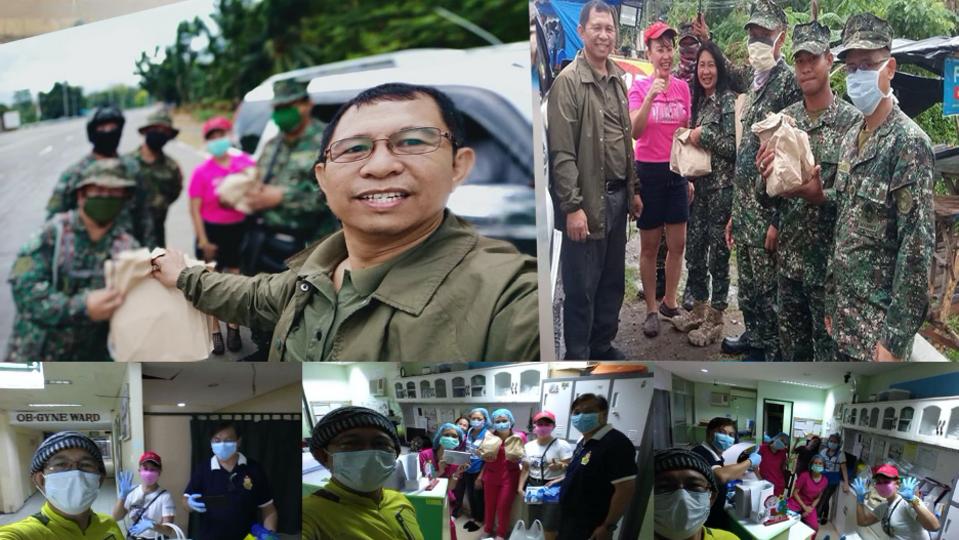 One of the hallmarks of Latter-day Saint teaching is to follow Jesus Christ's example of service. At the height of the pandemic, Caro saw the need to serve, help and provide moral support to frontliners. His desire to serve others in need led him to volunteer by providing food and water, gloves, bottles of alcohol, face masks and face shields to military personnel, nurses, doctors. He believes that the simple act of charity is a way to fight against the unseen enemy.
Cyril G. Gonzales, Nurse, Dagupan Philippines Stake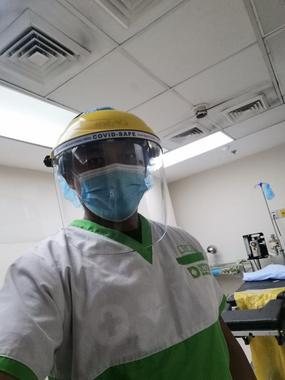 As a healthcare worker at the Dagupan Doctors Villaflor Hospital, Nurse Cyril has to work on an eight-hour shift and to be on an on-call basis due to emergent health situations.
"Going to work daily raises the chances of me contracting the disease," Gonzales said. "But as a frontliner, I strive to give proper nursing intervention according to the hospital's protocol."
For him, the motivation to aid patients in the face of the virulent threat comes from knowing that when he serves others, he does the same to the Lord.
Despite the risk of being exposed, Gonzales still makes sure quality time with his family remains his top priority because he believes that no matter what happens, "Families can be together forever."
Delbert F. Mariñas, Public Order and Safety Officer, Dagupan Philippines Stake
As a government employee in Dagupan City, Mariñas' job entails policing the streets and monitoring checkpoint stations either under the heat of the sun or in soaking rain.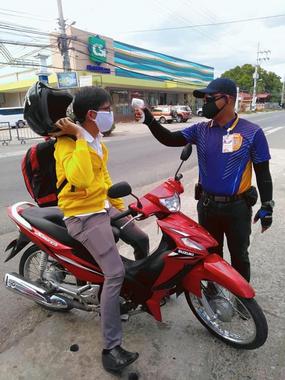 Because public safety is of utmost importance during the public health crisis, Delbert shared that he has to be away from his family most of the time.
"I have to sacrifice a lot of time when I should be home to attend to my wife and son's needs just to strike a balance between being a father and as a POSO at the same time," he shared.
Despite facing virulent threats every day, Mariñas still chooses to get up and report for work. He believes that as long as he keeps his city safe his family will also be safe. "My service to others reflect how I love my family. I give my best at home or at work."
Each time he goes to work and see others struggle due to lockdown restrictions, Delbert shared that prayer is his powerful tool.
"I include them in my prayers and deal with them accordingly to set an example as a priesthood holder and a member of the Church," he said.
Jaime Gabriel, Sr., Egg Supplier, Baliuag Philippines Stake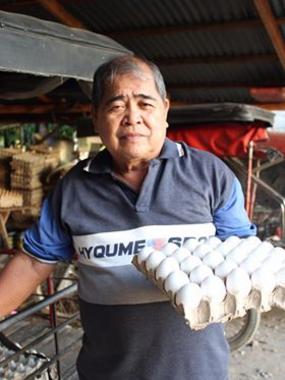 Not all heroes wear capes. Some are at our doorsteps delivering goods when no one can do so. Amidst the dreadful circumstances that affect millions, Jaime or Lolo Gab together with his wife, continue to deliver fresh eggs to people's homes.
Knowing food supplies will be restricted due to the community quarantine, the couple put aside the risks and chose to drive through the streets of San Miguel, Bulacan, to deliver an essential food supply.
When asked about how he managed to remain staunch in his work, Lolo Gab has only one answer - his impregnable faith in Jesus Christ and his restored gospel.
"As a member of the Church, I believe in its truthfulness. We also believe that we are guided by the Holy Ghost. It helps me to remain strong and faithful despite the pandemic that we are facing."
At 71 years old, he remains at risk of being infected by the diseases, but Lolo Gab shared how he keeps himself from the risks of the virus, "I always follow the governments directives combined with my faith in Heavenly Father that He will keep me safe, as I served those who need me."
Virgilio Irvin M. Tecson, Physical Therapist, Baliuag Philippines Stake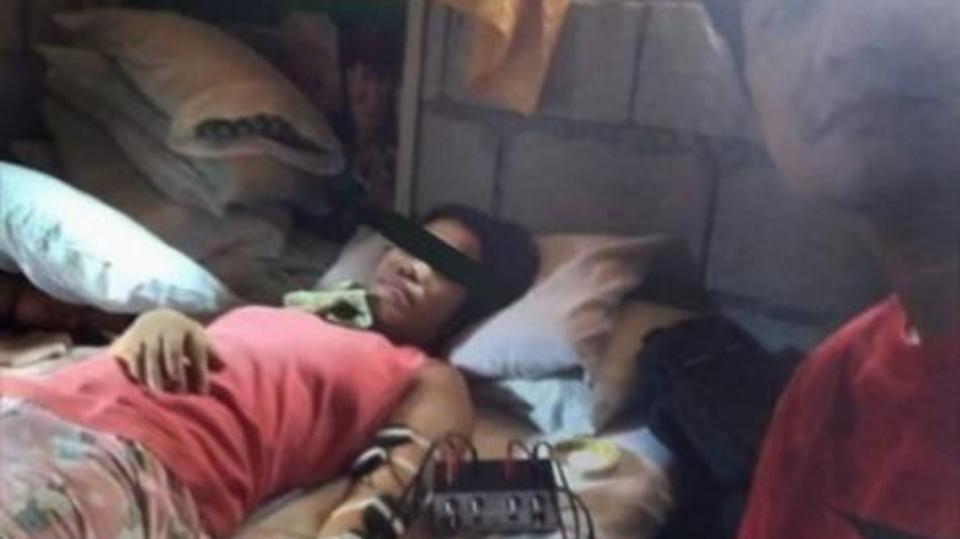 A physical therapy for years, Virgilio continued to provide services to his patients soon after acquiring a quarantine pass. Despite the risk of being infected with the disease, he and his wife would still drive several kilometers away to provide home physical therapy services.
What keeps him strong and steadfast despite the daily threats of COVID-19? Tecson shared that a scriptures verse found in the Book of Mormon keeps him close to the Lord. Quoting from 2 Nephi 31:20, he read, "Ye must press forward with steadfastness in Christ, having a perfect brightness of hope, and a love of God and of all men."
Pepito Rodrigo, Barangay Tanod, Santa Cruz Laguna Philippines Stake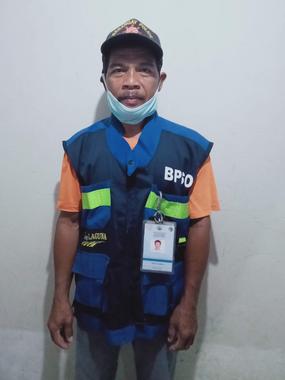 Aside from being a farmer and tricycle driver, Pepito also dedicates his time every other night to perform his duty as tanod or peace keeper in their barangay.
When the pandemic started, he volunteered to bring relief to the poor and the needy. Oftentimes, as a tanod, he receives rice for his long hours of work. But he would share them to his neighbors whenever his own family has enough for the week.
Rodrigo knows that the restored gospel of Jesus Christ invites him to act in faith and serve others. His family, his love for the country, and his faith in Jesus Christ inspire him to serve despite the threats of the disease.
Jilbert B. Red, Police Corporal, Lopez Philippines Stake
As a police corporal, Jilbert is required to work on 24-hour shifts every other day at a checkpoint station to ensure the public health and safety of his municipality. Because he works at the frontlines, Red shared that he has fears of getting exposed to COVID-19.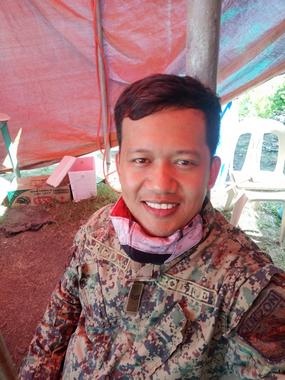 When his rest day falls on a Sunday, he is grateful that he could study the Come, Follow Me lesson with his wife. He is grateful that his wife remains supportive despite the risks involved in his line of duty. He also finds strength from being a father figure to his nieces and nephews whom he supports financially and morally.
More importantly, he finds strength in Jesus Christ's example of love and service, which he has learned during his mission.
"I was assigned in five areas where I learned the value of service and love to other people. I learned to take care of the families we taught and understood their unique situations and have mercy on them," Red recalled.
He was able to carry this valuable lesson to his job as a uniformed personnel of the Philippine National Police. "When ye are in the service of your fellow being, ye are always in the service of God," he said quoting a scripture verse found in Mosiah of the Book of Mormon.