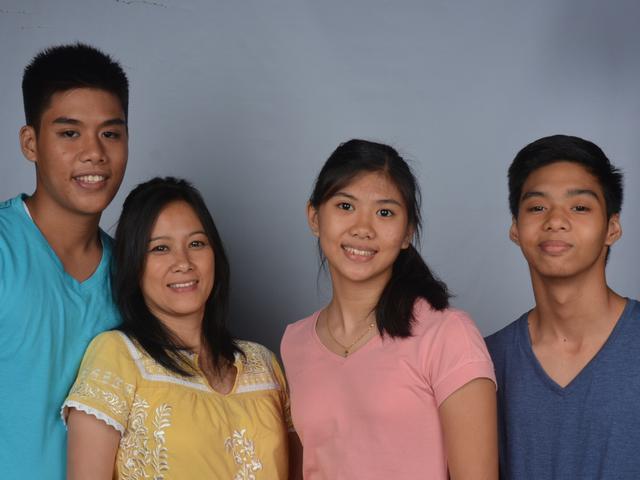 Marjorie Teh was a stay-at-home mom for ten years before becoming a single mother of three. In this blog post she shares a few things that she learned when she decided to work from home instead of working at the office.
When the circumstances of my family changed, I stood up and became the sole provider in my family. However, despite the perks of working in the corporate world, the demands of my office job meant less time for my growing children. As I wanted to be a constant presence in their lives, the decision to leave my day job and to work from home was easy.
As the years go by, I realize that I'm learning more as a work-at-home mom than I ever did when I worked in an office. Here are a few of the lessons I've learned while raising my children and working full-time at home:
Children are resilient.
They will adapt to whatever circumstance they are in. Sometimes they react negatively. Other times, they react positively. Whatever it is, they will understand changing circumstances if you take the time explain to them.
Material things do not compensate for lost time.
When I'm away, I sometimes bring home gifts for my children out of guilt. However, I learned that it is ME that they need and not the gifts I bring them. Money is just a means for living so I can continue to be a mom, and it should not be used to earn their love.
As I spend more quality time with my children without the gadgets or gifts, I realize that having real conversations, sharing a good laugh, playing board games and many others are things they love doing with me.
Humility and openness are essential principles.
I've learned that there's no harm in letting my children know that I'm facing challenges and that I'm trying to be better. And like them, I always seek Heavenly Father's help in becoming a better person. By being open to them, I help them see that life is not always a bed of roses, but that they can always rely on Heavenly Father and their family for help, comfort and support.
Commandments put all of us on equal ground.
Contrary to popular belief, commandments are there not to limit freedom, but to help us become better parents and people. For me, commandments set the "standard" for obedience. I use them as standards to gauge present behavior (or misbehavior), which I find helpful in disciplining my children.
Children are naturally inclined to do good.
Raising three children can be a handful. However, over the years that I've raised them, it's not only me teaching them, but I'm also learning from them. I've learned that it's innate in children to want to be obedient. Teenagers are no exception.
When they became teenagers, I had to change my parenting style. Absolute authority no longer worked with them. I learned that my children want and need to be involved in making decisions and in being accountable. I can see that they want to prove that they can be trusted. Like adults, they can obey rules, as well as achieve goals. As I spend more time with my children, I realize that I should trust them to make the right decisions and I must be there for them, to help and guide them, when they don't.
Personal revelation from heaven plays a vital role.
Typically, mothers are inclined to show love, to cradle and to administer mercy. Fathers, on the other hand, are inclined to discipline, impose rules and justice. However, I find that being both a mom and a dad to my children is challenging.
As a single mom, I'm able to strike a balance by constantly relying on revelation. Indeed, prayer can go a long way in making decisions. Relying on Divine help has done what nothing or no one else can do for me. I don't know what I would do without revelation. Each time someone asks me how I managed to raise three children as a single parent all these years, I always say, "I was NEVER alone." And it's true. People may see that it's just me, but I've never really felt that it was just me.
Being a loving parent without spoiling my children is only possible through the constant guidance from a loving Father in Heaven. I learned this vital lesson from an experience I had with my son.
There was a time when my son misbehaved. I wanted to ground him as a consequence for his actions. This happened at a time when he was looking forward to seeing friends he hadn't seen in a really long time. His friends were in the neighborhood visiting and it was their last day.
Judging by our house rules, he deserved to be grounded. As a disciplinarian, I thought this was the perfect teaching moment. I wanted him to learn his lesson, and he knew he deserved it. He was beyond sad. He was almost devastated.
As a mother, however, I was pained for him. I rarely allow him to go out with friends. I didn't want him to miss the opportunity to see his friends. I was in a dilemma. How can he, of all days, pick this day and disobey, I thought to myself. If I don't impose the disciplinary action, I might spoil him and lead him into thinking he can always get away with it. I was torn between justice and mercy.
Then, I did what I do best. I asked Heavenly Father. Almost instantly, I received an answer. I was to administer mercy.
I spoke with my son. I expressed how I felt and explained to him why I changed my decision. I told him about my struggle and expressed my love for him. He softened and became repentant. Was it genuine? I don't really know. Will it become a precedent? I don't really know. I just know that I did what Heavenly Father wanted me to do and that is all that mattered.
Our children are His and they are for us to rear on His behalf. I don't really know how I'll fare as a mom. I don't know how my children are going to turn out when they become adults. I'm not sure if I'm doing enough. But I do know that if I do my best to nurture them (spiritually and temporally), that is all Heavenly Father asks.
To sum up how I feel as a single mom, I will end with these words spoken by Tad R. Callister in the October 2014 General Conference. "As parents, we can proceed with the assurance God will never leave us alone. God never gives us a responsibility without offering divine aid."
Heavenly Father is REAL. He has been my partner in raising my children for almost 10 years. Despite the struggles, heartaches and challenges I've faced, I was never alone. As I started to spend more time with my children, I learned that we don't have to be alone. In fact, as far as I'm concerned, I've had the best companion all this time.
Save
Save
Save
Save